E Condos
| | |
| --- | --- |
| Address | 8 Eglinton Ave W, Toronto, ON |
| Maintenance Fees | |
| Developer | |
| Year Built | |
| Price Range | |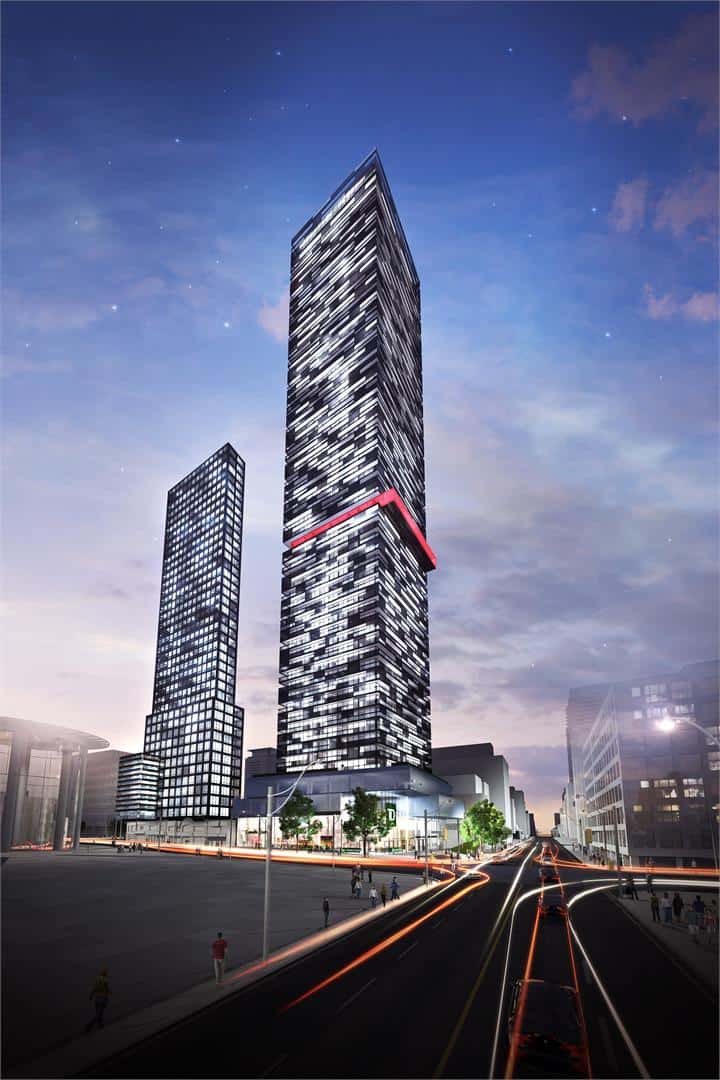 11 Images
E Condos Condominiums For Sale
About
E Condos is a new condo project by Metropia, RioCan REIT, and Bazis, located at 8 Eglinton Avenue East, Toronto, ON. The development was completed in 2019 and has a couple of buildings with 854 residential units.
Rosario "Roy" Varacalli did the architecture with Mike Niven Interior Design handling the infrastructure and the interior designs of the development. The recently completed development is loaded with amenities and has multiple transportation facilities around the corner. Living at E Condos will provide the residents with all the basic amenities that one requires.
Features and Amenities
This condo development in Yonge & Eglinton by RioCan REIT, Metropia, and Bazis has a couple of buildings of 58 and 38 storeys. The tallest building rises to 196 meters and touches the skyline of Toronto. Residents can experience some stunning views from these high-rise buildings. E Condos has a total of 854 residential units, and the development will also be used for retail purposes. Residents can take advantage of the designer-inspired amenities and host several get-togethers in the stunning party lounges, enjoy BBQs as well as fine al fresco. There is also a yoga and fitness center for the residents to relax and keep themselves fit at all times.
The terrace of E Condos provides some marvelous views of the neighborhood. Moreover, one can sunbathe on the terrace or enjoy in the glass cool that provides an experience like never before. All the suites at E Condos are designed with the purpose of providing the best of luxuries at home. There is a huge amenity space to provide amenities such as bar, BBQ, 24-hour concierge, game rooms, sauna, media, and dining area. The open-concept layouts of the units along with contemporary bathrooms, designer kitchens, and state of the art integrated appliances will provide world-class luxuries at the comfort of home.
Location and Neighborhood
The condo development is located in one of the most desirable and dynamic neighborhoods of Toronto. There is an excellent retail environment along with several supermarkets, grocery stores, restaurants, bookshops, movie theatres, and much more at a walking distance. The location has a near-perfect walk score of 99, which means that almost every errand can be completed on foot. The lavish area of Yonge and Eglinton has plenty of skyscrapers around the area, and E Condos will be no different.
The location of E Condos is a dazzling one that will provide the residents with access to several parks and open spaces. Nearby parks such as Eglinton Park, Howard Talbot Park, and Dunfield Park are all at a walking distance. There are plenty of world-class restaurants to provide residents with cuisines from around the globe. Restaurants such as Sushi Mori, TYC – by Sanjeev Kapoor, Kinton Ramen, etc. are all at a walking distance.
Accessibility and highlights
E Condos are located in a very favorable location when it comes to accessibility around the condos. The transit score of Yonge and Eglinton neighborhood is an excellent 93 out of 100. This makes the area a true paradise for those who wish to commute to different locations for work or other purposes.
Eglinton LRT, located quite close to these start-of-the-art condos, connects one to multiple areas of Toronto. This is so because of the presence of underground access to the Yonge subway. One can shop, watch movies, have delicious meals, etc. at places located very close to the condos.
The public transport facilities around the condos are really good. As one finds it very convenient to access the Yonge subway line, regions like Financial District, downtown Toronto, etc. can be accessed very easily. Eglinton bus station is also located quite close to the condos. Moreover, the condos are close to several major highways as well, which makes it easier for the motorists to travel to all the major spots around the Greater Toronto Area. This makes the connectivity and commutes to various places simple and quick.
About the Developers
E Condos is a joint collaboration by three renowned names in the real estate market of the city, Bazis, Metropia, and RioCan.
Bazis Inc is a known developer in Toronto famous for creating qualitative and dynamic buildings. Apart from creating elegant mixed-use and residential properties, they also work on the landscape of the city in general. Projects like Crystal BLU, Emerald park, and Exhibit Residences are some of the most famous developments by Bazis.
Metropia is also amongst the top real estate businesses across Canada. Ever since its establishment, the firm has paid keen attention to changing the urban landscape and designing modernization. Some of their popular developments include Emerald Park and Exhibit Residencies.
RioCan Living is another real estate development firm that has been in the industry since 1993. The illustrious portfolio of the firm has won them quite a few accolades. Some of their previous developments include Yonge Eglinton Centre and Queen & Portland Loft & Condominium Residencies.
For more info on condo developments in Toronto, call Precondo today.