Huntingdale Towns Condominiums For Sale
2 Bed
2 Bath
1084 sqft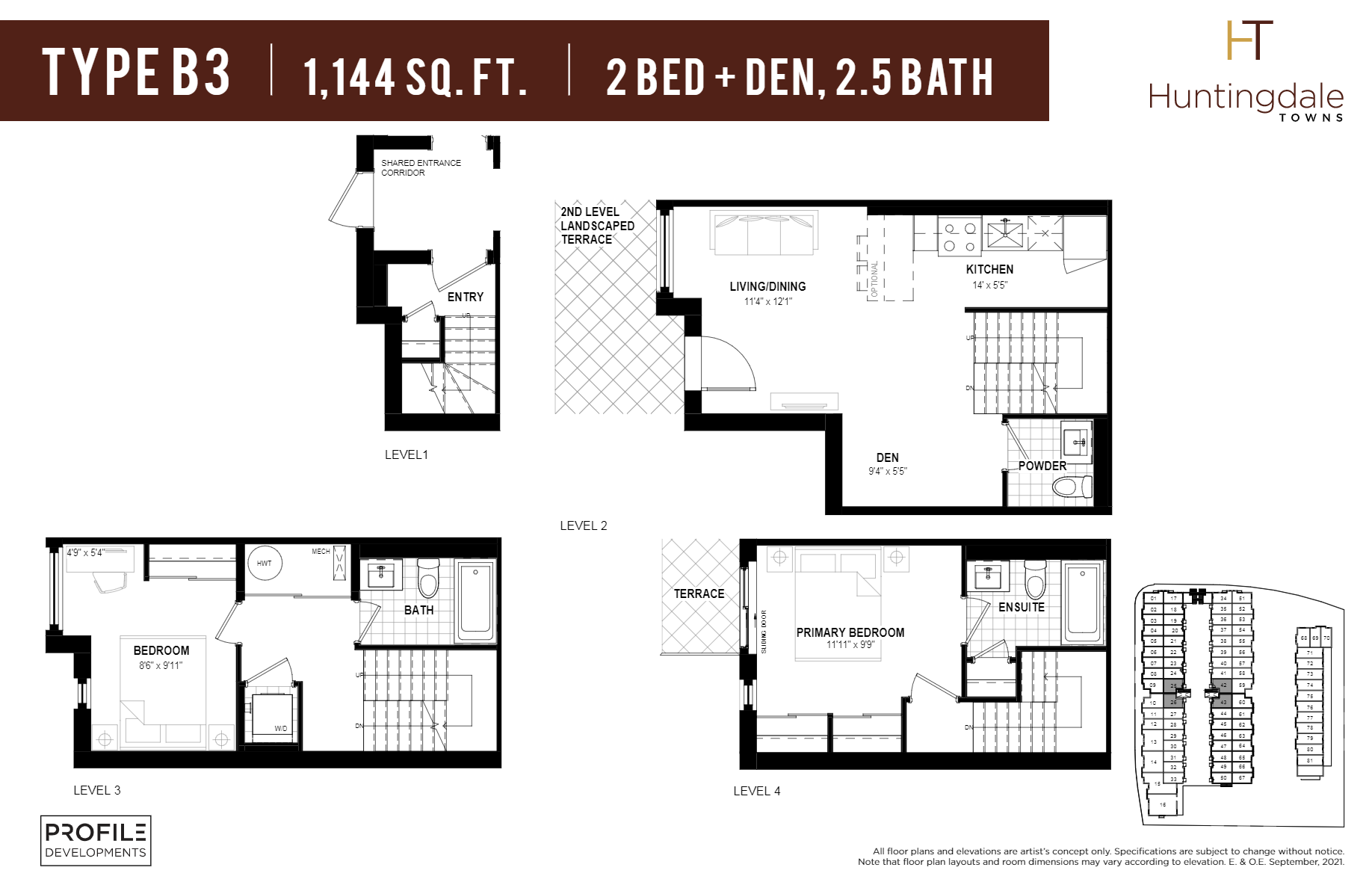 2.50 Bed
2 Bath
1144 sqft
About Huntingdale Towns Development
Coming soon, Huntingdale Towns is a new pre construction townhome project by Profile Developments Inc. The development will be located at 3079 Pharmacy avenue, Toronto, ON M1W 2H1. The real estate property consists of a total of 85 units.
There will be five blocks of four-storey stacked townhomes that combine style and affordability. In addition, there will be 94 parking spaces on the ground floor level. There is currently no estimated occupancy date for this project.
Pricing and sales for suites at 3079 pharmacy ave have not yet been determined. There will be 85 standard back-to-back townhomes arranged in three rows. Additionally, suites will be between 1,068 to 1,640 square feet in size. Blocks A and B will be at the intersection of Pharmacy and Huntingdale.
They will make up two blocks of 18 suites. Block C will have 14 units. Finally, blocks D and E will be south of blocks A and B and consist of another 34 units. Register to get access and information on price, floor plans, occupancy date and upcoming projects the Scarborough area has to offer!
Features and Amenities
The Huntingdale Towns site in Scarborough, a new townhouse development located at 3079 pharmacy ave has teamed up with IBI Group for the design the interior of the 85 units as well as exterior finishes.
So, residents and home owners will enjoy bold finishes in their smart energy-efficient homes! Currently, information and price for amenity options have not yet been confirmed. However, we can expect forward-thinking, environmentally responsible and affordable homes from Profile Developments Inc.
Huntingdale Towns stands out as they change up the typical high-rise apartment structures seen in the neighbourhood. The architects, IBI Group, will provide much needed improvement to the area and bring new life. So, the low-rise townhomes will be a welcome sight to the northwest side of Scarborough!
Location and Neighbourhood
The site of Huntingdale Towns is located at 3079 Pharmacy avenue, Toronto, Ontario M1W 2H1. The neighbourhood will be L'Amoreaux which is just a block north from finch avenue. So, the project is located at the southeast corner of pharmacy ave and huntingdale boulevard.
Home owners will be walking distance to many retail establishments and shopping. In addition, residents will be close to many parks in the area. So, residents can enjoy Chester Le Park, North Bridlewood Park and Beverly Glen Park.
Home owners in the L'Amoreaux neighbourhood take great care of their properties. Also, there is a suburban nature to the area with plenty trees, paths and walking routes. Those that call Huntingdale Towns home will be close to many landmarks.
This includes the Tam O'Shanter Gold course and the Bridlewood Mall. Take a short drive south to the Scarborough Bluffs and you will get some of the best views in all of Toronto!
Accessibility and Highlights
The Huntingdale Towns at 3079 pharmacy avenue in the east end of Toronto has a transit score of 67 out of 100. Owners are just steps to the pharmacy ave at huntingdale blvd bus stop from the development! For drivers looking to get around town, up north or into Toronto, the 404, 401 and DVP highways are just minutes away.
Finally, commuters can take a 27 minute walk or a 5 minute drive to the Don Mills subway station where they will be connected to the GTA as a whole.
Owners and renters will be in close proximity to the Scarborough Health Network located on Birchmount avenue. Centennial College, Seneca College and the University of Toronto are all approximately 10 minutes away as well.
So, this established neighbourhood provides a great opportunity to invest in the east end of the city!
About the Developer
Profile Developments Inc. is the developer behind the Huntingdale Towns at 3079 pharmacy ave. They are a real estate developer based out of Markham, Ontario and a subsidiary of Map Group Investments Inc.
Profile Developments has a specialty in building affordable homes. So, purchasers can take advantage of a quality build while saving on fees from other high-end structures.
Huntingdale Towns at 3079 pharmacy ave is a fantastic opportunity for residents and investors on the search for a new townhouse development in the northeast end of Toronto. With close proximity to shopping, parks and transit the Huntingdale Towns offer plenty housing options!
Contact and register to get more information such as floor plans, price updates to the huntingdale towns as well as other projects in and beyond the GTA!
Stay tuned at Precondo for the latest updates on pre-construction condos in Toronto.
Reviews
No Reviwes Yet.
Be The First One To Submit Your Review
---
Sales Info
Parking Cost: N/A
Storage Cost: N/A