New Condos For Sale in
Huntsville
Coming Soon
tba
Lakeside Muskoka Condos
Lakeside Muskoka Condos is a new pre-construction condo development by Lakeside Developments Inc., located at Crescent Bay Lane, Huntsville, ON, Canada, P1H 1B9. The condo …
Show on Map
Coming Soon
2022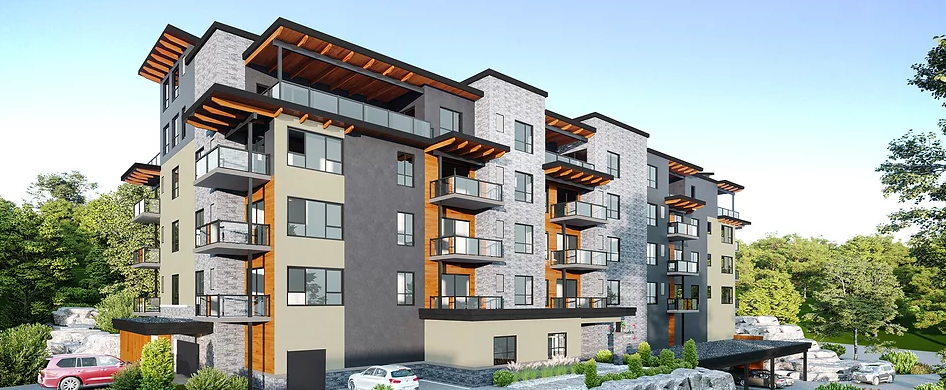 Alexander Condominium
Alexander Condominium is a new condo development in its pre-construction phase by Greystone Constructions, located at Campus Trails Community, 26 Campus Trails, Huntsville, ON. This …
Show on Map
New Condos in Huntsville, Ontario
Situated in the Muskoka district, Huntsville is an excellent location for property investors. It has all sorts of dynamic amenities and communities that can attract many new homes to dwell in.
Huntsville boasts Muskoka's greatest permanent demographic, becoming the most reliable site to choose for long-term property investments. Further, it has seen a sharp increase in residential construction after 2016, and hit a high in 2021.
Most of the Huntsville condo developments are pre-construction houses. Some of them are townhomes while a few are condominiums. Thus, this indicates that this city is all set to meet the demand of new homes in the market.
Families, workers, and pensioners looking to relocate outside of Toronto would appreciate the great span of recreational regions, waterfront scenery, and more. So, getting a house on rent or sale is worth it!
Don't wait more and identify real estate professionals, a part of Canadian Real Estate Association, in this beautiful area today for your purchase.
Real Estate Market in Huntsville
The housing units sold in Muskoka dipped by about 38%. However, the cost of residences sold grew by 42 percent. Moreover, despite the drop in sales, condo selling activities in 2021 are stronger than any other year except 2016 and 2020. This happened because of the increase in transactions of Huntsville homes. Well, some other locations of Muskoka were also a part of such a sale.
The city's 20,000-person population is constantly expanding with many individuals within the age limits of 50-69.
Currently, a new home notably a condo in Huntsville ranges from $570,000 to $724,000. But, the prices can alter depending on factors such as accessibility to the shore.
Living in Huntsville
Huntsville is close to Algonquin Park, which is a great attraction for the inhabitants.
Residents in this part of Canada won't hustle in finding schools, restaurants, nature locations, and health care services.
The city is far more convenient for business visits, excursions, or access to the best facilities in downtown Huntsville.
Accessibility
Two buses run everyday routes within Huntsville on Saturday. Although the majority of the town's residents commute by car to fulfill their goals, these buses do pass by important commercial areas including the Walmart Plaza.
Are you interested to go far away from your usual days? GO Bus is available for your transit.
List of New Condos Huntsville
Here is the list of the top pre-construction listings in Huntsville.
Crescent Bay
This new development near Fairy Lake features high quality facilities with an amazing community, and landscapes. Buyers will have the opportunity to have a view of Fairy Lake from their glass windows.
Treetops at Hidden Valley
This stunning community will let you cherish a four season living.
The Summit
The Summit is steps away from the sandy beach and exclusive club. This is meant for you if you are looking forward to tempting recreational and lifestyle options.
Alexander Condominium
This one-of-a-kind community by Greystone Construction can fulfil your personalised demands. Do you have pets? Then, this house is the one for you.
Lakeside Muskoka
With an upscale community, this development has access to infinite pleasure, style and conveniences.
Other New Condos Listings
Timberline Community by Batavia Homes- Huntsville
Woodstream – Phase 2 by Devonleigh Homes- Millwood Court & Woodstream Drive
Highcrest – Muskoka by Edgewood Homes- Huntsville
Do you desire to have your new home in Huntsville? Talk to PreCondo realtors today!