New Condos For Sale in
Liberty Village
Sold Out
tba
Liberty Market Tower Condos
Liberty Market Tower Condos Development in Toronto is currently under construction by Lifetime Developments. Based at 171 East Liberty Street, the development is located on …
Show on Map
Sold Out
2015
Liberty Central Phase I
Liberty Central Phase I is a condo development by CanAlfa Group, located at 51 East Liberty St, Toronto, ON. This project features a high-rise building …
Show on Map
Sold Out
2020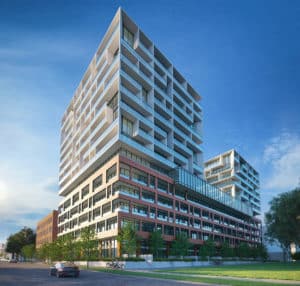 WEST Condos
Rising in Liberty Village at Bathurst and Niagara will be West Condos. Developed by the prolific developer Aspen Ridge. West Condos promises to boast a …
Show on Map
About The New Condos in Liberty Village

If there ever was a place that was luxurious and comfortable, yet still affordable, it has to be Liberty Village. The neighborhood is a 43-acre real estate neighborhood located close to Downtown Toronto. It is known for its vibrant and energetic community. It is populated by both professionals and artists and is known to be chic, bohemian and artsy neighborhood.
Contrasts abound the area, right from red brick buildings to glass condos and tech companies to art communities. Liberty Village condos provide an attractive opportunity to live where you work—or close by. The neighborhood spans a 20-minute speed walk and has everything you need close by.
Whether its pubs, hangouts, convenience stores, and branded retail, you'll find it all here. It is the perfect neighborhood for the young businessperson. The population stands at around 21,000 and continues to grow. The community is a hot spot for Liberty Village condos. It's a draw for people who want the modern and well-designed at lesser the price around the city.
Why Choose Liberty Village?
Liberty Village was developed, keeping a "positive" image in mind—aimed as a hot spot for people of different ideas to meet. Real estate and new condos in impressive designs and structures occupy the skyline here, most of them along King Street West, Gardiner Expressway in the south, and Strachan Avenue to the east.
The place is now home to several companies and startups in the creative industries. Whether it's design, media, technology, or art, they offer an extensive range of employment opportunities. It's one of the favorite haunts of the young urban professionals in all of Toronto.
The real estate market and residential condominium industry boomed to serve the working population in these neighborhoods. Accordingly, all the amenities and facilities are tailored to meet their needs. Condos in Liberty Village house youngsters and the adult population.
They're the active part of the age spectrum. If you're looking to set up here in the area, you're sure to find like-minded and driven professionals all making a dent in their respective fields. It's perfect for the career-minded professional who needs their own time to unwind and enjoy life as well.
Most residents here have bought a condo or townhouse looking to invest in Liberty Village condos for sale before the rates skyrocket. Since the local community is moving towards creating family-friendly spaces here, it's a good bet that you can settle down here for the rest of your life.
For The Creative Urban Professional
Liberty Village is regarded as Toronto's own Silicon Valley. It's a tech hub and is also just a few minutes' drives from the commercial streets close to the neighborhood. You'll find modern and stylistic office spaces and large parking lots. It hosts some of Toronto's most creative individuals—artists contribute to beautification projects and street art.
You can find an incredible number of startups in Liberty Village too. Whether its media or ad agencies, they're all here. Most working professionals adore this kind of condominium neighborhood. It caters specifically to those who spend long work hours at creating jobs.
Everything you find here is trendy and artsy, whether it's the exterior on condominiums, buildings or the interiors of the cozy cafes. The neighborhood is well connected to many of the sights in and around Liberty Village condos. For starters, it's very close to BMO Field, the first football stadium that was constructed. It also hosts the Canadian National Exhibition once a year.
Enjoy & Unwind
If after a hectic week at work, you need some time to relax, there are some great places to unwind. If you're the type to sweat the exertion out, you can visit the indoor rock climbing gym at Joe Rockhead's. If you need to shop for casuals or something striking, you can visit the several boutiques on the streets for what you think you'll like.
You'll find even furnishings stores here, to cater to the neighborhood's booming residential population. There's a farmer's market within the community for fresh produce. Condos in Liberty Village is just a few minutes away from Queen St W, which is the shopping destination. You'll soon wonder how so many things managed to set up shop here.
Liberty Village's nightlife is palpable as well. Whether you want to club out or have a beer with a few friends at the end of a crazy week, you'll find any number of places to satisfy you. There is no end to the number of cafes and bistros in the neighborhood. Catch brunch at Mildred's Temple Kitchen, School, or Merci Mon Ami. Visit pubs on patios, like Brazen Head. You'll find all kinds of cuisines and painstakingly designed interiors.
Blend of the Old & New
Liberty Village has a lot of history and legend to it. It was once home to Toronto Central Prison and the Andrew Mercer Reformatory For Women. The neighborhood was named for Liberty Street that passes through its center. It also used to be an industrial area. Many of the factories that stood there supplied provisions and weapons to both world wars.
Construction and tall chimneys can still be seen around this neighborhood. They've all been renovated and are now used as restaurants and cafes. The old architecture adds somewhat a perspective to the rest of Liberty Village condos that is now glass buildings and bustling streets.
The condos that stand impressively and reflect the day's sunlight are to the west of the area, whereas the east hosts the townhouses and repurposed factories.
The sight is pleasant and intriguing. The older parts of the neighborhood have been repurposed into lofts and living spaces. Just an evening walk through Liberty Village will take you past some fantastic and soothing places to see.
Transportation Within Liberty Village
The best part about living in Liberty Village condos is that there isn't anywhere within the neighborhood that you won't reach within a few minutes' walks.
The roads are sometimes congested by the office traffic and on weekends. But the plus point is a large number of parking lots. If you're having family and friends visit from elsewhere, it's relatively more relaxed than elsewhere.
There is a new rail corridor planned for the area, as well as more solutions for its busy roads and intersections. But the TTC operates streetcars on two lines. To commute outside condos in Liberty Village, the Go Transit Exhibition Station is close by. A freeway leads out the community to a network of roads, so it's well accessible.
So Should You Get That Condo In Liberty Village?
Liberty Village is well-established as the place to be for all career-minded passionate individuals. You could build a great life here within its fantastic employment opportunities.
It's slowly transforming to a family-friendly neighborhood thanks to the youngsters who are starting to put their roots down here at the community.
The condos and housing here haven't realized its peak in prices yet relative to those in Downtown Toronto. If you're looking to make a good investment at what is already one of the hottest spots in Toronto, you should go for it. Condos in Liberty Village provides everything you need within a tightly knit neighborhood. You'll be wanting for almost nothing. It's a good idea to step in because the village hasn't stopped growing, and it doesn't look like it will soon!
List Of New Condos In Liberty Village: