New Condos For Sale in
Oakville
About The New Condos in Oakville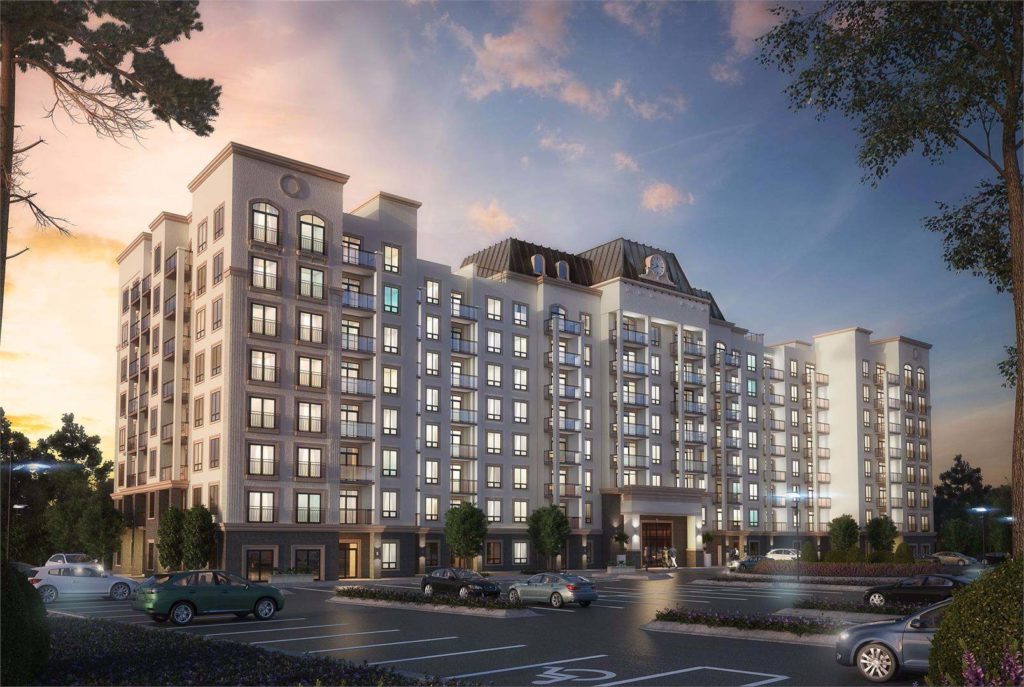 Established in 1857, Oakville is a charming lakeside community that is located within the Greater Toronto Area, near Lake Ontario.
The town is the recipient of numerous awards for the high standard of living it offers residents. Most notably, Oakville was voted Canada's 'Best Place To Live' by MoneySense Magazine, beating 415 other locations to the top spot. Judges cited the thriving jobs market, excellent education due to the numerous private schools, great Oakville transit, and its welcoming outlook to new residents as the reasons behind the win.
Oakville's proximity to the United States border brings many to the area to enjoy its plethora of attractions. This includes activities such as fishing by Lake Ontario, strolling along the natural harbours, dining at one of the many upscale restaurants, or shopping downtown. The waterfront town in the Hamilton Region is also a popular destination in Oakville.
If you're researching condo prices or new condo developments in Oakville, here's an overview of the benefits you can expect.
Oakville Population
Oakville has approximately 211,000 residents according to the latest figures. The town's proximity to downtown Toronto means many of the residents commute to and from the city. As the population rises, most experts say condo prices will increase faster.
Oakville's Location & Accessibility
Oakville Transit is extremely well connected whether you're travelling around town or further afield.
GO Trains or Highway 403 and 407 allow for an easy commute into the downtown Toronto core.
Oakville's proximity to downtown Toronto is one of the main reasons behind its popularity spike. Its convenience is the main selling point, considering the excellent transport facilities.
Most Oakville condos have a walk and transit score of 70+, maintaining healthy condo prices. Having everything within reach is amazing and helps build a sense of community. As such, Oakville Transit is perfect for people always on the go.
Oakville Economy & Job Market
Over 8,000 businesses in Oakville spanning a wide range of sectors, including pharmaceutical, automotive, technology, aerospace, real estate, and tourism. It makes the city more attractive to both investors and residents alike, hence the rising condo prices.
The unemployment rate in Oakville stands at 6.4%. This is consistently lower than the provincial average. The vast industries available in the local job market means ample opportunity for anyone looking to live and work in the town. Therefore, unemployment remains low with plans to reduce it even further, ensuring stable condo prices as the years pass.
By 2031 Oakville is forecast to have 128,000 jobs, according to a growth report carried out by Hemson. A thriving economy means anyone looking to buy a condo unit in Oakville will benefit from a steady appreciation of their investment as a result.
Oakville Lifestyle
A recent survey by the Town Of Oakville found that 77% of residents found the livability of Oakville better than other areas of GTA. Given that the town is set among beautiful natural settings near Lake Ontario and has first-class amenities, all while providing an excellent quality of housing, it's easy to see why new condo developments are happening. It also means condo prices will increase before long.
Each district of Oakville provides its unique characteristics that add to the overall charm. For example, Bronte Village is known for its old-world appeal, while Kerr Village has a dynamic and multicultural atmosphere. Wedgewood Creek is excellent for families, and Morrison is one of Canada's most affluent neighbourhoods. Whatever lifestyle you had in mind for your life in Oakville, you'll be able to find it.
The uniqueness of Oakville is that it's close to so many arterial locations yet retains its peaceful charm. As the saying goes, you can either live to work or work to live. In Oakville's case, the latter is certainly true. Here, people can leave the stresses of the office behind by Kayaking down the river, playing a round of golf or eating a relaxed meal with family to unwind.
Having that clear distinction between work and life makes the overall lifestyle benefits of Oakville truly outstanding. As Oakville partly borders Lake Ontario with reduced property prices compared with Toronto, the lifestyle benefits are far more accessible, resulting in better condo prices.
Oakville Amenities
Shopping and dining options are in abundance here in Oakville. There are several malls including Upper Oakville Shopping Centre, Oakville Place, and South Oakville Centre. Lakeshore Road East is one of the main shopping thoroughfares in the town. Here you'll find a mix of independent and well-known brands catering to all your fashion, home and culinary needs.
Every appetite is catered for in Oakville too. Your tastebuds will never tire of the wide array of flavours on offer. Culinary delights include Greek, Mexican, Asian, French, Italian, and much more. Some of the Top restaurants in Oakville include Noble Bistro, Oliver's Steakhouse, Cucci and Seasons. Whether you're just grabbing lunch or heading for a special meal out – you don't have to look far to find delicious food and incredible hospitality.
Oakville Entertainment
Whether your idea of entertainment involves outdoor pursuits, live music, festivals or even a visit to a museum – you'll be spoilt for choice here in Oakville.
Some of the top attractions include Lion's Valley Park, Joshua Creek Art Centre, Oakville Lighthouse, Gairloch Gardens and of course Downtown Oakville. As the town is along the waterfront, there are plenty of watersports to partake in too. This includes everything from a gentle sail or an exhilarating jet ski across the lake.
There are plenty of festivals here too. One of the most popular ones is RibFest. This food lovers' paradise attracts crowds from around the GTA area. As you'd expect with a name like 'RibFest' it offers some sizzling action…and not just on the grill! This 3-day festival has food, music and entertainment for all the family. Food vendors from across the country bring their mouth-watering delicacies for you to try.
For outdoor pursuits, there are plenty of walking trails and scenic routes to explore. These include Taplow Creek Trail, Bronte Creek Provincial Park Loop Trail and Buffalo Crag Lookout. Explore the breathtaking views while spending quality time as a family as you do so. The outdoor fun doesn't stop there, as you can also improve your handicap at Glen Abbey Golf Course or one of the many other golf courses that Oakville has to offer.
Or, why not pique your curiosity at one of Oakville's several museums? Just some of the town's offerings include Oakville Museum, Oakville's Old Post Office, Canadian Golf Hall Of Fame, Bronte Historical Society and Howard Iron Works Museum. With so much to discover and explore, Oakville's museums are sure to offer hours of enjoyment for the whole family.
List Of New Condos In Oakville
Currently, the most coveted Oakville real estate investment and available residences are resale condos. While the city is one of the smaller communities in the GTA, Oakville resale condos are still very impressive. The condo prices are competitive as well.
The Province of Ontario listed the town as one of the essential growth centers in the Places to Grow Act, so Oakville's average condo price is expected to rise.
Here's a list of new condos in the Oakville area:
Why You Should Consider Buying A Condo In Oakville
Location is ultimately a top consideration when buying condo developments or any real estate. Given Oakville's long list of accolades and immense praise from those who live here, it would be difficult to find a more idyllic location for an Oakville real estate property, hence the rising condo prices.
Oakville is close to the United States border and Toronto. This means it is near so many opportunities not to mention attractions. All while retaining the quiet and peaceful setting you can immerse yourself in while enjoying one of Oakville's many parks, lakes or golf clubs. Not many locations can offer the best of both worlds as Oakville does with ease.
The influx of job opportunities, in conjunction with the commercial and residential real estate developments, means that now is the perfect time to invest before the Oakville condo prices increase.
Growth here is looking promising which is a great sign for Oakville condos investors and owners. Whether you're looking to expand your business or you're in the market for a new home, Oakville is a great place to start.
New Condos Oakville: Find Out More
Condominium living provides excellent lifestyle benefits, not least because condo developments are usually located in the best neighbourhoods. If you want to invest for resale purposes, consider doing it now before the condo prices increase.
Compared with owning a townhouse, Oakville condos have far less upkeep and are more secure too. Plus, with the range of amenities condos have, they offer a far higher standard of living, entertainment and social aspects.
Oakville condo prices are competitive and with all the region has to offer, it is surely a great investment.
For more information on buying or looking at Oakville condos and condo prices, be sure to browse our real estate listings or contact us and one of our team will be in touch.