New Condos For Sale in
Woodbridge
Sold Out
n/a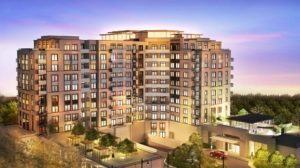 About The New Woodbridge Condos

Woodbridge is a large neighbourhood full of picturesque settings. It is known for its large Italian community and excellent Italian restaurants. Within the area, there are conservation parks, a shopping center, many local businesses, quaint shops, and a friendly community.
It is the perfect neighbourhood for families with young kids and retiring couples. Its bricked houses, lush greenery, elegant shops, and sunny streets make it a beautiful place to live in. All these and more contribute to this area's numerous new condo developments.
Why Get a Condo At Woodbridge?
The Woodbridge condos are spacious and luxurious with reasonable condo prices. Finding one according to your preferences, whether you're living alone, in a single family, or in a bigger group, will be easy. The best part is that the average condo price is reasonable.
Whether you're looking to settle a family of two or five, it has a property suited to you. Beautiful views surround Woodbridge condos. Your privacy is guaranteed thanks to the vast spaces between residential complexes.
There are ample parking spaces and wide roads. A stroll down the streets will take you past boutiques and brick buildings that give off a holiday village feel. The real estate market is growing in these areas. Residents are drawn to the serenity, safety and industrial opportunities at Woodbridge.
Shopping & Attractions
The Market Lane Shopping Centre has shops for all of your needs. Whether it's departmental stores, fashion boutiques, skincare or restaurants, you'll find them here. Apart from the shopping center, many restaurants and eateries line the streets on Woodbridge Ave.
Most are Italian due to a sizeable population. But you'll quickly find other cuisines here too. The locals here frequently visit Sapori Italiani Manica Luigi, San Antonio Seafood Market, and the Cosenza Bakery.
There are many things to visit in and around the Woodbridge condos area. For starters are the Boyd Conservation Area and Kortright Centre for Conservation. Woodbridge has many other parks as well, like the Woodbridge Fairgrounds and Rainbow Creek Park. You can visit Black Creek Pioneer Village for a dose of history.
It hosts gardens and restored buildings from the 19th century. There are art galleries close by and music concerts to attend within the conservation area. Vaughan is right next door to it and hosts a large number of attractions as well.
Ease of Transportation
The place is serene yet a place of bustling and increasing growth. It houses many manufacturing, industrial businesses, and condominiums. Woodbridge retains its beauty despite the recent influx of new Woodridge condos.
It is connected to the rest of Downtown Toronto through a GO Transit line. It is also close to a highway for those who commute by car. The neighbourhood contains many single-unit houses. Some sprawl over large areas.
Other properties are smaller bricked houses with garages. It provides a very quaint and pretty look to the neighbourhood. The pre-construction condos soon to rise will add to the residential variety.
Perfect For Children
The Woodbridge condos are a great place to set up for families and couples. It features many elementary and secondary schools. There are private schools and Catholic schools if you prefer to enroll your child there.
The residential areas are surrounded by acres of forest and greenery. The environment is spotless and healthy here. It is the perfect place to put down your roots.
Woodbridge Condos: Final Thoughts
Woodbridge is one of the safest and most peaceful neighbourhoods in all downtown Toronto. It is bustling with economic activity and footfall to its shops. Other great areas surround it since it's within the Vaughan Metropolitan Centre. It's the reason new pre-construction condos are becoming more prevalent, especially with convenient access.
Most of what you need is all here, like the Vaughan Mills Shopping Centre. Whether it's food, shopping, or scenic views, a resident needs a few minutes to walk from their condo. The best part is that the new condo prices are reasonable for what you get.
Are you looking for more information about Woodbridge condos? If so, contact the PreCondo team for inquiries like average condo prices and pre-construction listings.