New Condos For Sale in
North York
About The New North York Condos

New Condos in North York
North York is one of Canada's most appealing areas today to residents of all kinds. Today the city, located north of Toronto, is home to over 800 condo developments with many new condo projects coming soon.
North York has many traits that make it so appealing to homebuyers and businesses. While it has many features of other boroughs, North York does have some distinctive characteristics that truly set it aside from other areas. Plus, it is becoming the perfect place for many new condo developments.
With its proximity to Old Toronto, North York City is quickly becoming a metropolitan centre. About 28% of the population of the city of Toronto resides in the area.
North York condos are very distinguishable, boasting unique architecture and finishes that have contributed significantly to the area's prosperous economy. The best part is their proximity to both educational and cultural institutions like the Black Creek Pioneer Village and Ontario Science Centre.
Real Estate
About 50% of North York condo residents belong to single-family homes, many of which have been renovated to complement the luxury condo residences in the area.
Due to the demand for North York houses, property values have risen by 47.6%, making it an excellent place to invest in a pre-construction condo development. High-rise residences, exceeding five stories, are the second most occupied type of dwelling in the North York real estate market.
Economic Opportunities
North York's growing economy and high employment rate are the main contributing factors to its growth over the years. The upcoming $300-million  project, which involved the construction of a four-star Marriott Hotel close to the intersection of Yonge and York Mills, will bring a lot of new opportunities to the already growing area. It will be close to York Mills Station too.
Getting Around North York
North York residents and workers have a lot of options when it comes to access to commuting in and around the borough. This includes easy access to wide roads, subway transit, highways, and buses that traverse the area nonstop between essential destinations.
At Yonge University, you'll also find Finch Station, which is the busiest bus station in the city, welcoming over 97,460 commuters daily. Even so, this is one of the easiest and most convenient ways to travel around North York every day.
Getting Entertained
North York Toronto is also offering sufficient shopping options for its residents. Sheppard Plaza, Yorkdale Shopping Centre, Don Mills Centre, and Fairview Mall, are some of the famous shopping malls in the city. You'll also find a unique selection of cultural institutions; such as Black Creek Pioneer Village, one of the only authentic 19th-century heritage villages in North York.
The Aga Khan Museum, Toronto Centre for the Arts, and the Ontario Science Centre — which carries over 700 unique scientific exhibits — are also within the city.
The Whole of North York has undergone significant developments in recent years. Further, the administrative area still boasts some green spaces, brooks, and dells. However, the city is mainly praised for its abundant parks such as Earl Bales Park and Gwendolen Park. Well, the natural parks add allure to the North York condos and offer a perfect getaway from the hustle and bustle of urban living.
The central business district, North York Centre which was formerly the address for North York City Council, is a major focus beyond downtown Toronto. It has been the secondary economic hub, out from downtown boasting around 25 communities. Today, the North York City Centre hosts Toronto's municipal assembly plus other city departments.
North York Condos Neighbourhood
Two popular neighbourhoods in North York, Leslie and York Mill, are currently the most highly coveted family-friendly locations in Toronto, Ontario.
With the beautiful streams that are lined by green vegetation and the warm, welcoming environment, anyone would love to live in a new condo development constructed here. The condos North York residents live within proximity to grocery shops, retail outlets, schools, major highways, and public transit options.
Condos for sale in North York offer everything that you'll need in a home. Residences typically feature fully-equipped onsite gyms, large private pools, outdoor terraces, meeting rooms, spa-like bathrooms, large pet-friendly parks, and almost everything else that one would look for in the perfect townhouse development.
By moving to a condo in North York, you'll enjoy living in a beautifully designed home. Certainly, it provides all of the conveniences of urban living. North York general hospital as well as Humber River Regional Hospital are the major hospitals near the condos. Also, Sunnybrook Health Sciences Centre is available.
Students can take admissions at York University, and Seneca College. For travelling via public transit, you can use the Sheppard subway line. If you are driving by car, you can take the Don Valley Parkway.
Thus, every condo project in North York is a perfect home for growing families, working professionals, and students, who enjoy outdoor life and the convenience of living. It applies regardless of their hobbies since the area offers something for everyone, even if it's something as simple as an outing at the Yorkdale Shopping Centre or Don Valley Parkway.
List Of North York Condos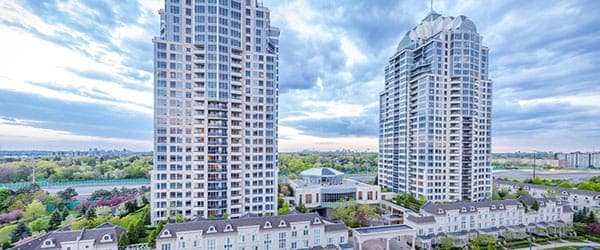 Here is a list of North York's new condo development projects:
1575 Lawrence Ave W North York
Greenwich Village Towns
The Peak Condos at Emerald City
Downsview Park Towns
813 Sheppard Ave W
105 Sheppard Ave E
53 Sheppard Ave West
The Point Condos at Emerald City
Looking for upcoming pre-construction condos in North York? Contact PreCondo to discover condo prices and other details.