Warehouse Lofts Condominiums For Sale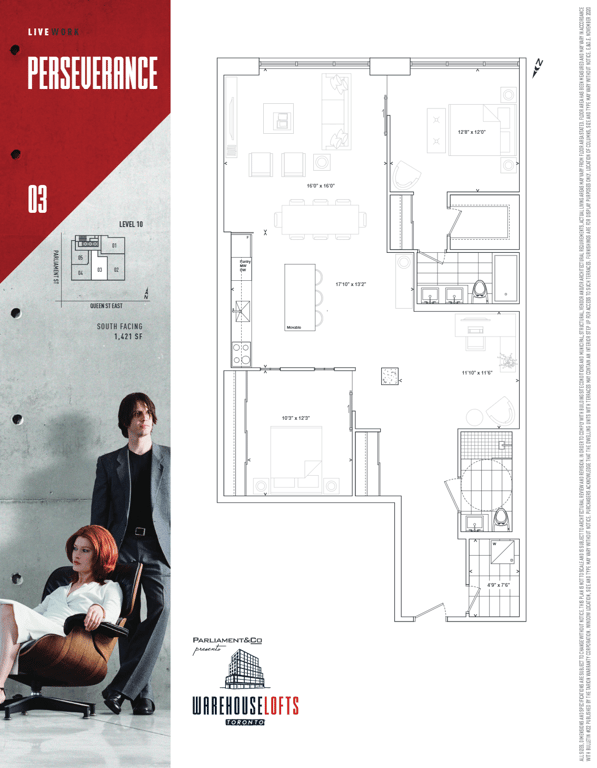 2 Bed
2 Bath
1421 sqft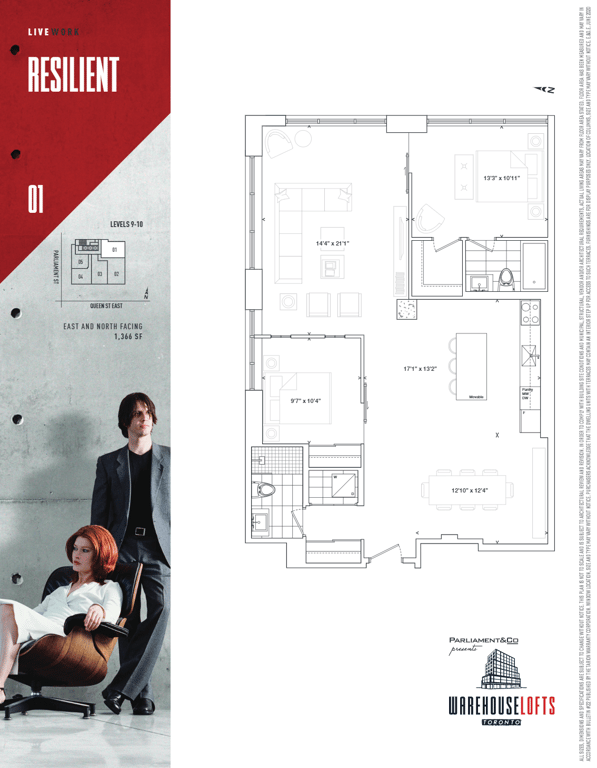 2.50 Bed
2 Bath
1366 sqft
3 Bed
2 Bath
1674 sqft
About Warehouse Lofts Development
Warehouse Lofts is a new pre-construction condo development by Downing Street Group and The Sher Corporation, located at 191 Parliament Street, Toronto, Ontario, Canada, M5A 2Z4. The mid-rise condo tower will have 11 storeys and 29 exclusive residential suites. The estimated date of occupancy for Warehouse Lofts in Toronto is September 2022.
Currently, the project is still in the registration phase as the selling is planned to begin in Winter/Spring 2020. Once sales start, these stunning condominiums will be sold out in quick time due to the number of features, the area and amazing amenities. Contact the sales representatives or realtor to find out more about the floor plans, pricing, price list, and other details about the realty before you can make a purchase.
The architects of the project are Kohn Partnership Architects Inc, who have planned some designer interiors and architecture for the building. The interior designers have planned modern and luxury interiors, along with designs that will appeal to plenty of investors. Warehouse Lofts in Toronto is located in this ideal neighbourhood with plenty of activities and excitement around the region. The location also has a great transit score.
The Warehouse Lofts in Toronto will have a mid-rise tower building with 11 storeys, providing mesmerizing views of the neighborhood.  There will be exclusive 29 residential units with different floor plans and one bedroom to three bedrooms suites. The suites will start from the sixth floor and will have a ceiling height of 10′. Even the units here will be spacious and will range from 961 sq ft to 1,674 sq ft.
Features and Amenities
The Warehouse Lofts building will have cutting edge finishes and designs inside the suites along with great homes to live in. Warehouse Lofts in Toronto has some great amenities which will appeal to investors of all kinds. Even though the feel of the tower might be a bit heritage, everything about the infrastructure is modern. There will be spacious condo units, and the lofts on the higher floors will have large terraces. Warehouse Lofts in Toronto will also have a retail space on the ground level, and levels 2 to 5 will be for commercial space. This dynamic community will have something for everyone.
Warehouse Lofts, a pre-sale condo in Toronto, has a lot of technologically advanced tools. There is an automated parcel delivery system. As per the plans, even the entry will involve technology. The residents will be able to lock and unlock the doors from their smartphones itself. They'll also get all the basic updates from the building management on the phone only. The system used at Warehouse Lofts in Toronto will also know when a resident needs the elevator. There are plenty of security benefits as well at Warehouse Lofts in Toronto to keep the residents safe at all times.
There is also a space-efficient gym at Warehouse Lofts in Toronto. Aside from that, the outdoor terrace lounge will provide a relaxing time for the residents. There will be sufficient underground parking for 41 vehicles. Both electric and hybrid vehicles will have charging stations. There is also a bike storage facility along with bike repair on P1. Warehouse Lofts in Toronto is the first development in Canada to have such a European style shower facility. There will also be a pet washing station at the property.
Location and Neighborhood
Being located at Trefann Court, Toronto, the lofts has a near-perfect walk score of 97. This clearly shows that there are plenty of facilities and attraction spots around Trefann Court. Toronto's Distillery District has multiple stores, supermarkets, shopping complexes, restaurants, etc. There are numerous lifestyle amenities in Toronto's Distillery District.
The development is close to George Brown College, St. James Campus, and Ryerson University in Toronto. Every student living at Warehouse Lofts in Toronto will find the area really convenient. Warehouse Lofts in Trefann Court, Toronto, is also close to CF Toronto Eaton Centre and St. Lawrence Market. There are a number of parks as well in this neighborhood. Living at Warehouse Lofts will certainly have benefits for all kinds of investors.
Accessibility and Highlights
Warehouse Lofts in Toronto has a perfect transit score as this address is just steps away from bus routes and streetcar services. The travel throughout the city will be seamless, and the residents will be able to reach Union Station from Warehouse Lofts in Toronto in under 15 minutes.
The location of Warehouse Lofts in Toronto is also motorist friendly as there are major highways that are directly accessible. There is access to Don Valley Parkway and Gardiner Expressway, which will make commute simple throughout Toronto.
About the Developer
Downing Street Group and The Sher Corporation are the builders behind Warehouse Lofts in Toronto. Both Downing Street Group and The Sher Corporation are renowned real estate developers with stunning constructions all over Ontario.
The Sher Corporation is a company that is shaping the market of Ontario in a unique way. They plan on leaving a great impact on the city's landscape and showing innovative design and architecture in their developments. The company has a great team that is constantly on the look for top locations for the construction of their communities and condo buildings. The realtors have the Garden District condos as well in their stunning portfolio.
Downing Street Group is the other builder involved in the construction of this property. They have been in the industry since 1986. The company has been behind the construction of some great condo towers and development of communities over the years.
Contact agents or broker to get to know about the pricing, price list, deposit structure, floor plans, pricing for parking, prices for units, and other details. You must have everything before your purchase your condominium unit. Also, find out about the brokerage, sales, suites sold, and mortgage. Don't miss out on this investment opportunity.
Sales Info
Parking Cost: N/A
Storage Cost: N/A
Deposit Structure:
N/A