Savile on the Roe Towns Condominiums For Sale
2.50 2
1668 sqft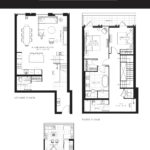 2.50 2
1737 sqft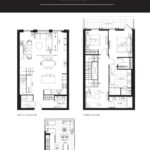 2.50 2
1689 sqft
About Savile on the Roe Towns Development
Savile on the Roe is a new townhome development in the pre-construction phase by the builders Block Developments and Tiffany Park Homes. The project is located at 413 Roehampton Avenue, Toronto, ON. This new townhouse property will feature 3 buildings of 3-storeys with a limited edition of 28 residences. The estimated completion date for occupancy for this real estate project is TBA.
Raw Design Studios is handling the architecture and interior design of this development. The architect has planned a contemporary, urban and elegant design for Savile on the Roe in 413 Roehampton. The development is situated at the North of Eglinton Avenue East in Midtown Toronto. With a prime location and urban style, the project will appeal to every buyer looking for a home.
Alongside this, the development site will have numerous nearby facilities. The 413 Roehampton Ave at M4P 1S3 will also have multiple public transit facilities nearby. Situated in Yonge and Eglinton neighbourhood, these towns are an exceptional choice for growing families and investors.
The selling phase for this pre-construction realty will be coming soon. Before it's too late, contact a broker or agent or realtor to find out all necessary information regarding the sales, price of parking, realty floor plans, and other prices related information. Register now!
Features and Amenities
Savile On The Roe is a vibrant community in a transit-oriented area of Toronto, Ontario, Canada. This low-rise townhouse will have three buildings of 3-storeys high townhomes. There will also be a total of 28 residential units at Roe towns. Moreover, these townhouses will have a number of available floor plans including one-bedroom units, two-bedroom units and three-bedroom suites.
This development will feature a wide range of amenity space for indoor and outdoor amenities. For instance, every home will have private outdoor amenity areas like terraces on each floor and the top floor unit owners will have access to private rooftop terraces.
Buyers can expect large pedestrian walkways, almost 3,800 square-foot park and outdoor canopies for residents. The development will also consist of an underground parking area with a total of 65 spaces for both residents and visitors.
As for the exterior, the building will have a traditional red brick pattern with contemporary looks, including large floor-to-ceiling windows, window frames and black picket metal guards around the terraces. With everything, buyers can also expect modern finishes and fixtures with luxuries around them.
Location and Neighbourhood
Savile On The Roe Towns in Toronto is situated in a strategic address where there are several nearby facilities around the region. From basic essential amenities to the educational options, address 413 Roehampton Ave is a place where residents get to also experience an urban lifestyle.
So, being in the north-west corner of Mt Pleasant East and Eglinton Ave, residents will be in a pool of perks. These townhomes in the Yonge and Eglinton area have everything in close vicinity.
Are you on a search for nearby eateries? You'll find quite a choice in eateries around Savile on the Roe. For instance, Churrasco Villa Toronto's Original and Gabby's Bistro. Being adventurous enough to venture out a bit? Grab a bite at Panago Pizza, Istanbul Cafe & Espresso Bar or Sweet Shady Shack. Give a kick start to your day with Origin Coffee's brew, which is not too far from the development.
Fresh groceries everyday is a must for you? Nearby grocery stores are Rexall Pharma Plus and Sobeys, which is just 5 to 7 minutes away from the townhouse. The development also has many nearby attractions such as Mount Pleasant Cinema and Regent Theatre space. You'll also find several nearby public parks like St. Clements – Yonge Parkette and Sherwood Park.
Residents will also find many reputed schools covering education from elementary to post-secondary. Some of the nearby schools and colleges are Northern Secondary School, Upper Canada College, York University, Manor Montessori School and North Toronto Collegiate Institute.
Accessibility and Highlights
Roehampton Avenue is in a transit-friendly location of Yonge Eglinton. With a very walkable walk score of 82 and an excellent transit score of 81, residents will have direct access to numerous bus stops and subway stations.
The development is a short walk to the closest TTC Bus Stop (Eglinton Ave East). However, the nearest subway station is the Northbound Platform. Motorists will have easy access to Don Valley Parkway from the building.
About the Developers
Block Developments is a Toronto-based real estate firm who have been serving the city for many years now. Some of their condo projects are 57 Brock Condos, The Stockton Condos and others.
Tiffany Park Homes has been serving the city with luxurious condo projects for over twenty years. With an impressive portfolio of luxury homes, they have also built many projects like Hiddenbrook,  Spring Valley, etc.
So, stay tuned to Precondo.ca for the latest updates on condo and townhomes in and around Toronto, Canada.
Reviews
No Reviwes Yet.
Be The First One To Submit Your Review
---
Sales Info
Parking Cost: N/A
Storage Cost: N/A