These apartment hacks and small space decorating and storage ideas will solve all your problems!
If you think bigger is always better, it's not! Tiny apartments are a national phenomenon for many Torontonians, and many suburban areas have started to adapt to this affordable and low-impact lifestyle. Having a small space to call home once they're out in the real world and away from parents is comforting for newly working professionals.
Since mom is no longer around to clean up after you, keeping your tiny apartment clean while you're busy paying the bills can be tough. Especially on an entry-level salary, you must learn how to DIY. Aside from that, you must also learn better time management since you want to make sure you're only cleaning when you're not supposed to be doing something more productive or fun.
Luckily, several small space apartment storage ideas and hacks can help you keep your tiny apartment efficient and fashionable. With some savvy shopping, probably a few DIY tricks, and some small space hacks, you can completely transform your space.
Even when you have a big room, you can definitely use these top hacks to make the area look more organized and more spacious. Indeed, we are tight on space. So, let's unleash the best possible ways for maximizing the space without breaking the bank. Why not combine the right tips that can perfectly fit your personality and taste? As you spend each penny wisely, let's pledge to use every inch of the house smartly. Declutter the house and get a clear insight into what will work the best for you.
Below we've listed some of our favourite tiny decorating ideas to help you how to decorate a small apartment or any tiny space.
40 Small Apartment Hacks To Try At Home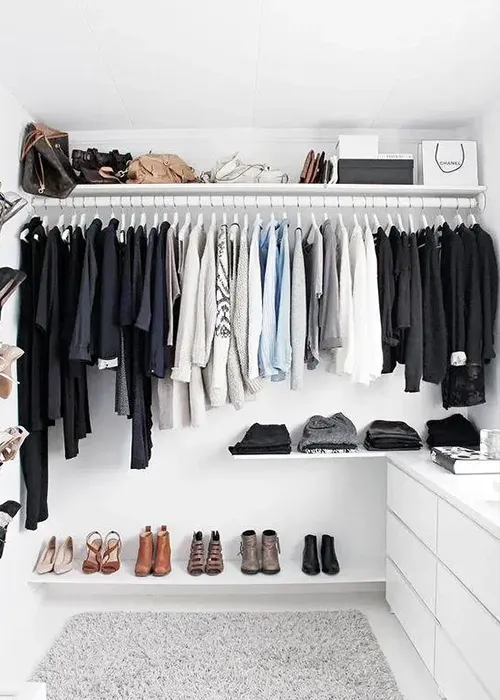 It doesn't matter how many studio apartments DIY hacks you know. Living in a tiny apartment or any small space in general without being organized is impossible. Having all your belongings on display will make your space look cluttered. Invest in storage organizers that are aesthetically appealing and can hold all of the stuff that you don't need lying around.
1. A Storage Bed Will Save Space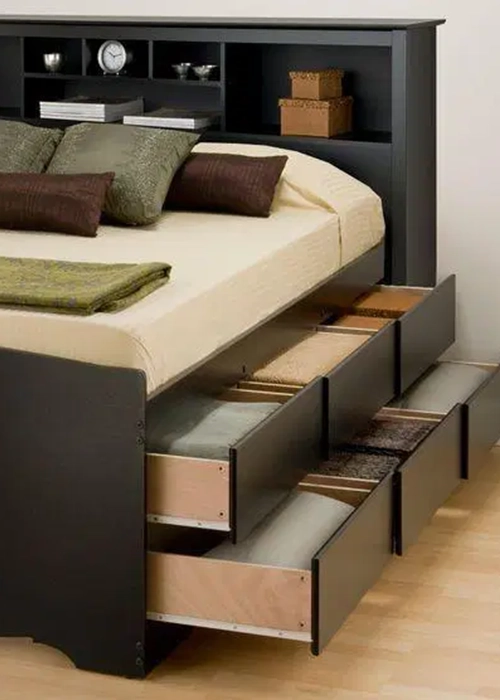 One of the best DIY storage solutions is getting a storage bed. These bedroom storage ideas are ideal for a small bedroom and can also be sensible and stylish. Instead of having a bed frame similar to a platform bed, try this storage hack. Storage beds, under-bed storage that comes with built-in storage come in a range of designs and styles. It will help you not have any wasted space but give more space to the small bedroom.
2. Find Substitutes for Floor Lamps
Proper lighting can transform an apartment, but it's always best to skip the floor lamps for your small spaces and storage. Many DIY decorating ideas and designs can help you brighten your room without using too much of your small space. You might also want to allow natural lighting to enter your room and add lots of wall lights, etc., to make your area feel and look more substantial.
3. Organize Your Drawers, DIY Style
It's excellent for storing away guest linens or seasonal items that you don't need year-round. From a door hanger to a hanging shoe rack, numerous DIY small apartment storage ideas will help you add space to your small closet. A great way to keep your drawers looking neat in your small apartment is by using a drawer divider.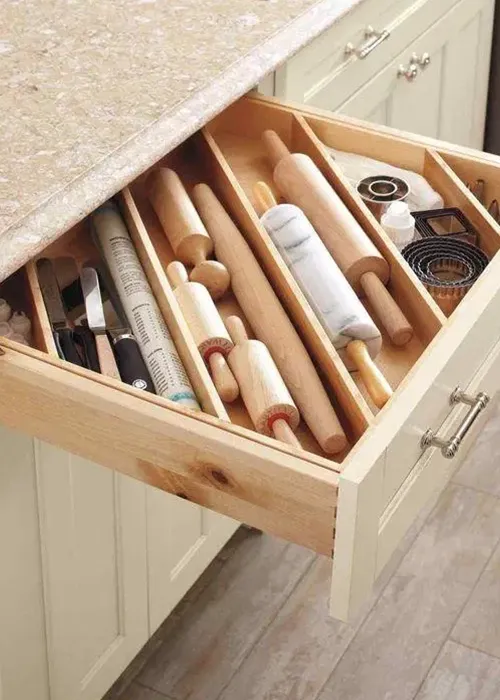 Your tiny dresser drawer may not have extra storage space to keep all your belongings separately. So, you can buy drawer organizers from the nearby Walmart store. Such storage hacks not only offer you extra space ideas but also let you avoid consuming too much space.
4. Add Depth To Your Space With Mirrors
Here's one of the clever DIY small apartment storage hacks that you'll need to invest in. Wall mount mirrors are excellent for adding depth to your small wall space. Try placing them across the window in your living room for a doubling effect. Reflections from the mirror will also double the light entering your tiny apartment with limited space. In addition, it also adds to the apartment therapy.
5. Tiny Tables Hack
Let's keep things tiny! For your DIY small apartment storage ideas, there are many tiny tables or small accent tables that you can invest in. Certainly, it can definitely preserve your small space and double the cuteness of your living room.
6. Hanging Wall Storage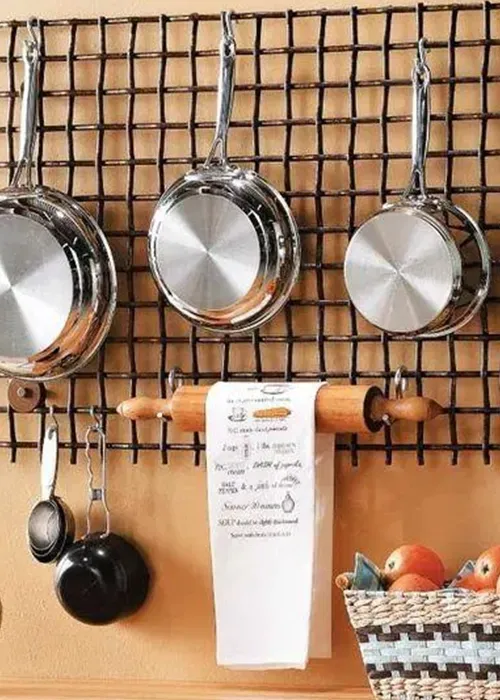 Here's another DIY excellent hack for making your tiny space come together. With just a trip to your favourite home improvement store, you can get one of these bad boys to redesign your kitchen. Keep your pans and pots on the wall, or you can even hang them from the ceiling using adjustable chains that work well for both low and high ceilings. It will improve the floor space.
7. A DIY Vanishing Desk
For your small room or tight spaces, installing a vanishing small desk is one of the most creative ways to get more storage space without the need to install shelving. It includes DIY small storage shelves and an all-in-one table in a small bedroom depending on how you choose to use it at any given time.
8. Opt for dual-purpose furniture
Dual-purpose furniture has long been one of the best DIY tiny apartment hacks for small space and storage. Especially if your living room and kitchen share the same space, many dual-purpose pieces of furniture may come in handy. The great hack is to invest in a coffee table that doubles as a dining table for your living area.
9. Skip the Conventional Bathroom Sink Hack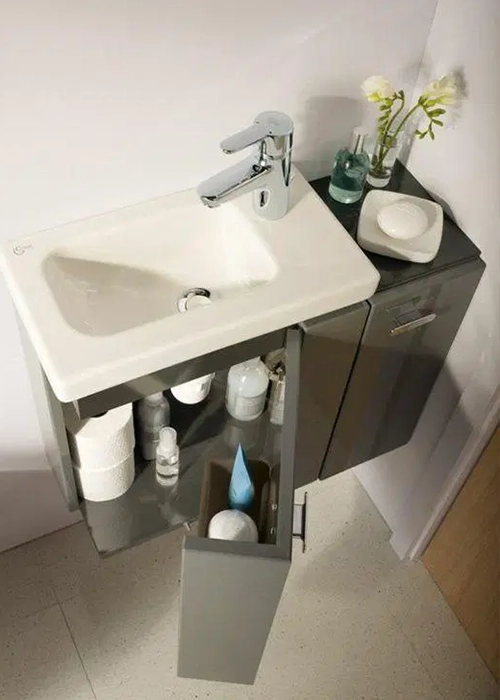 Your studio apartment is tiny and has less storage space; chances are your bathroom is even smaller. If you own the space or are friends with the landlord and can conduct some minor remodelling, then you may be able to make your tiny bathroom look tidy.
Some DIY small condo design ideas or alterations that people can do to improve their bathroom include installing a pedestal sink that comes with a vanity below that can store toiletry in your small bathroom.
If you're dealing with an unreasonable landlord and can't make any independent alterations to a small space, you can add a skirt to your sink to hide what is stored underneath.
10. Make Use of Your Closet Space
If you're lucky enough to have a closet in a small apartment, then you'll want to make the best of it. Try adding some shelves in your closet as a great way to provide more storage options. A quick stop at your local home improvement store should get you all you need to trick out your closet space without spending too much.
.
11. Float On Shelves
One of the best small space and tiny home ideas you can do to add some much-needed organization to your storage and float on shelves are great hacks to do so. Consider investing in these DIY shelves, whether it's for storing books or for décor. This is surely something to try if you want to have the most decent yet the easiest storage in a small apartment.
12. Use Cube Shelves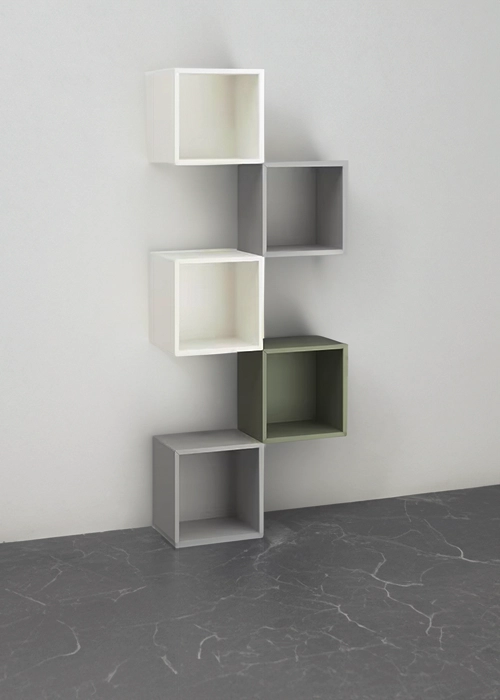 A great alternative to closets and cabinets, you can have a more personalized small bedroom with cube shelves. Installing shelves like these will store all items in one place and increase the counter space. You can either put them one on one or have a zigzag slope to make it look more stylish.
13. Get a double-duty bench
Want to declutter the items in a small bedroom? This is the easiest one to implement out of the many storage ideas you can think of. If you have some room in your small bedroom or living space, do not leave the space below the bench empty. Partition the area and use it as a jewelry storage space or store shoes. Organization ideas like this will ultimately help you in saving space.
14. Recycled storage hack for shoe storage
Do you have a lot of paint cans or tin cans? Why not mount them on the wall as floating shelves and use them as a shoe rack. Keep the opening of the can towards your side and put it horizontally. That way, each pair will have its cozy room to move. Moreover, you do not even have to worry about dirtying the shoes by keeping them on one another.
15. Hanging Laundry Hamper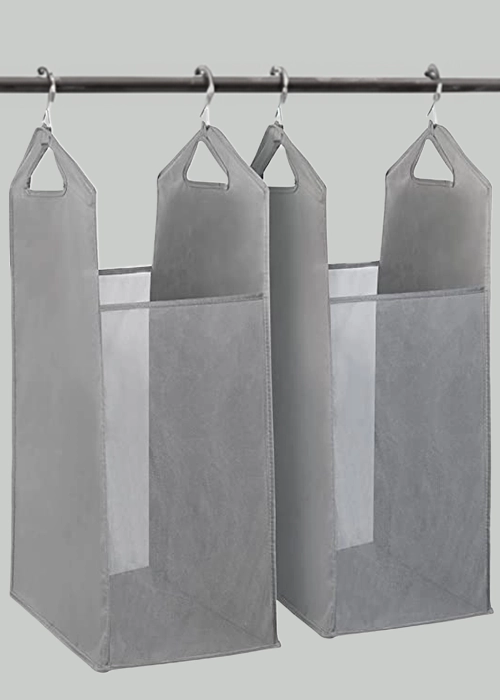 Because you'll have little to no cabinet space in your small apartment, you can also have a hanging hamper for the dirty clothes. For instance, add just a few hooks on the bedroom door, closet door or in the laundry room instead of giving dedicated extra storage space. A little space on the back of the closet door will also give more space.
16. Storage Ottoman
A storage ottoman works the best in a small bedroom. It can be a good shoe storage space. The most important part of using this small bedroom hack is folding it compact and keeping it away when you do not need it.
17. Put a rod for clothes
Instead of having shelf space in the closet, get a coat rack or a pants rack. It will avoid creases and make it an efficient storage system in your small bedroom. Also, you will be able to pick any pair of dresses quickly. In this way, having a clothes rod will surely help. Have hangers for each piece of clothing. Moreover, this will also avoid the huge pile of clothes that we generally see in every wardrobe on shelves.
18. Prepare a trundle bed for a small bedroom
Except at your grandparents' house, you may not have seen trundle beds quite often. But this is one of the best storage ideas you can have for your small bedroom. It looks like a twin bed. However, there is a double mattress hidden beneath. In this type of storage idea, all you can do is get an old dresser drawer and add wheels to it.
19. Make a Rolling Library
Another pick from our top storage ideas is to have a rolling library. Whether you want to have it in a small bedroom or your living room, you simply need to have shelves on wheels. Also, this can easily let you move the books anywhere and everywhere according to your choice.
20. Make a shelf over the bedroom door
In most of the houses, the space over our small bedroom door goes empty. You can best utilize this space by making a small storage shelf. In such storage ideas, you make use of the space and offer more legroom to the area. This space can also work to keep your first apartment essentials you may need when guests visit your home.
21. Put Hooks for Kitchen Items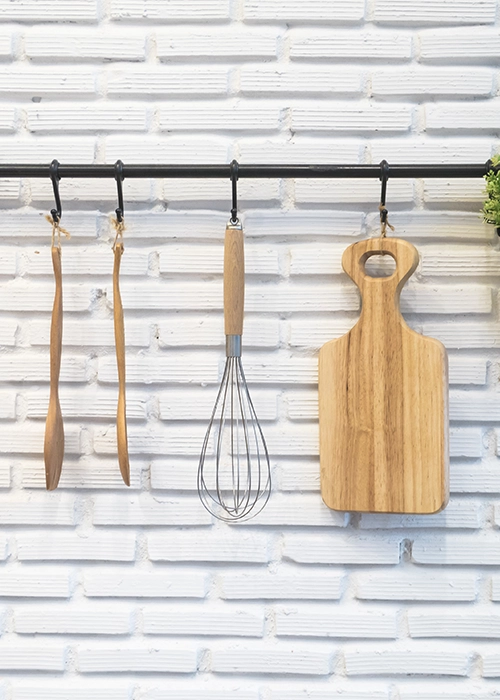 For your small kitchen, ditch the kitchen cabinets and use these small storage solutions to keep your small space looking less cluttered. Hooks are a great way to store and design kitchen items on walls where they won't be in your way. Such storage ideas, such as a vertical space hanging shelf, will give you more room.
22. Make Dual-Purpose Bed
If your studio does not have space and storage for both a bed and a sofa, then a dual-purpose bed may be a great DIY idea. During the day, you can kick back on your comfy couch and enjoy your favourite television show, and at night your sofa conveniently becomes a bed.
23. Install Pull Out Shelf
Instead of cluttering the side table near the bed with gadgets, you can simply install pull-out shelves. These can hold your phones or any other electronic equipment while charging. When you are leaving the house, you can simply collect everything and push the shelf inside the table.
24. Align a Bookshelf Near the Head
If you like reading books while going to bed, having a small bookshelf near the head will save some space. The simple shelf may not have a lot of space but can easily contain about 10-15 books according to the height of your bed. Contrarily, you can also keep some soothing plants on this shelf to help you have a good sleep.
25. Use Vertical Storage
With vertical shoe storage, you get more vertical space, making it one of the best storage ideas for small space. Further, you can also include floating shelves for storing shoes or any other items. Certainly, it lets you explore the very little space you have most conveniently.
26. Maximize Day Bed
Installing a daybed can help you maximize the day bed. It can turn out to be an excellent space to store spare pillows or linen. Try to pick a space-conscious design that will also bring a great aura to the room. And the best part is that you can also use it to sleep everyday. So, get a good mattress and make it comfortable for you to use even as a regular bed.
27. Mount Makeup Dresser on Wall
Why have a floor makeup dresser when you can have a floating one for your bedroom? This is one of the most minimalist styles you can adopt for your space. You can attach some small bags to it and organize the items as per their sizes.
28. Organize scarf, tie and belt
Do you have many scarves, ties and belts to organize? Do you keep misplacing them now and then?
If yes, then having a scarf, tie and belt organizer can surely help. Align rods vertically, one after the other, either on a beam or at one corner of the room.
29. Put potholders and mitts behind the door
Mitts and pot holders take up good space as you simply cannot stack them. Thus, you can hang them on hooks in a room. However, they may get spoiled or dirty. So, it is best to have them hidden behind a door in the closet on a metal rack.
30. Keep Books Underneath The Bed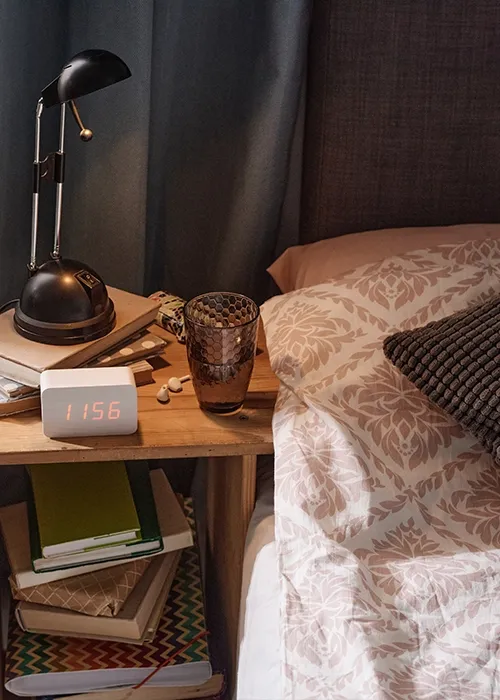 This is another idea which we can definitely try to save some space. Get a platform bed frame and have all the books stacked underneath the bed. This idea not only looks cool but is also handy whenever you need one.
31. Get a Pop Out Pantry for Kitchen Essentials
Have many seasonal bottles in the kitchen? Why not use the space right next to the refrigerator or near any wall? This will be a small shelf on wheels that can contain the bottles or boxes.
32. Use Storage Rods for Slide Spoons
Does your kitchen have a corner that you can hardly use? Or maybe you may have some space just at the corner of the kitchen top. Put some long rods and keep your slide spoons onto it making the area look more creative.
33. Try a Mason Jar Storage
If you have a collection of mason jars, then this storage hack can definitely help you. Keep the bobby pins, cotton balls or swabs all in one place with this smart solution for storage. All you would need is a list of some simple tools, mason jars, wood and hose clamps. Mount a wooden slab on the wall. Hold the mason jars on it with hose clamps. Voila! You are ready to use it.
34. Use the Lovely Ladder
Have a ladder in the house that you use occasionally? Make it indispensable by keeping it near the entryway or in your closet. You can keep your shoes or put some indoor plants at every step.
35. Convert the bench into a multifunctional furniture
Disguised as the most functional furniture piece, get a comfortable bench with a lid. Simply lift the lid and grab the most essential item you would want while heading out. Now, this interesting bench can also have laundry or your kids' toys.
36. Make a DIY Magnetic Organizer
Have a lot of beauty products to organize? Don't worry. Here's one of the best ways to use your space. Make your magnetic organizer as unique as possible and create a chic style. If you do not have anything in metal, you can place some metal boxes with dividers to store the things. At last, using the space and making it contain in the best way should be the output.
37. Store the fresh produce on a rack
Keeping the fruits in a basket on the counter will surely take space. On the other hand, you cannot put them in a dark drawer. Thus, try this idea of screwing a rack on the back of the pantry or kitchen door. All it needs is good light and a good amount of air that can help you keep the fruits fresh without moisturizing them.
38. Go for a mirror jewellery cabinet
Have a full-length mirror in your room? Make a jewellery cabinet right behind it. Here, you can put hooks or a frame where you can rope in or hang the items. All you have to do is put some hooks or rods according to the jewellery you have. You can surely store keys, bracelets, earrings, or necklaces.
39. Keep your heels on tension rods
If you have many heels and pumps, then find two parallel walls in your bedroom where you can put a few tension rods. You can hang your shoes on them with their heels. Besides, you can also put socks or stockings on these rods.
40. Store keys behind frames
Finding a suitable place to store keys has always been a hectic task to do. So, why not store the keys behind frames? That way, you can keep them safe and also not spend time finding a place for it. These are some of the most astounding small apartment hacks you can have if you wish to explore your creativity. Organizing the room neatly will surely make you feel a million times better.
You can use most of these and make your room a place for calmness. Your personal space is an area in which you can create a haven. So, why wait? Not sure exactly what you can have for your room? Access all the new and upcoming condos in Canada at PreCondo.