When it comes to buying a condo, a lot of thought goes into your initial purchase. First there are the key aspects such as budget and the location of the neighbourhood. The amenities that are included are also another factor that can help sway your final decision.
However, once you've signed on the dotted line and moved into your condo, your attention will soon turn to your home design. If the interior design doesn't come naturally to you, don't panic!
Here at Precondo we've helped thousands of people buy their dream condo. Today, we are sharing our top advice when it comes to the best interior design tricks.
In no particular order, here are 11 steps to help you achieve your dream condo design.
---
1. Pick A Theme
First things first. You need to consider your lifestyle and personal taste. What types of colours, furniture and overall layout would work best for you?
After all, your condo is your home. So, it's important that your new living space is a true reflection of who you are. Far beyond being a showroom for others to admire – a condo is your own personal living space.
If you're not sure about what theme to pick, it might be best to keep things neutral. With a plain colour scheme, this gives plenty of room to add feature walls, colours or pieces further down the line. However, if you start off too strong or chaotic – you could come to resent the space.
A good tip is to create a mood board. By collecting different colours and swatches, you can begin to visualize whether your theme works together and for the space to will be applying it to.
These days, the likes of Instagram and Pinterest have endless amounts of free inspiration. Always remember to factor in the actual room before you go ahead and choose a scheme. That way, you can be sure the colours will work well with the light and space available.
2. Maximize The Available Space
One of the top perks of owning a condo is that they have a spacious and open plan feel to them. Though, they can also be limited in actual floor space too. So, it makes sense to plan how you are going to use the space to reach your condos potential.
While furniture and accessories are a necessity of any home, resist the temptation to go overboard. Having a cluttered condo will reduce the amount of living space you have. From a design perspective, it can make the rooms seem hectic and uninviting.
So, to maximize the available space you need to pick your furnishings wisely. Start with a blank canvas, and only add in what you need. If you find you have too much furniture, it's a good idea to have a clear out before you move in.
Also, try to resist the temptation to fill small spaces with junk! Always consider your overall interior design to keep things balanced.
3. Don't Forget Curtains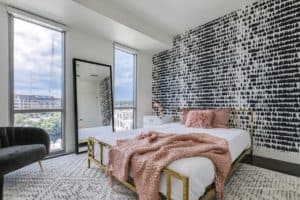 Curtains hold a variety of purposes in a condo. They keep light out ensuring a good night's sleep. Also, they ensure privacy especially if your condo has neighbours who overlook your windows. Curtains can also add a stylistic touch to the decor of your room when it comes to interior design.
An advantage of using curtains in a condo is that they also make the place feel more homely. While blinds are great, curtains have a luxurious touch to them that will make your condo feel more like a home, rather than an office.
Floor to ceiling curtains add a modern touch too. The other good news is that curtains come in a wide range of materials, textures and prints so there really is something to suit all tastes.
4. Consider Using Wallpaper
Paint is often the choice when it comes to interior design. However, don't forget about wallpaper too.
Wallpaper comes in a variety of prints and finishes. Whether you decide to wallpaper an entire room or just a feature wall, you can really make a statement and add personality to your condo by doing so.
An added bonus is that wallpaper is excellent for insulation. Compared to paint, wallpaper helps keep the heat in the room. So, if you notice a particular room in your condo or small apartment is a little cold, it's worth switching to wallpaper instead.
These days, you can even get photography-based wallpaper. Perhaps you could have the skyline of Toronto across your living room wall? Even if you'd prefer a tropical print instead, with wallpaper there is an endless choice when it comes to your interior design.
More than just an accent wall, your wallpaper could serve as the backdrop that can help you choose the rest of the decor and furniture.
– Cielo Anne Calzado, Contributor at Real Living
5. Multi-Purpose Furniture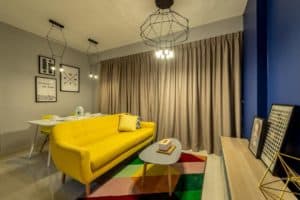 In a condo, space is off the essence. One way you can easily bypass this issue is by choosing multi-purpose furniture. Especially in small living spaces!
An example is a dining table that also doubles up as a workspace. Or, a couch that also converts into a bed. Even if this is just for guest use, it's much easier than storing an inflatable bed in a cupboard, or even having an actual bed in the spare room.
Storage is another key thing to look out for within your furniture, especially in a small apartment. Everything from having built-in shelves underneath your coffee table, to drawers underneath the bed.
Choosing multi-purpose furniture doesn't just help keep your condo tidy. It also helps you save money too, especially when you can forgo endless storage units or even shelves. Keep things simple, tidy and under budget with multi-purpose furniture. For small spaces especially, this advice is key.
6. Experiment With Geometrics
A simple way to take your condo from looking bland and boring to sophisticated and stylish, is through adding clever optical touches. One such trend that's easy to implement is geometrics. Essentially, simple geometric shapes in the form of accessories or even prints.
Geometrics is an interesting interior design style because it's so simple yet very effective. If your previous home had clunky, dated furniture – switching to a geometric style will bring your interior design right up to date. Even small touches such as accessories can create a beautiful focal point in the room.
The following video shows Youtuber Lily Rose creating some DIY geometric interior design. If you try this yourself, be sure to tag us over on Instagram!
7. Use Your Wall Space Wisely
When you add up the total amount of space together, the walls of your condo are the biggest area of your home. So, it makes sense that how you use your walls can have a big impact when it comes to your interior design. Especially if you own a small condo!
Understandably, trying to decide what colour to paint your walls or even what to hang on them can seem daunting. If you're unsure, the best advice is to start by keeping things simple. Rather than this being a boring approach, it gives you a chance to figure out if anything is missing or indeed if you've added too much already.
Items such as mirrors can make a small entrance way seem larger. For kid's rooms, practical touches such as adding shelves is a great interior design tip.
Another interesting trend is biophilia which is all about establishing a connection to nature. Did you know, we spend 90% of our time on average indoors? You can easily incorporate biophilia into your condo by adding plants onto your wall space. Some companies even make wall tiles that grow plants! Though, a shelf that hangs a plant or tree would be an ideal starting point, especially if you are working with a small condo.
8. Know When You Have Enough Furniture Already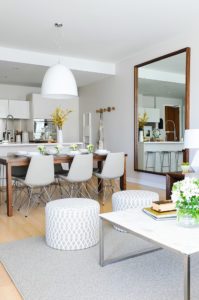 For anyone who has just moved into a new home, shopping for furniture can seem exciting. After all, it's a fresh new chapter in a brand new location.
We don't want to rain on anyone's parade here at Precondo, however, as that famous meme will tell you… it's time to stop. To clarify, buying new furniture is wonderful, but there's also a cutoff point when your small apartment can feel difficult to move around in, and well cluttered.
Less is definitely more when it comes to interior design. It's about striking the balance with having the functional part of your furniture, without overdoing it. When it comes to colour, white furniture is excellent for making the space seem bigger in a small apartment. (1)
Related Articles:
9. Add Mirrors
If your condo is small and you wish to make it appear bigger than its actual size, mirrors are a great choice! (2)
We've previously mentioned how great they work in small entrance ways. However, mirrors are an excellent interior design addition throughout any area of your condo, especially in small living spaces.
The main advantage of mirrors is that they bounce the light well. If your condo has lots of natural light, mirrors will enhance this.
Of course, mirrors also have a practical use in that they allow you to see your outfit. Compared with buying standalone mirrors, having mirrors placed on the wall can save valuable space, especially in small living spaces such as bedrooms.
10. Add Glass Shelves In Your Bathroom
Adding glass shelves in the bathrooms of your condo has two benefits. First, glass shelves are excellent for storage. They will also add a touch of luxury to your bathroom, without having to pay for an expensive re-fit. Glass is also an easy material to clean and also helps reflect the light well.
11. Add An Island To Your Kitchen
Tune into any reality show based in a celebrity home, and they are most likely conversing around a kitchen island.
The good news is that you don't have to be Hollywood elite to add a kitchen island to your condo.
Kitchen islands are practical in so many ways. They give vital prep space for cooking, but can just as easily create a dining space. Plus, they are incredible at adding additional storage space, especially if your kitchen is on the smaller side.
When entertaining, kitchen islands are great for guests to sit and chat around. With so many designs, materials and finishes to choose from, you can make a kitchen island work for you.
Check out this home design video from DIY Pete. He teaches you how to make your very own kitchen island!
---
Final Thoughts On Condo Interior Design
Your condominium is your own private space that you call home. Like any home, it's important to put your own personal stamp on the place, while continuing to maximize the interior design potential of the property.
Interior design can seem overwhelming, but you don't have to be a designer to make your condo space work for you. By keeping things simple and adding small touches, you can create a beautiful home design with minimal cost and effort.
Whether you have lots of space, or if you are living in a small condo – we hope you've found the above design ideas useful.
Condos are an excellent living option to reside in. For exclusive access to all the new and upcoming condos in Canada, visit Precondo. Here's you'll find exclusive access to the latest properties for sale and rent in Toronto. Plus, we have a range of pre-construction condos too!
---
References:
Lauren Flanagan, A Buyer's Guide to Saving and Splurging on Furniture, retrieved from https://www.thespruce.com/saving-and-splurging-on-furniture-1976536
Lauren Flanagan, How to Make a Small Room Look Bigger, retrieved from https://www.thespruce.com/make-small-room-look-bigger-2213461