Luxury condos are not just a place to live. They are your own space to entertain, unwind and enjoy breathtaking views across Toronto. From exquisite design to luxury amenities – every whim will be taken care of when you opt for the best condominiums in Toronto.
Bringing a taste of 5-star hotel living into everyday life, it's time to discover a snapshot of the 9 best luxury condos in Toronto, Ontario. Given condos in Toronto have so much to offer (such as an indoor pool), it's a tough choice to decide which are the best.
However, after a lot of consideration, our real estate team at Precondo has curated a list of the very best condos. Here's our top 9: 
1. Shangri-La Condos
Shangri-La Condos by Westbank is the epitome of grandeur. When it comes to residential spaces, these luxury condos boast a wide array of perks. It's no wonder the Shangri-La has a spot on our list of the top luxury condos in Toronto.
While the price tags of its residential units put them in celebrity territory, the exclusive amenities are enough to keep even the fussiest Toronto homeowners happy.
On the first 17 floors, this real estate property features a 5-star hotel, with the residential units of Shangri-La occupying the 18th to 47th floors. The highly sought-after Private Estate suites are on the 50th to 65th floors.
Many noteworthy features make this development one of the best condos in Toronto. These include 24-hour concierge and security services, elevator access to all floors of the building, a fully-equipped fitness centre on the 5th floor coupled with a yoga studio, a 20-meter lap pool, an infrared sauna, a hot tub and changing rooms.
Shangri-La Condos boasts stunning custom-designed units that range in sizes from 819 sq. ft for one-bedroom options to 4,400 sq. ft for three-bedroom 'Signature Suites.'
All in all, the development offers a real treat for buyers of luxury real estate. Who wouldn't want to live here?
2. St. Regis
The St. Regis stands proudly amidst Toronto's sleek skyline. It's still in the early stages of a colossal redesign. However, once completed, the St. Regis Residences Toronto and its seventy-four prestigious suites will be a truly luxurious development.
It's a place where expectations will always be exceeded; where every element manages to reveal something exquisite. [1]
The project will boast glorious amenities, postcard-worthy views of Toronto and dedicated butler services. Not forgetting meticulous attention to detail throughout every inch. It's one of the best places if you want to feel like royalty.
St. Regis makes full use of its desirable location in Toronto. It provides residents with warm hospitality, brilliant architecture, and impeccable cuisine. All while upholding the highest standards of sustainability. With even more to come once, the redesign has been completed.
"The St. Regis brand, which was founded by John Jacob Astor in the early 20th century, is known for its insanely attentive service, as well as perks like midnight supper and afternoon tea. The hotel will even have butlers on hand to unpack suitcases, steam dresses and draw baths."
– Jean Grant, Toronto Life

3. The Florian
Sporting its well-known purple brick exterior, The Florian condo residence has been created by Diamante Development Corporation. It's a grand residential development that is located at the intersection of Davenport Road and Bay Street in Toronto.
Considered by many to be one of the most prestigious luxury condo buildings in Toronto, The Florian houses 98 units that range in size from 746 sq. ft to over 7,441 sq. ft.
This development has a wide array of amenities to entice prospective condo home buyers. These include a summer bar area, a rooftop terrace and urban park, a swimming pool and a sauna area that are accessed by a private elevator, and so much more. It means you will always have a means of enjoying yourself regardless of your hobbies.
Outside of the building, other developments in Yorkville beckons. Widely regarded as one of Toronto's trendiest areas, you'll find fine dining restaurants, classy bars and clubs, luxurious boutique shopping locations, and art galleries. These are all within walking distance of The Florian.
Next up for Diamante is an even more luxurious Condo Development at 100 Davenport in Yorkville.
4. Ritz Carlton
With one of the best locations in the city and impressive views of the downtown Toronto skyline and the serene lake, Ritz Carlton by COPRIM has to be included on our best condo list.
The Toronto building sits thirty storeys above the ground. It has an enviable location, right in the heart of Canada's most vibrant city.
It's conveniently nestled in the Entertainment District of Toronto among incredible restaurants, entertainment venues, and shopping locations.
It's the recognizable high standard of the Ritz Carlton brand; coupled with an atmosphere of rich urban energy, stunning designs, and state-of-the-art finishes, that allow this mixed-use building to earn the distinction of being one of the best condos in Toronto.
Here you'll find a reliable concierge, a high-end spa, and eateries led by award-winning chefs. All of which set this impressive residence aside from its competitors.
Floor plans for this masterpiece residence range in sizes from 1,233 sq. ft to 10,854 sq. ft. Individual units boast sophisticated yet contemporary finishes. Panoramic views of the Toronto region and lake are achieved through floor-to-ceiling windows.
Condos at The Ritz Carlton offer true luxury living in Toronto.
5.  Four Seasons Resort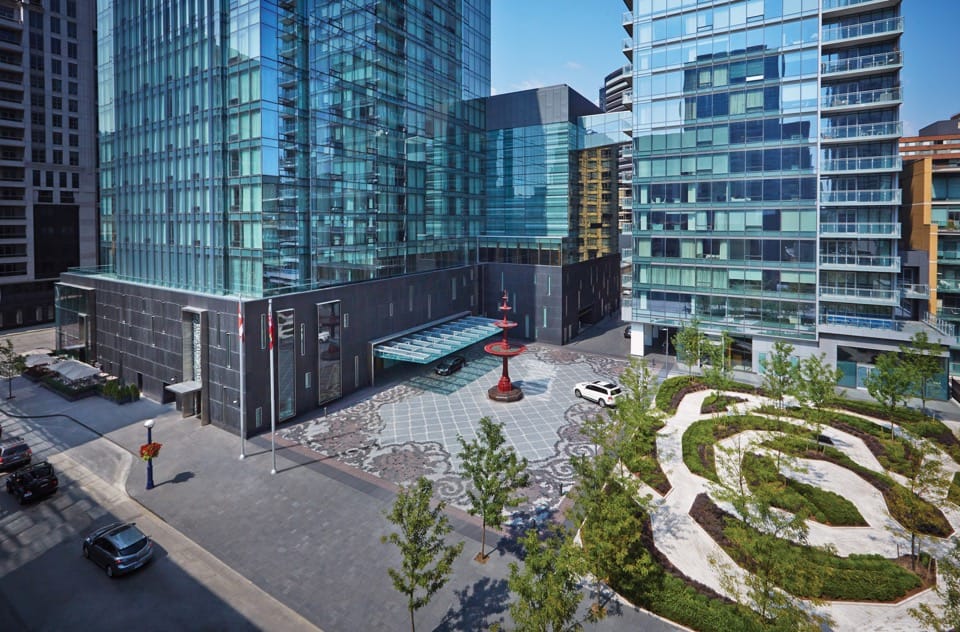 Ever stayed at a Four Seasons and wished you could live there? Now you can, right in the heart of Toronto. Created by Lifetime Developments, this new luxury residence exudes elegance on both the inside and outside.
The Four Seasons resort is located in one of the most highly sought-after cities and vacation destinations. This, coupled with the superior five-star amenities and services, makes this one of the top luxury condos Toronto has to offer.
Four-season condos offer homeowners the chance of an uninterrupted vacation-like lifestyle all year round. It offers complete relaxation and exclusiveness at their fingertips.
Available condo building units range from 680 square feet to 9,038 square feet. This collection of stunning residences, in the prime location of Yorkville, makes this one of the best places to live in Toronto.
6. Museum House
Extraordinary attention to even the most minute details, make this spectacular 5,700 sq. ft. Toronto condo building a distinctive once-in-a-lifetime offering.
The Museum House boasts 1,300 sq. ft. of terrace space. This Toronto condo is comprised of four stone terraces with frameless glass railings on each level. It has the most spectacular views of the city.
Residents will enjoy glorious alfresco living, adding even more luxury to each unit.
The penthouse has been meticulously designed around the stunning views of the Toronto skyline and the adjacent lake. This gives the illusion of a moving canvas that changes with the seasons. Ceiling heights will reach up to 12′ on the main living level, and up to 10' on the upper levels.
A gracious circular stairway rises from a magnificent foyer. This makes efficient use of the space and creates a breathtaking sense of awe upon arrival. A sleek wood-panelled private elevator connects both levels. It's one of the sleekest properties on the market here in Toronto.
The Museum House Penthouse is undoubtedly one of the city's most spectacular residences. It has been lovingly finished with the highest quality materials and skilled craftsmanship. No detail has been left unnoticed in its creation and refinement. As a result, the home is move-in ready.
7. Pier 27
Custom built by Cityzen Development Group, Pier 27 takes luxury condo living to new heights in Toronto.
Each suite that's for sale here has been built to mimic a penthouse. It facilitates a luxurious lifestyle along the lakefront.
Located at the foot of Yonge St, this remarkable development ensures unprecedented views of the nearby water and city skyline.
It's undoubtedly one of the most enviable addresses in the city, earning its place among the best luxury condos in Toronto through sheer perfection.  The Pier 27 Condo effortlessly complements the vibrant energy of Toronto's lakefront neighbourhood.
The building is designed to surpass the expectations of homebuyers, while also celebrating life in Toronto. With high-end amenities such as concierge assistance, an outdoor swimming pool, a private theatre, a game room, and more – it's truly a condo residence to behold.
8. Nobu Residences
Nobu Residences is an inspirational development by award-winning Japanese culinary master, Nobu as well as Hollywood legend Robert De Niro.
The Toronto development boasts two U-shaped towers that rise 49 storeys above ground. It features a total of 700 private restaurants, 102 rooms, and a high-end bar. The unexpected twist you won't find in any other condo? A Nobu restaurant delivers quality meals to residents.
The condo development offers exclusive access to nearby lively nightlife venues. All without compromising a life of luxury that's free from the stresses of everyday life. Once completed, there will also be a fitness centre, a spin studio, a massage room, a yoga studio, hot tubs, a dry sauna, a changing room, a cold plunge, and a wet steam room.
Above this on the 10th floor will Nobu villas. This luxury development will also feature a BBQ area and prep deck, as well as an outdoor terrace. We want to move in ourselves, to be honest.
9. 346 Davenport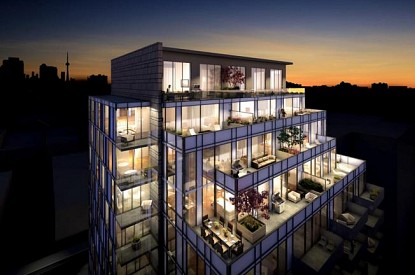 State-of-the-art visuals meet your eyes the moment you set foot inside this Toronto condo at 346 Davenport.

The cutting-edge designs and contemporary materials create an imposing finish. This gives 346 Davenport the perfect blend of affluence and style, right here in Toronto.

Smooth and glossy panels of durable glass extend from the floors to the ceilings. It blurs the lines between interior and exterior space. All while giving the option for complete privacy at a moment's notice.

Looking outside, the panoramic splendour of the surrounding cityscape is a sight to behold. The views create a real-life painting that is always in motion and ever-changing. With one foot in the past and another foot reaching forward to the future, there is no denying that 346 Davenport exists as both an ode to the history of the surrounding neighbourhood and a nod towards the very best of modern real estate.

Did We Miss Any Condos in Toronto?
That wraps up our list of best condos for sale in Toronto, Ontario. What fine pieces of Toronto real estate they are! Think we missed one? Let us know the details in the comments below. Be sure to check our full list of condos for sale here in Toronto too.
---
References:
1. Jean Grant, What we know about the new St. Regis, the luxury hotel that will replace Trump Tower, retrieved from https://torontolife.com/real-estate/condos/know-new-st-regis-luxury-hotel-will-replace-trump-tower/
2. Sydnia Yu, Yorkville residential project 346 Davenport targets the high-end buyer, retrieved from https://www.theglobeandmail.com/real-estate/toronto/yorkville-residential-project-346-davenport-targets-the-high-end-buyer/article34173140/