Shangri-La Condos
| | |
| --- | --- |
| Address | 180 University Ave. Toronto, ON |
| Maintenance Fees | |
| Developer | |
| Year Built | |
| Price Range | |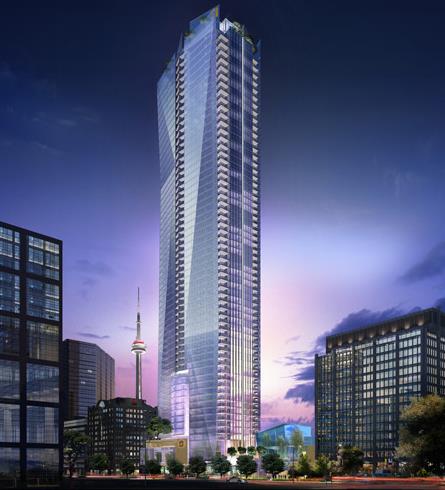 14 Images
Shangri-La Condos Condominiums For Sale
About
The very name Shangri-La suggests a paradise location that can take you away from the troubles of your everyday life. The busy city life leaves all of us wanting some release and comfort. Shangri-La condos is making that paradise a reality at 188 University Ave, Toronto. Shangri-La has other hotel locations, with Toronto being the number one in North America being a luxurious condo and hotel mixed development. Shangri-la Toronto offers linear architecture with a tall building design that goes over 68 stories high.
The buildings don't just offer a tall structure, and they share their presence with a 5-star hotel which will provide you with the finest cuisine. What's best about their condos is how well placed they are. Located at spots near to Toronto's most entertaining districts with easy transportation options. You will never feel out of touch with the city. Out of all their condos, the Shangri-La condos of Toronto is one of their best works in North America.
The Glory of Shangri-La Condos Toronto
The condo building in Toronto opened for business in August 2012. The building was a remarkable piece of architecture that stood out from many structures the city had to offer back then, and now, seven years later, it still holds the same glory. It was fully designed with a glass atrium in every story and made to stand strong with stainless-steel. The Shangri-La condos was designed by esteemed architect, Mr. James K.M. Cheng. He was one of the architects that pioneered the style Vancouverism.
The Development of Condos
The Toronto condo building was developed by the popular Westbank Projects Corp which was in charge of the development of other popular buildings like the London Plaza, the Dockside, the Fairmont Pacific Rim, etc.
The same condo developer and designer also worked on the monumental 62-story Living Shangri-La which is Vancouver's tallest building. A proud achievement for the company but it's an even greater experience for the residents. The Toronto Shangri-La condos may not be the tallest building in Toronto, but it is among the top 15.
A Closer Look
The Shangri-La condos Toronto is a 214-meter tall building with 68 stories and a total of 395 residential units. There are 202 guest rooms and suites. You can find the entrance to the condo units at 180 University Ave in The Core, Downtown. The hotel rooms will be occupying the first 17 floors of the condo building.
Guests and residents will be offered 5-star hotel services. The designers paid close attention to the interior decor of all of their rooms. Adding luxurious features like over-height ceilings, exclusive Italian kitchens, closet organizers, automatic blinds and other top-of-the-line-appliances to all parts of the condo, be it kitchen or bathroom.
A Vast Range of Amenities
Condo residents can find amenities like a top-class fitness center with plenty of workout machines, access to the world-famous Miraj Hammam Spa by Caudalie Paris. There is even a lap pool with a hot tub, fitness center, function spaces, specialty restaurants, a three-story and tri-concept restaurant by lauded New York chef, David Chang, and Soho House Toronto, a popular pub where you can spend your night away.
When it comes to room service, you can expect a quick and consistent housekeeping and maintenance, great concierge services, a valet and car service. Then there's the great ocean view you that is unlike anything you've seen before. Most of these luxury amenities are already included in your unit maintenance fee, so you don't have to concern yourself with extra payments.
Shangri-La Modern Bathrooms
The bathrooms are built with minimalistic design choices. Constructed with continuous lines and top-quality fixtures. Hot tubs, elegant floors and a spa-like experience makes the bathrooms truly luxurious.
The Magnificent Kitchens and Bedrooms
Shangri-La Kitchens– The kitchens were also minimalistically designed and were based on Boffi Italian design choices. The kitchens will feature high-end appliances like sub-zero refrigeration and Miele built-in coffee machine. These condo appliances are efficient in performance and add a great touch to the kitchen design. The drawers and cabinets are mostly made of soft-touch wood combined with flush granite countertops.
Shangri-La Bright Bedrooms- The windows of the room expand past the outer room walls which enlarges the view giving you a peaceful stay in your room. Shangri-La condos featured a view of the best of what Toronto has to offer. The great city spaces, buildings, the expansive coal harbour, the Mountain North views, and the best ocean views make the experience surreal. The many different condos each offer a unique view of the sky and the city.
What's Nearby?
The condo building has great spots nearby for you to visit and relax. You can take yourself to great art galleries and museums nearby which are among Toronto's best places to go to. The Four Seasons Centre for Performing Arts or Princess of Wales Theatres or Royal Alexandra is great places to keep yourself entertained with all the amazing talent performing live. The Ian Tan Art gallery and Chali-Rosso Art gallery will enthrall you with many contemporary works and unique creations. The ever-famous Art Gallery of Toronto is just a walk away from the Living Shangri-La.
Rich Delicacies at the Restaurants
If you want to catch a cup of coffee to start your morning, the Second Cup is a great choice next to you. Restaurants aren't in any way scarce near you. You can try some delicious steak at Ruth's Chris Steak House or try Momofuku for some exquisite Chinese cuisine. The Nota Bene and Volos are also reputable restaurants right near you.
Entertainment isn't Compromised
You can catch a movie at The London Tap House, TIFF Bell Lightbox and Scotiabank Theatre Toronto all of which are just blocks away from you. If you want to experience the fresh green nature and have some piece, the David Pecaut Square is the closest option. You can also enjoy a great night out visiting the Soho House Toronto which is near the Bishop's block. The pub was also developed by Westbank group.
Transportation Facilities
As for transport, the hotel car service can provide to be very convenient for your short journeys. However, if you fancy a greener route and want to board public transport, you will find a streetcar stop and a bus stop just up the street. St Andrew and Osgoode subway stations are also just a block away.  Shangri-La has placed a firm foot on the skyline business of Toronto with its unbelievably tall towers, massive amenities, and easy commute. The development is proving themselves worthy of their name by providing a mini-paradise at the heart of the city.
Request More Information Resale/Lofts
Instant Price List & Sales Info Package