It's summer, and enjoying a quick swim is much easier, especially now that the weather is warming up and pool time is again on the agenda.
So, if you're looking for an iconic building with rooftop pools to swim a lap in the city, we've got you covered.
There's nothing quite like stepping into a lovely poolside retreat – right in your building – by taking the elevator. Many condos have indoor and outdoor pools, but these nine beauties take the experience to a whole new level. Not to mention, your poolside staycation will be enjoyable with these rooftop condo pools.
Here is a quick list of amazing Toronto condos that you can buy or rent to catch some rays (and maybe a cocktail) poolside.
1. Pure Spirit Condos (33 Mill St)
Pure Spirit is a vibrant downtown Toronto condo building in one of the city's most desirable and charming spots. The project features both Toronto condo units and lofts along with a long list of amenities.
The dual-structure Pure Spirit remains on the corner of Mill Street and Parliament, just south of Front St in the heritage-styled Distillery District, as the area's first condo tower. It is in a vibrant, pedestrian-only neighborhood with easy access to the Gardiner Expressway and the TTC.
The sundeck, hot tub, and rooftop pool are all noteworthy features, and the view from this rooftop pool is well worth the short trip. In addition, the place in the city is an ideal summer lounge spot, with BBQs and a hot tub!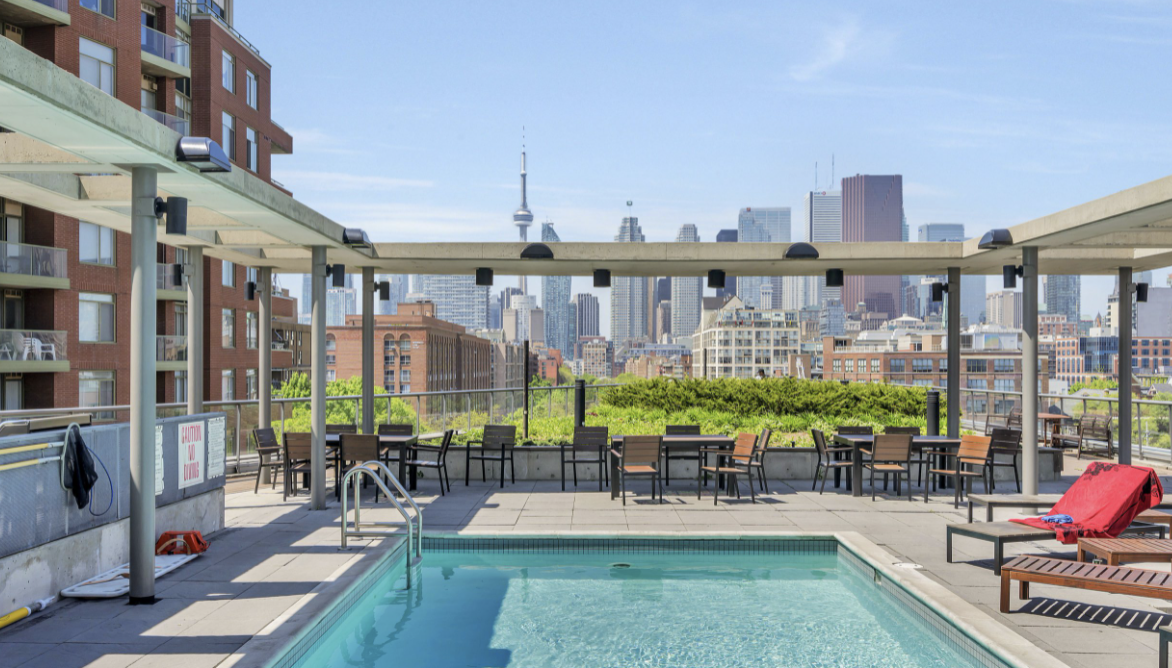 ---
2. 300 Front (300 Front St)
The 300 Front East West Condos at 300 Front St W stands on the northwest corner of John and Front Streets. A 49-story tower and a 12-story loft building make up the 300 Front.
If you are looking for the best outdoor condo pools where you can swim a few laps, then this one has one of the best rooftop pools. The pool is not only one of the largest rooftop pools, but also has an excellent line of lounge chairs and cabanas.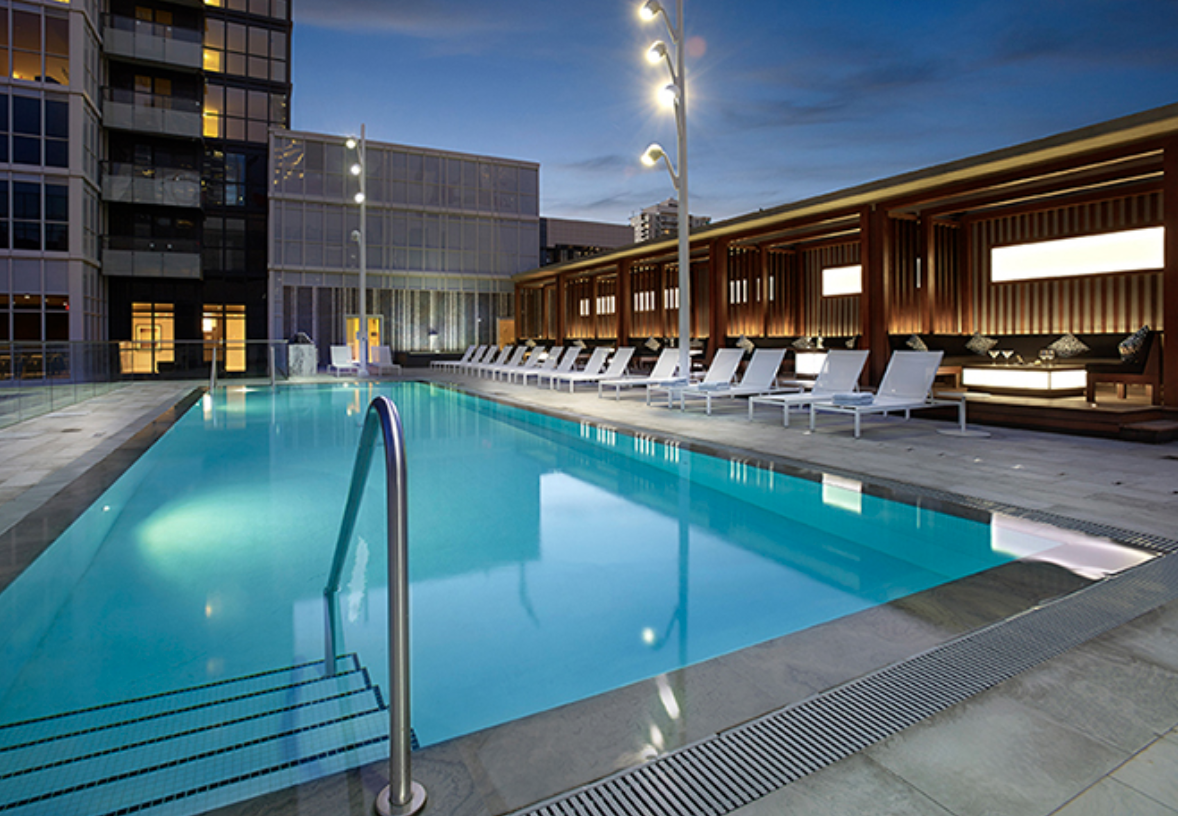 ---
3. King Charlotte Condos (11 Charlotte St)
The King Charlotte Condominiums, developed by Niche Development, Lamb Developments, and Fortress Real Developments, are located at 11 Charlotte Street, just minutes from the historic Theatre District, Entertainment District and Financial District.
The residents of King Charlotte Condominiums will have exclusive access to the state-of-the-art fitness centre as well as the party room.
All amenities are still being built, including the highly anticipated rooftop pool on the 34th floor, primarily facing west and having views to the north and south! This pool will certainly finish by next summer.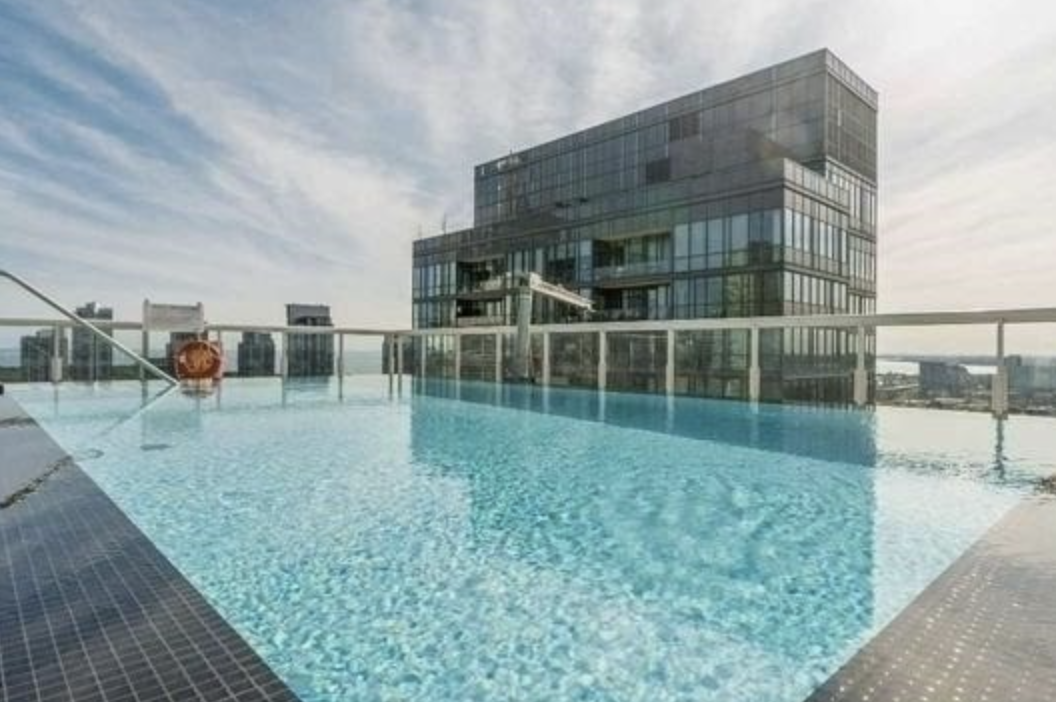 ---
4. Fashion House Condos (560 King St W)
The Fashion House Condos at 560 King Street West resides in the heart of King Street's Fashion District. Thus, people call this building the Fashion House Condo. This historic area of Toronto was once the heart of the city's textile industry.
However, it still refers to itself as a contemporary, modern hub packed with exquisite architecture and elegant, urban businesses, creating a value that is difficult to match.
The ninth-floor hideaway has plenty of sunlight throughout the day, incredible views and a stunning infinity pool. So. you can soak up the rays whenever the mood strikes. There are plenty of all-weather beanbags, chairs and loungers to choose from. You can reserve cabanas if you need some shade in summers near the pool.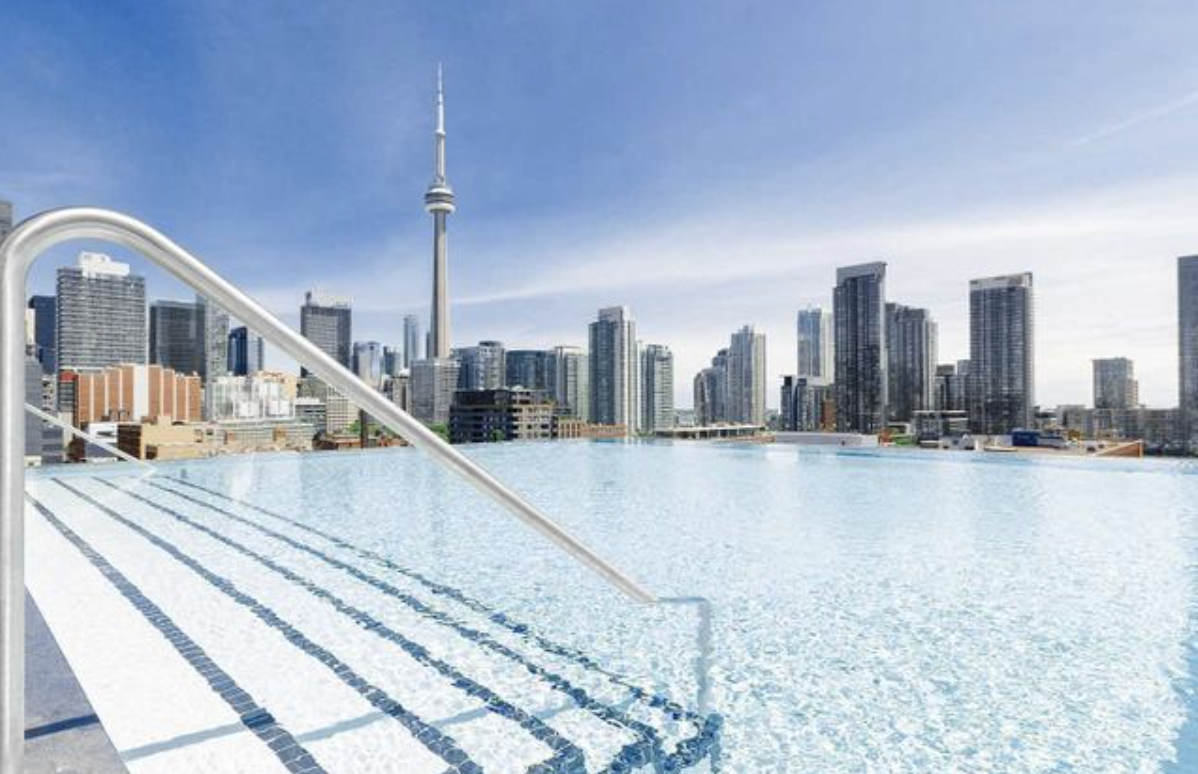 ---
5. Bisha Hotel (80 Blue Jays Way)
Bisha Hotel and Residences by Lifetime Developments is a condo development at John and Adelaide Streets in Toronto. This condo, located in the heart of Canada's busiest area, shows style and grace. Bisha, a 44-story hotel with an infinity pool, bar and a large rooftop restaurant, aims to impress every visitor.
Completed in 2017, the project has a lot to offer for both the residents as well as the hotel guests.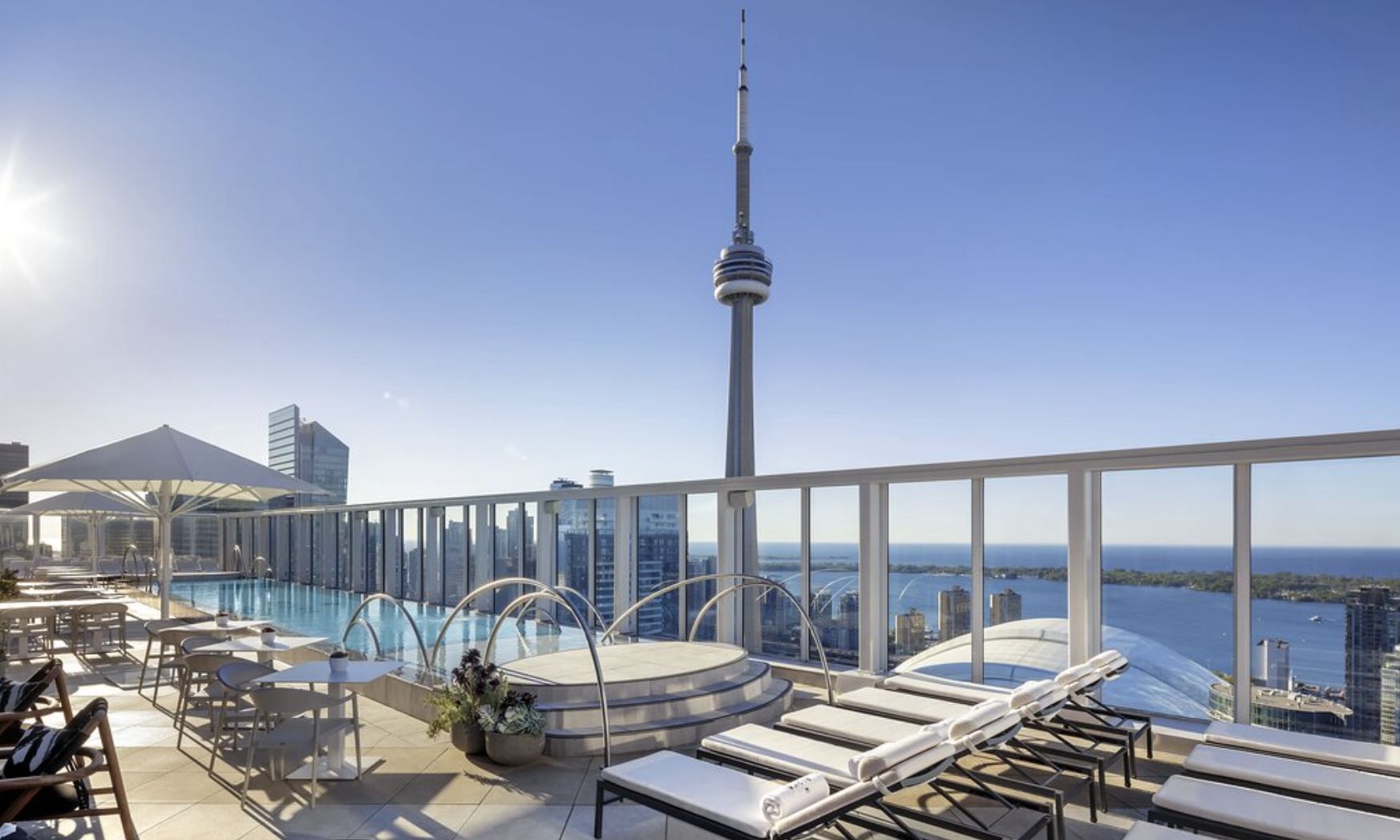 ---
6. The Verve Condos (120 Homewood Ave)
The Verve is a beautiful and unique residence in the city offering urban Toronto lofts and downtown Toronto condos. It is located on Homewood Avenue off Wellesley Street East [1].
The Verve is a 40-story glass tower with 444 condos for sale and rent in Toronto, varying from two-story lofts and one-bedroom apartments to two-bedroom plus den suites. It is an outstanding example of stylish and functional downtown living.
The fun and energetic amenities comprise a rooftop outdoor pool. In addition, residents have access to a full-service fitness centre and visitor parking. There is also a BBQ area and an unbeatable rooftop swimming pool.
Learn what is the difference between hard and soft lofts.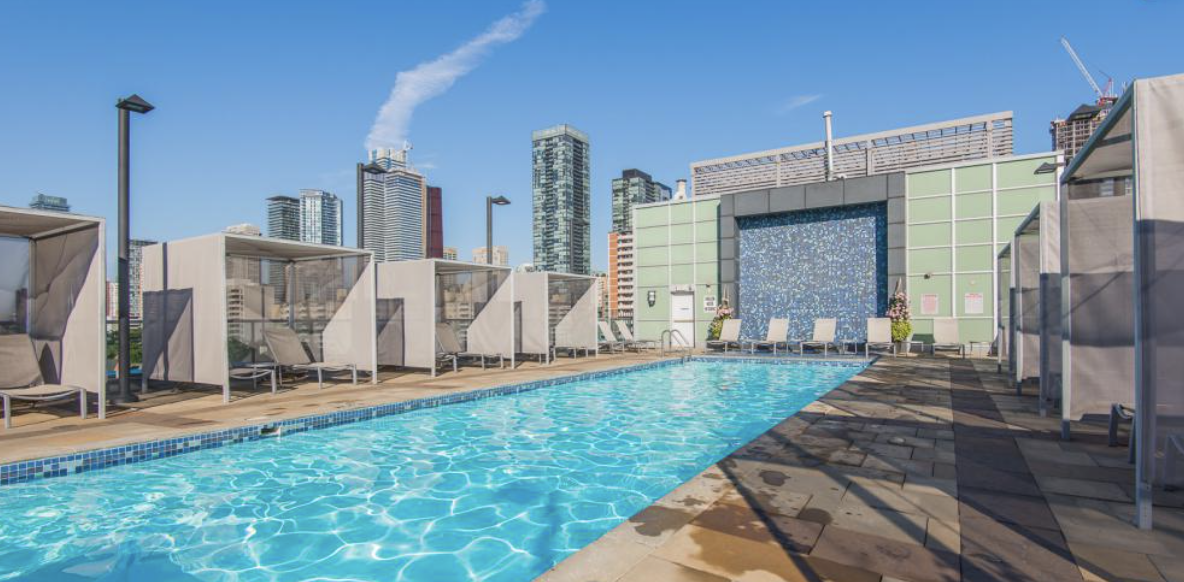 ---
7. Aqualina at Bayside
Aqualina at Bayside Toronto is on a 13-acre site along the water's edge in the middle of the emerging East Bayfront waterfront district of Toronto.
This mixed-use vibrant waterfront community is a part of the 2,000-acre waterfront revitalization project. A wide range of recreational amenities, including a fitness centre and entertaining spaces, await you on the lower level.
It offers a spectacular rooftop terrace with an indoor lounge. Moreover, it also has BBQ dining cloves, sun deck lounge areas, a rooftop pool and exceptional lake and city views on the 13th floor.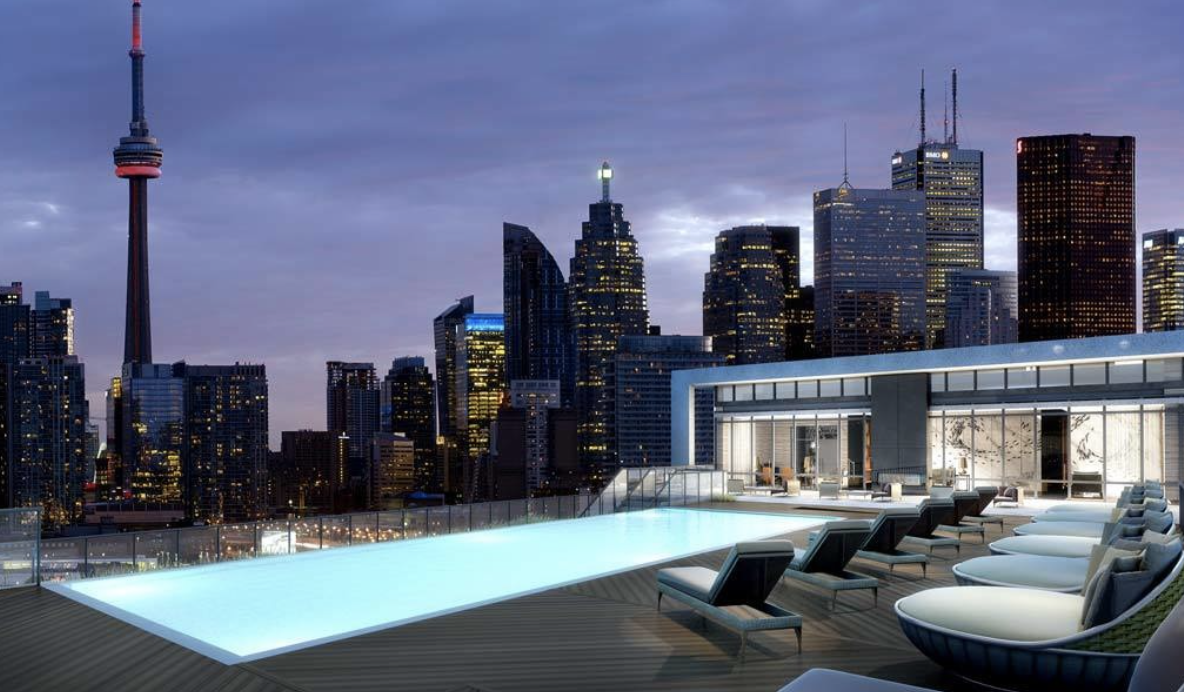 ---
8. Theatre Park Condos (224 King St W)
Theatre Park is a 47-story structure made of sleek glass and steel. It's right next door to the Royal Alexandra Theatre on King Street, between Simcoe and Duncan.
This condo has a small, lush green area where a waterfall and pond greet residents and visitors alike at the front of the building. Thus, it provides a stunning urban yet natural living space.
224 King West condos feature suites that have either one bedroom or two. A few also have penthouse units with three bedrooms. With a south-facing pool, this condo also has an interesting party room and a lounge area.
Residents of Theatre Park will be living close to many popular city attractions, nightclubs, restaurants and notable theatres. Indeed, it is in the Toronto Entertainment District.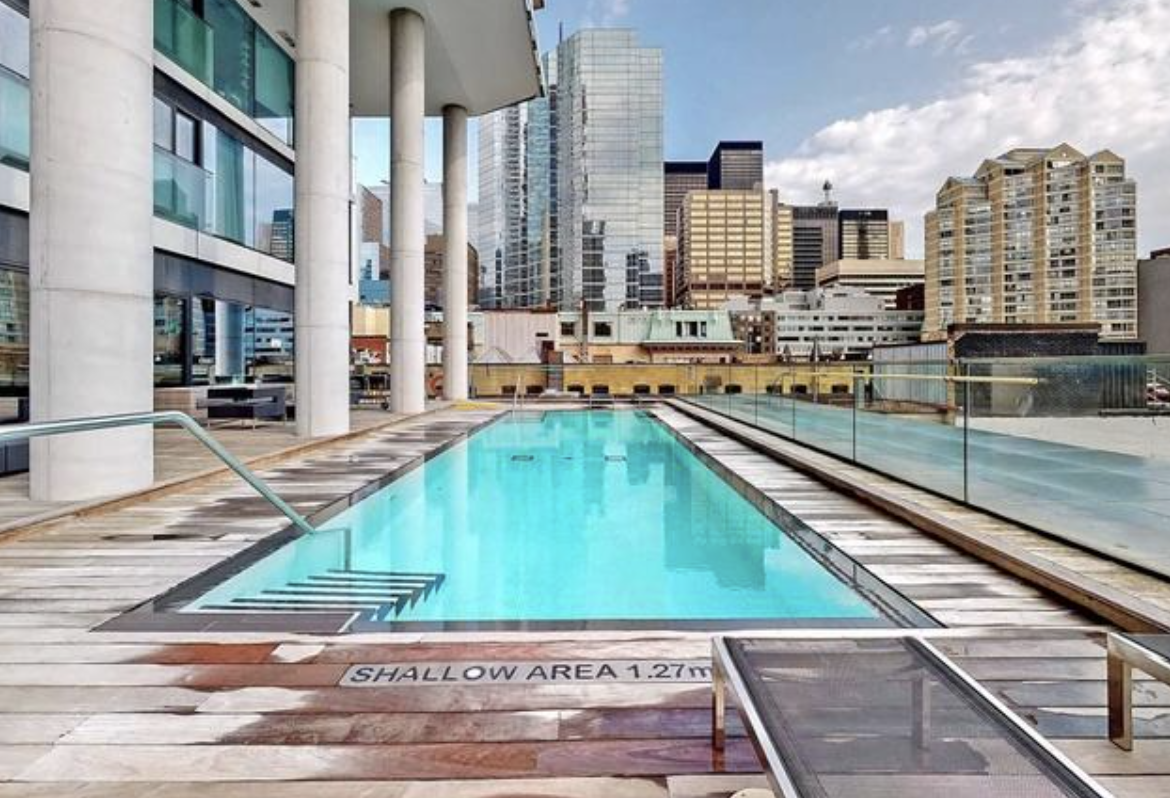 ---
9. Waterclub Condos
Waterclub Condominiums is the exclusive and vibrant residential community in the heart of Harbourfront in Toronto, Ontario. It lies just a few steps from the lake and a short walk from the city's commercial and sporting hubs.
Waterclub features three high-rise luxury condo towers with amazing views of Lake Ontario or the CN Tower. The rooftop and outdoor pool of these condos in Toronto are perfect for spending time in the summer.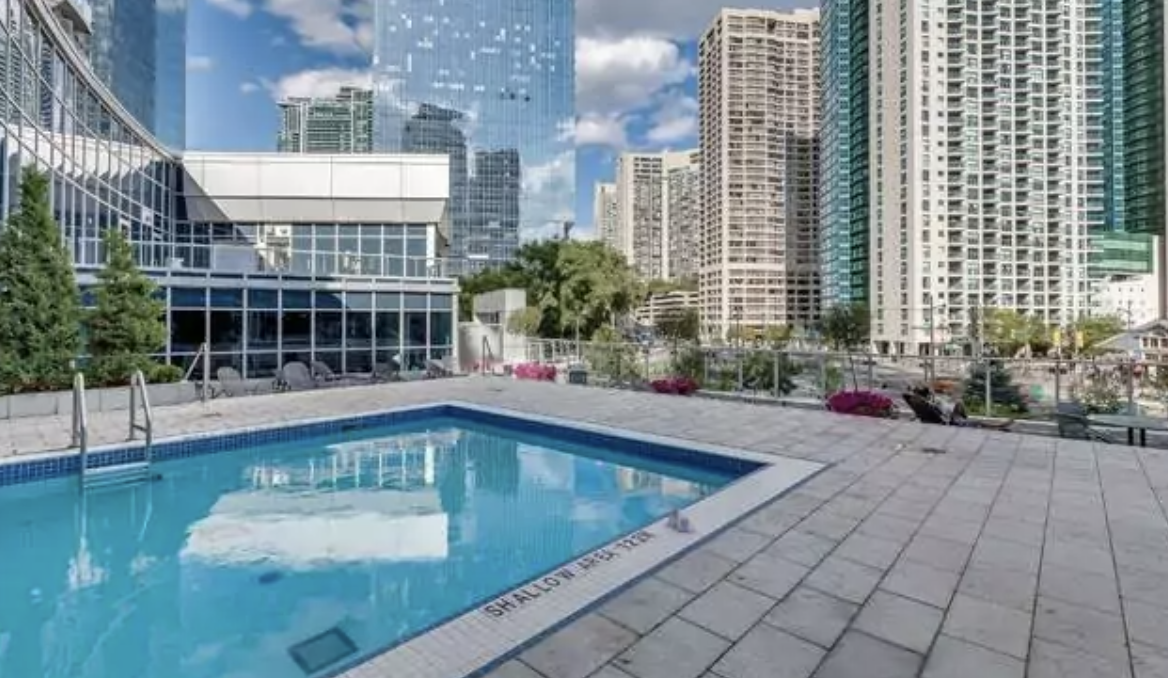 ---
Final Words on The Condos With Rooftop Pools in Toronto
So, these were the top Toronto Condos in the Greater Toronto Area with some amazing rooftop pools.
Whether you want to spend some "us" time with the kids or treat yourself to a luxurious day by the condo pool, the above options can be your best bet!
Stay tuned to Precondo to buy or rent these lavish condos with a rooftop pool.