The Davis Residences at Bakerfield Condominiums For Sale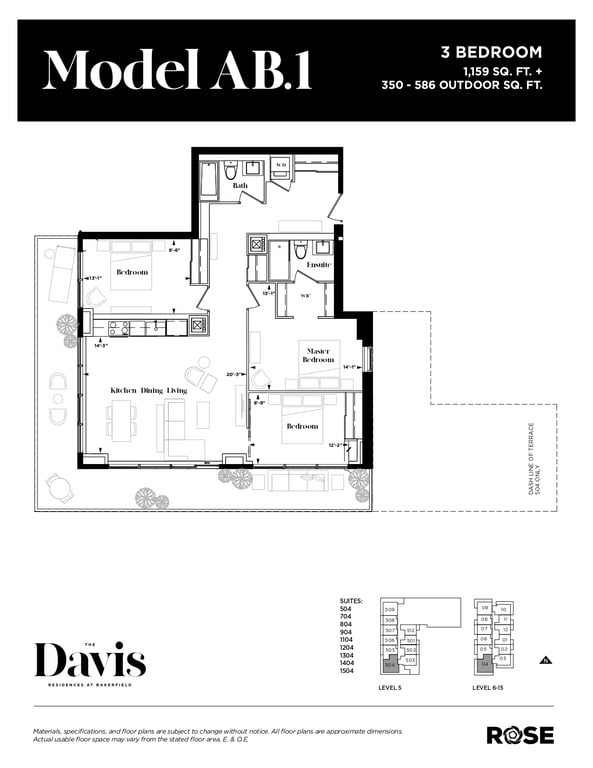 3 Bed
2 Bath
1159 sqft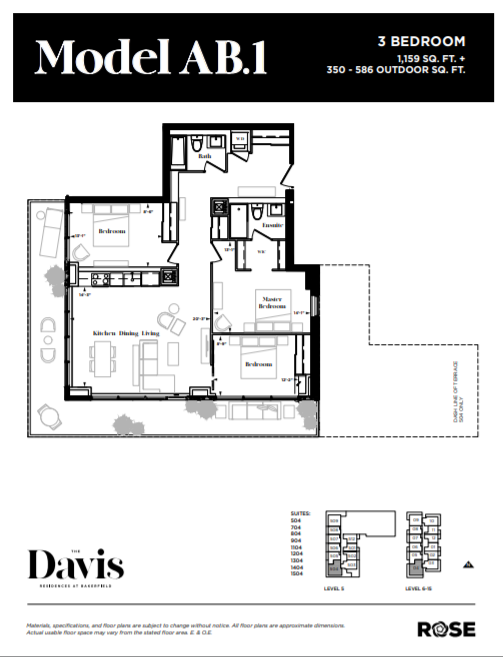 3 Bed
2 Bath
1159 sqft
About The Davis Residences at Bakerfield Development
The Davis Residences at Bakerfield is a new condo development that is currently in the pre construction phase by The Rose Corporation, located at 175 Deerfield Rd, Toronto, ON. This project is bringing luxurious three buildings of 15 storeys each with a total of 219 condo units. The estimated completion date for occupancy for this property is 2024.
The team of designers from RAW Design and Patton Design Studio are collaborating for exteriors as well as interior designs. With a sophisticated urban design, this modern condominium community brings three towers rising above a beautifully landscaped courtyard. Buyers can also expect to find livable suite layouts ranging from 1 bedroom to 3-bedroom with sleek features & finishing.
Coming soon to the bustling Uptown Newmarket, this development is close to plenty of nearby shops, restaurants & others. Newmarket also has a convenient transit system close to the Davis Residences at Bakersfield.
So, contact the sales team or send a request to explore the price & sale-related details on this development in Newmarket. Interested buyers can also get a private appointment to get suites pricing, deposit structure and much more!
Features and Amenities
With elegant condo suites, the Davis Residences at Bakerfield is bringing three towers of 15 storeys to Uptown Newmarket. As per the information displayed, Davis Residences at Bakerfield will have 219 condo units.
Boasting sophisticated urban design by the interior designer, buyers will find spacious livable suite layouts ranging from 1-bedroom to 3-bedroom layouts. Also, there will be suites available with three bedroom layouts with a plus den option in this green building.
The occupied spaces of this pre-construction development will have a deep soaker tub, vinyl plank flooring excluding bathroom, modern light fixtures, green refrigerants & much more. This green building will also have high-performance, carefree & lifestyle amenities such as an energy efficient hvac system, rain harvesting system, whole building water metering, landscaped courtyard & much more.
So, to experience urban living at the Davis Residences at Bakerfield, send a request & purchase a suite soon. Contact our sales team to explore occupancy date, floor plans such as Model AB, Model AD & others in person!
Location and Neighbourhood
The Davis Residences at Bakerfield will rise high at 175 Deerfield Road, Newmarket, ON. The Bakerfield location is just walking distance away from major lifestyle amenities & professional services. For starters, many nearby shops, restaurants and bars are available around the Davis Residences at Bakerfield.
The Newmarket Farmers Market, Food Basics, FreshCo and other grocery stores are available within easy walking distance. Residents will also find many shopping, dining and entertainment options near Davis Residences at Bakerfield.
Accessibility and Highlights
With a prime walk score of 71 & a transit score of 52, high-quality transit options such as GO Transit & others are near The Davis Residences at Bakerfield. Residents will find LRT & GO Transit just mere steps away from this project in Ontario.
About the Developer
The team of real estate professionals from the Rose is behind The Davis Residences at Bakerfield in Uptown Newmarket. They are an esteemed development and investment firm with nearly half a decade of experience in Ontario.
Since its establishment, they strive to build developments with the utmost care, unparalleled amenities & sleek architecture. They are also building King George School Lofts & TownHomes in Ontario.
So, contact an agent to get Toronto condos for sale, nearby buildings, nearby searches, sold/new listings for rent, average days on market & much more!
Reviews
No Reviwes Yet.
Be The First One To Submit Your Review
---
Sales Info
Parking Cost: N/A
Storage Cost: N/A