Sorauren Lofts
| | |
| --- | --- |
| Address | 347 Sorauren Ave, Toronto, ON |
| Maintenance Fees | |
| Developer | |
| Year Built | |
| Price Range | |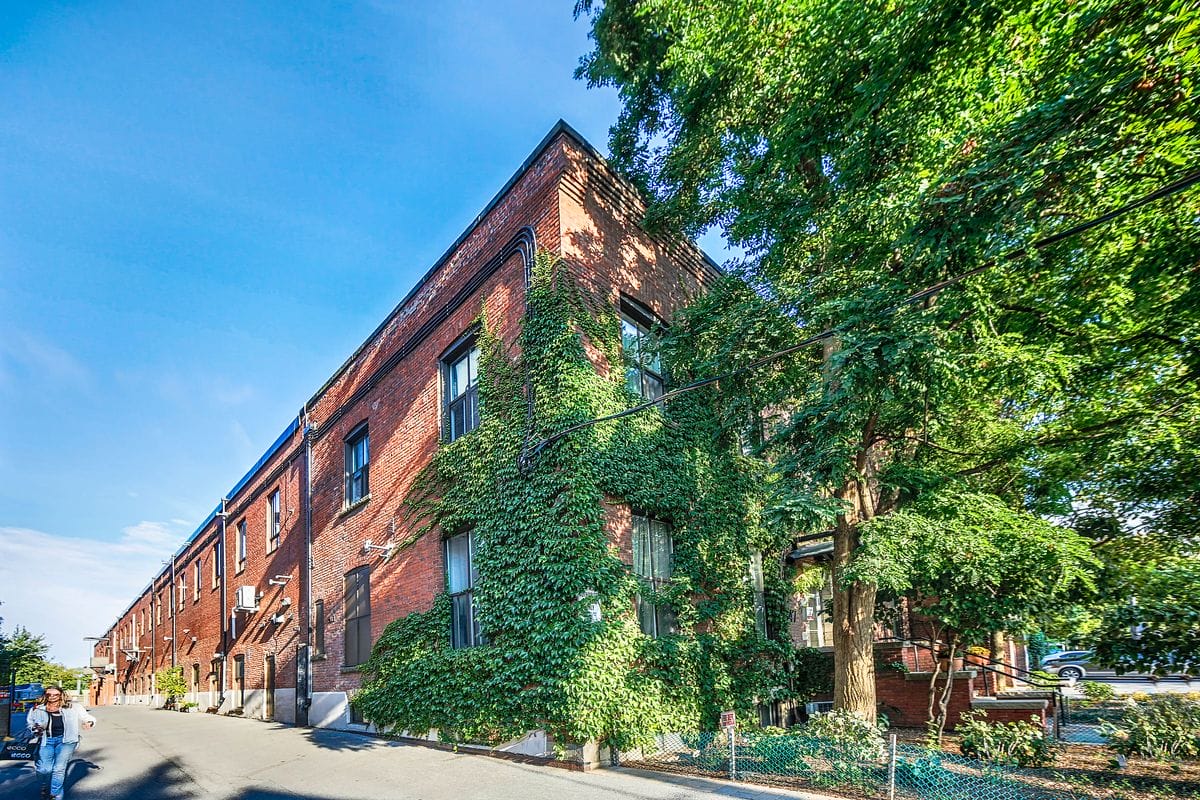 6 Images
About
Sorauren Lofts is a loft development by Mel Brown Group, located at 347 Sorauren Ave, Toronto, ON. This project features a low-rise building of 2 storeys with a total of 48 loft units. This property for occupancy was completed in 1997.
Originally built as a home to a ball bearing factory, this development is a soft loft extension to Robert Watson Lofts. With timeless & nonchalant industrial architecture, the building features beautiful warehouse windows & red brick façade. As for interior units, residents will find quite dramatic designs with high-end features & finishes.
Sorauren Lofts span across the south side of Dundas Street West & Sorauren Avenue in the West End of Toronto. Residents living in these lofts will find a wide array of local amenities & city luxuries. Alongside this, a plethora of transit services is available within a short walk.
Get in touch with us to explore the price & sale-related details on these lofts in Toronto. For example, avg price per sqft, maintenance fees, loft listings for sale, loft listings for rent, loft rent price and other sale & price-related information!
Features and Amenities
Sorauren Lofts is a modern soft loft living space with classic industrial architecture sitting near Robert Watson Lofts-363 Sorauren Ave. This real estate property accommodates a 2 storey low-rise building with 48 luxury loft units. The developer has proposed generous loft floor plans of one bedroom that range from 537 to 2,000 sqft in size.
All loft units will have distinct & high-end features & dramatic finishes. As a result, residents will find wooden beams, polished concrete floors, exposed brick, metal high-ceilings, steel-framed mezzanine levels, patios and much more. Residents living in ground floor units will have direct access to Sorauren Park.
Similar to Robert Watson Lofts amenities, the building of Sorauren Lofts also has urban amenity space for both indoor & outdoor fun. The amenities included in the building are a party room, tennis court, BBQ, security system, meeting room & visitor parking. As a result, these lofts are an ideal accommodation for all types of families, young professionals & students.
Contact us today to get lofts price range, available loft listings for sale/rent, Robert Watson Lofts values, available facilities & much more!
Location and Neighbourhood
Spanning across the heart of the West End neighbourhood, Sorauren Lofts is conveniently located at 347 Sorauren Ave, Toronto, ON. Offering a convenient lifestyle, residents of these lofts will find almost everything they need within walking distance.
Looking for fine dining or cozy cafes, major dining options are available from Queen Street to Bloor Street. Dundas Street West and Roncesvalles Avenue also have plenty of local businesses, markets and much more near Sorauren Lofts.
347 Sorauren Avenue is also mere steps away from countless independent grocers such as Loblaws, FreshCo and much more. Even many specialty food shops are available near 369 Sorauren Ave. Along with essential stores, residents will also find lush parklands & an off-leash dog area of nearby Sorauren Park.
High Park is also the closest public park to Sorauren Lofts. In addition, the West End also has plenty of landmark attractions & entertainment options such as Revue Cinema & many more. Plenty of charming & friendly neighbourhoods such as  Brockton Village, Bloor West Village, and The Junction are also not that far from 347 Sorauren Ave, Toronto.
To purchase a unit in these lofts, contact us today!
Accessibility and Highlights
The West End neighbourhood is a travelling paradise for transit riders to travel anywhere around the city. As a result, this area has a perfect transit score of 100 & a walk score of 88. From convenient streetcars to night buses, regular commuters will find a variety of commuting services near Sorauren Lofts.
347 Sorauren Avenue is just a 9-minute walk away from Dundas West Station-Eastbound Platform Subway. Also, the closest TTC Light Railstop to Sorauren Lofts is Dundas St West at Sterling Rd. Moreover, motorists will easily reach Gardiner Expressway and Dowling Ave from 369 Sorauren Ave, which is just a 4-minute drive away.
Explore more about this Robert Watson Lofts location & other demographics details before purchasing a loft in Sorauren Lofts!
About the Developer
Mel Brown Group was a prominent & trusted real estate development and property management firm in Toronto. With numerous years of building experience, they have a distinct portfolio including residential, commercial & industrial buildings. Currently, Sorauren Lofts is the only project available for sale/rent by Mel Brown in Toronto, Ontario.
To explore nearby listings/search condos in Toronto, contact us today!