Canadian architecture has only gotten better over the years, and today it sets the standard for modern designs. While the Great White North is mostly recognized for its national historic site and parks and maple syrup, it's also a melting pot of human-made wonders in Toronto and many other cities.
The country has quickly become one of the top destinations for people who want to relocate; due to its progressiveness, diverse culture, and a fair share of fantastic places to live. The country is also home to Moshe Safdie, Todd Saunders and Frank Gehry; world recognized Canadian architects.
You'll find some of the most remarkably designed structures in the country, not just in Toronto; created to reflect urbanization and social developments not just in Canada but also in the rest of the world.
There are a plethora of famous Canadian buildings that are uniquely tailored to depict the rich culture of the country, making it a favored destination among architecture fanatics worldwide.
While walking the streets of Canada's most famous cities, you'll be greeted by a variety of stunning architecturally designed buildings that are unique to the country. While some are the representation of international styles, many are a unique representation of Canada's personality.
Here at Precondo, we've decided to group some buildings that represent iconic Canadian architecture at its finest for you to admire.
1. Atwater Market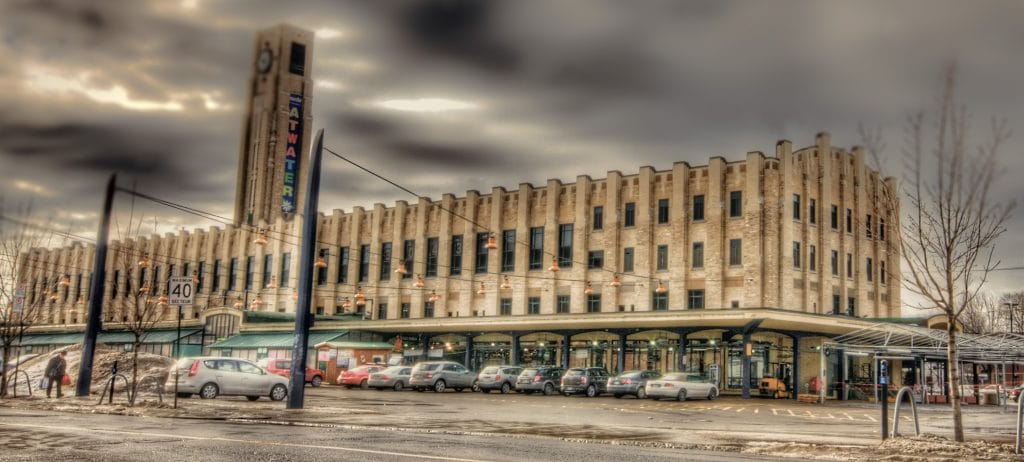 Located in the famous city of Montreal, this stunning building is a clear depiction of iconic standards. The indoor farmer's market, which was created in 1933 in the neighborhood of Saint-Henri in Montreal, is still one of the most visually enticing buildings in all or North America. Whether you look at it from the outside or the inside, you'll be amazed. Looking at it, we can all agree that it hasn't aged a day.
2. Province House

Another perfect example is the Province House that can be found in Charlottetown on Prince Edward Island. As one of the most famous buildings in Canada, this gem dates back to 1844 and is a perfect mastery of the Greek Revival architectural style that was popular in parts of North America during the earlier years. Regardless of its age, it looks well-maintained and pristine.
3. Sharp Centre for Design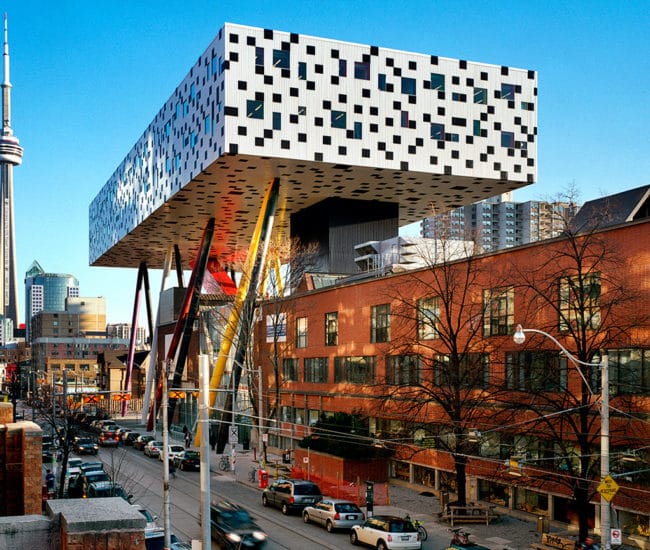 The Sharp Centre for Design is an excellent representation of iconic buildings in the city of Toronto. The building was created in 2004 through the partnership of British architect Will Alsop and Canadian Rob Robbie. [1]
It features a modern design that represents the current urban architectural design trends in Canada. The building is made up of residential units and office space for Toronto's Ontario College of Art and Design. During the spring season, annual tours led by the Toronto Society of Architects are held here.
"TAlsop's $42.5 million Sharp Centre for Design is almost always remembered as being controversial. Indeed, the debate began long before the building actually existed over plans that would be gradually changed."
– Nick Patch, The Star

4. Habitat 67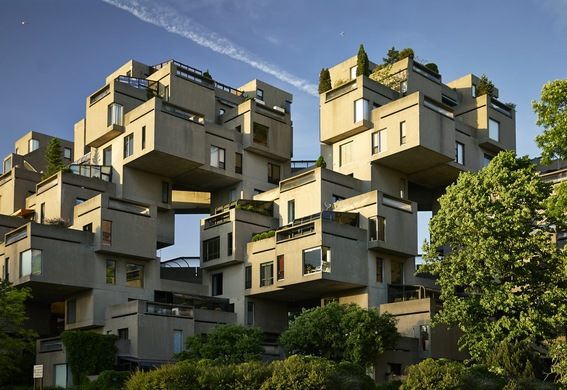 Another fantastic representation of the great architecture in Canada coming out of Montreal, Habitat 67 was designed in 1967 for the World's Fair.
It was initially designed as a part of a college thesis project that was geared towards one of the most famous Canadian architects Moshe Safdie, who still holds ownership of one of the residential units within the building. The building is a must-see for anyone who admires beautiful architecture in Canada.
You can also feast your eyes by watching the inside scoop of this magnificent structure as presented by HGTV Canada.
5. Museum of Anthropology at the University of British Columbia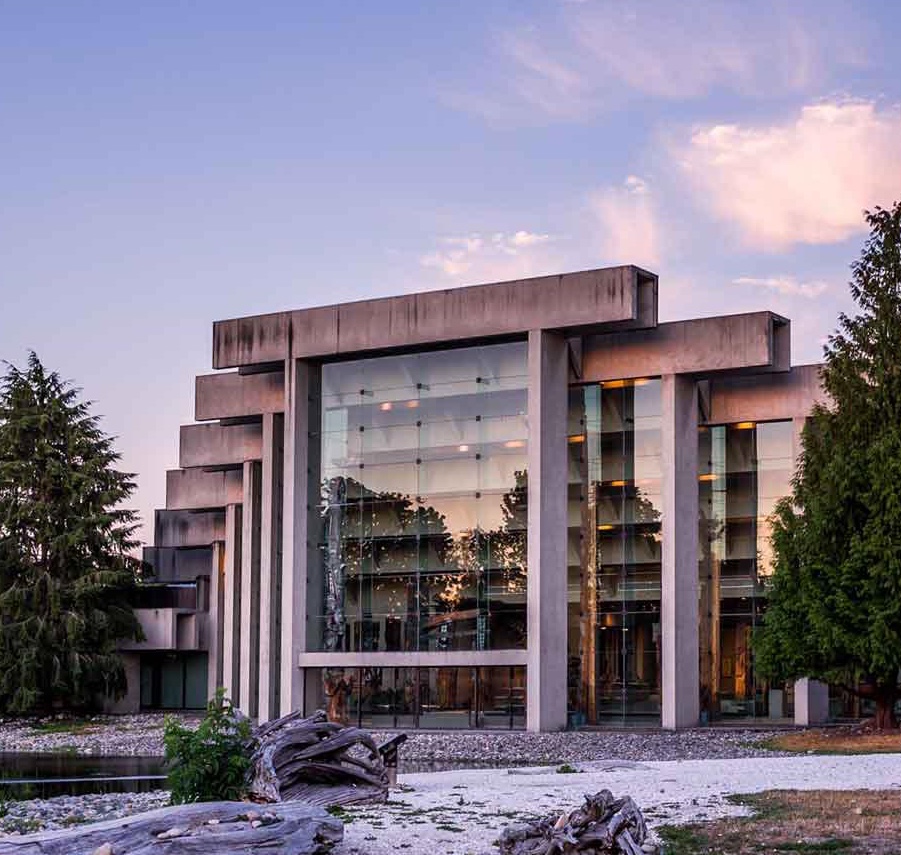 Less than thirty minutes from downtown Vancouver is this monumental depiction of iconic Canadian architecture. The structure, which was built in 1976, was designed with features of the timber buildings that were developed by some indigenous groups.
It's one of the most outstanding buildings by Canadian architect Arthur Erickson, who was labeled as "the greatest architect in Canada" by another famous fellow architect from the United States, Philip Johnson.
6. Gooderham Building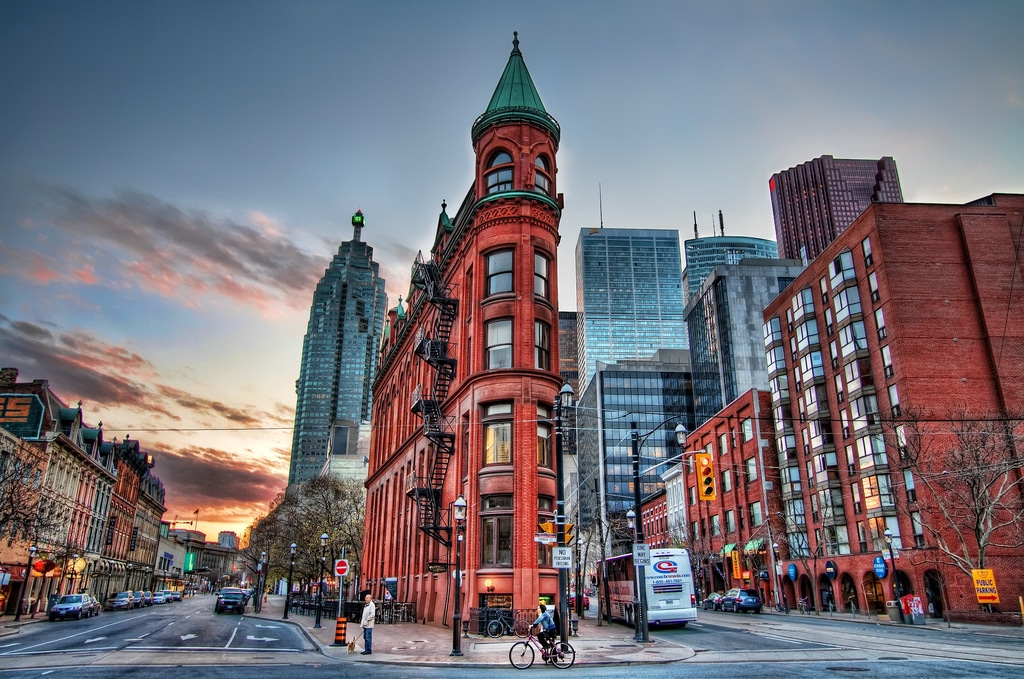 Known for stunning red brick iconic buildings, Gooderham is one of the most famous red-brick structures in the country. Designed and built in 1892, the stunning building was designed as office space for George Gooderham. George, who was the son of millionaire William Gooderham, made the development for only $18,000.
The five-story structure boasts 12-foot high ceilings, stained glass windows and a crank style elevator, fitting of its time. It's a masterpiece by famous Canadian architect David Roberts Jr who has developed many buildings in the area.
7. Royal Canadian Mint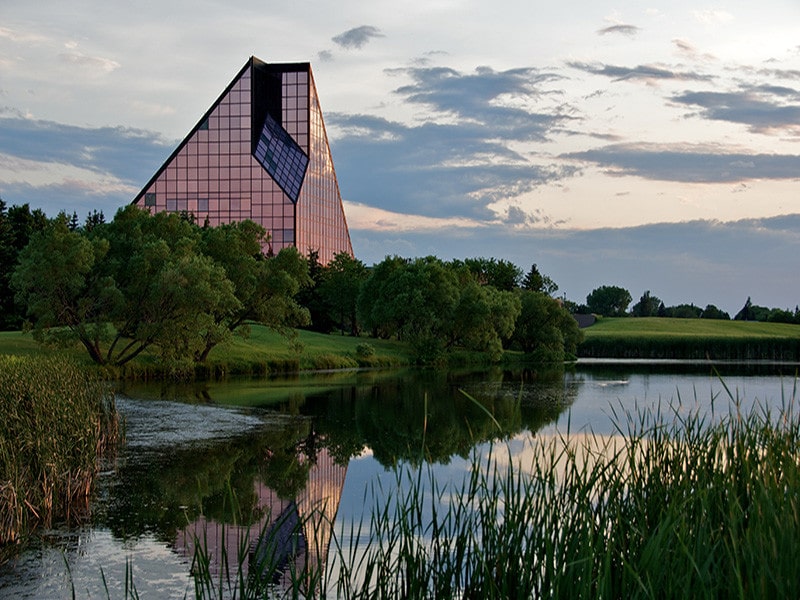 A building suitable for having the word "royal," attached to it. The Royal Canadian Mint building, located in Winnipeg, is not just a building of aesthetic appeal, it's where Canada's circulation coins and collector coins are produced.
The structure was developed in 1976 and was erected in Winnipeg after much consideration was put into its location. Etienne Gaboury, the famous Canadian architect, was the brains behind the creation of this stunning triangular, high-end building.
8. Montreal Biosphere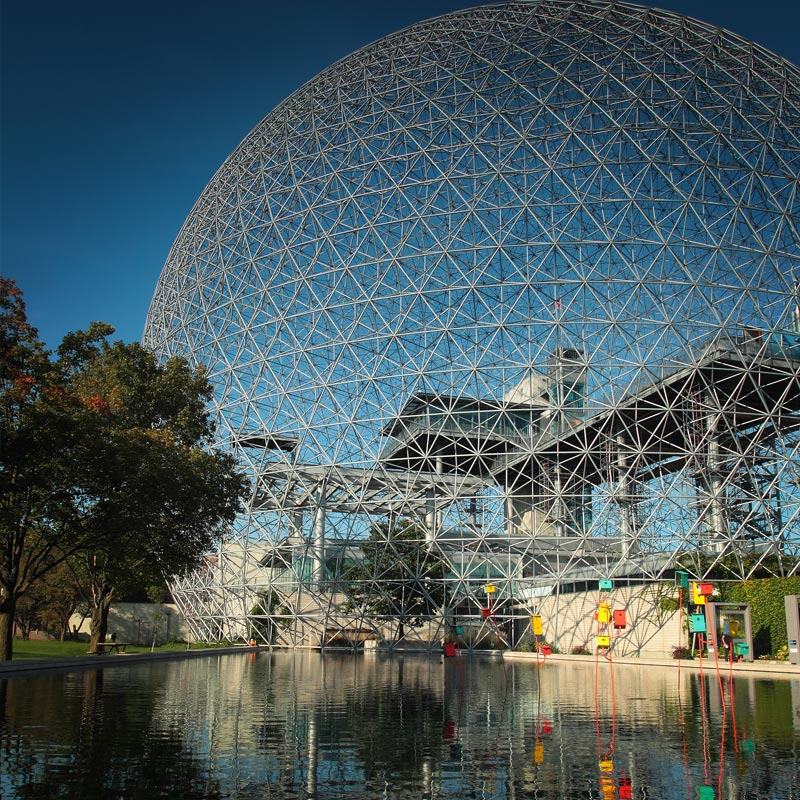 Similar to Habitat 67, this impressive development is undoubtedly one of the most famous buildings in Canada. It was carefully designed, with attention to even the most minor details, by Richard Buckminster Fuller — engineer, architect, and inventor from the United States.
Fuller developed a masterpiece from the notion that we can create livable space using a smaller proportion of the materials that are typically used for construction and by utilizing geodesic design. It's currently operated by Environment Canada and serves as an interactive environmental museum.
9. Fogo Island Inn
A quick ferry ride will take you to this masterpiece. Situated on a granite hillside on one of Newfoundland and Labrador's main islands, this structure was developed as part of the community revitalization project, which was worth millions of dollars.
Although it features a minimalist design, Fogo Island Inn is an architectural wonder with great resemblance to a fishing stage, making it a one of a kind building. [2]
Canadian Architecture: Final Thoughts
Many of the most famous architects of our time hail from Canada, therefore it's not surprising how far Canadian architecture has come over the years.  In this list, we've mentioned the names of some famous Canadian architects that have garnered respect worldwide for their outstanding developments.
Whether you're in Toronto, Vancover, Montreal, or Winnipeg, you're sure to find some iconic buildings designed by respected Canadian architects that will leave you in awe. Canadian architects have undeniably redefined design and created some of the world's most beautiful buildings. As such, all the buildings mentioned above are worthy of the attention and respect.
There are a plethora of other buildings that we could have said to highlight the beauty of architecture buildings in Canada, but for the sake of time, we'll leave it here today.
---
References:
Nick Patch, The building that raised Toronto's imagination, retrieved from https://www.thestar.com/entertainment/visualarts/2017/07/30/the-building-that-raised-torontos-imagination.html
Gary Walther, Fogo Island Inn: The Hot Hotel In Newfoundland's Iceberg Alley, retrieved from https://www.forbes.com/sites/garywalther/2014/03/31/fogo-island-inn-the-hot-hotel-in-newfoundlands-iceberg-alley/#73d1181a3e08