Designing a kitchen for a condo apartment doesn't have to mean sacrificing style. Just like any other style of kitchen, a contemporary layout and design can be stylish. The following ideas will help you design a cutting-edge condo kitchen that will add to your already beautiful space and make cooking enjoyable.
---
1. Bespoke Kitchen Lights
Kitchen design has long been plagued by fluorescent lighting since it can give the room an unpleasant tint. Using hanging pendant lights with a warmer tone as opposed to table lamps is a simple technique to instantly make your kitchen feel more functional.
2. Revamp the Kitchen Cabinets
Kitchen cabinets go through a lot of wear. They are frequently the most damaged and worn-out components of an old kitchen. Additionally, the elegance of the entire kitchen may soon start to diminish by the ripped appearance.
A fresh coat of paint, maybe in a pastel color, will make a dramatic difference. Furthermore, if the budget permits, completely swapping them out for contemporary, flat cabinets might make a significant improvement [1].
---
3. Open-concept Kitchen is the Best
Open areas are crucial in a smaller condo. Kitchens also fit this description. To make the kitchen appear larger, remove unnecessary partitions. This creates more room. Open shelving in the kitchen space also is a great idea.
For creating a more open feel in a tiny kitchen, cabinets can be substituted with open shelving. Prevent overstocking the floating shelves with products to avoid cluttering them. Add pieces of sleek glassware, dishware along with decor elements. Also, you can include some statement pieces to the countertops.
4. Kitchen Floor is Also Important
Your mind doesn't necessarily fall to the floor the moment you hear the phrase "little kitchen renovation." But maybe it should. In a black and white tile pattern, that venerable linoleum flooring might genuinely dazzle.
The little room, however, presents a significant chance to invest in a few slightly more expensive materials because it should help to keep costs low due to its limited square footage. For instance, white wood has a cosy, welcoming feel.
---
5. Contemporary Kitchen Faucets
Similar to adding a glass backsplash like the glass tile backsplash, this is not a difficult project, but the difference may be felt. Because contemporary faucets are more water-efficient, you might use less water.
6. Rug is Also a Fantastic Option
A small kitchen can benefit from rugs' cheerful colour and pattern without taking up the walls or counter space. Any open contemporary space in the kitchen's centre that isn't already covered should be covered by a huge area rug or runner.
A modest modern kitchen that is characterized by white cabinetry and stainless-steel appliances makes a strong statement with this striking red and blue rug.
---
7. Accessorize with the Right Pieces
A small kitchen can use a few accessories, just like any other room in the house. Pendant lights, attractive dishware, and a few cookbooks are displayed on the open shelves at one end of this kitchen as an easy way to decorate a small space.
The variety of accessories incorporates colours and finishes from other kitchen items, such as the warm brass faucet and cabinet hardware.
8. Modify the Pattern of the Kitchen Space
By adding blue-patterned wallpaper to the backsplash in the kitchen, a traditional white space serves as the ideal blank canvas for experimenting with small kitchen ideas.
The white area has room to breathe thanks to the blue. An antique area rug also provides colour underfoot. These are both reasonable and simple to replace if tastes change.
---
9. Take Advantage of Extra Space
Utilize small kitchen decoration ideas to thoughtfully occupy bare spaces on the wall or the countertop. Open style shelving keeps kitchen essentials in one convenient location in this small kitchen.
The arrangement appears purposeful rather than chaotic since frequently used quartz countertops have placements in shallow baskets and trays.
10. Play with Colourful Stools
Island stools in vivid colours will add brightness to the kitchen. These stools offer chic island seating and lay the groundwork for the remainder of the colour in the condo kitchen [2].
---
11. Add Some Greenery
Add some plants to the space when you renovate the condo kitchen in the condominiums. Of all the rooms, the life and vibrancy of a few plants is most beneficial in the condo kitchen. Of course, the price is substantially lower than the alternatives.
12. Island Counters or Peninsulas
Condominium layouts of today frequently feature open kitchens. Your entire floor plan will appear larger, more open, and brighter when your kitchen space and interiors are more visible. Adding storage, space, and functionality is a kitchen island.
To make your island or peninsula a multipurpose working and dining area, add chairs or stools.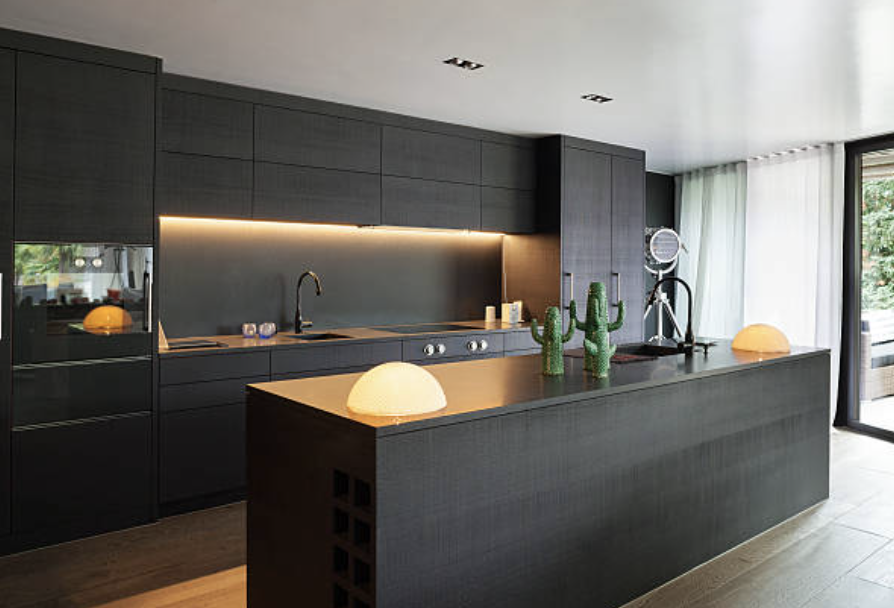 ---
Takeaway
The room available in a kitchen may be a constraint. However, it need not be in terms of design. Learn how to transform your little kitchen by adding attractive storage, adding colourful decorations and at the same time save space.
Create a kitchen you love with the help of these compact kitchen ideas. For more information, check precondo.ca