Bloor West Lofts
| | |
| --- | --- |
| Address | 1396 - 1400 Bloor Street West and 39-43 Dekoven Mews, Toronto, ON |
| Maintenance Fees | |
| Developer | |
| Year Built | |
| Price Range | |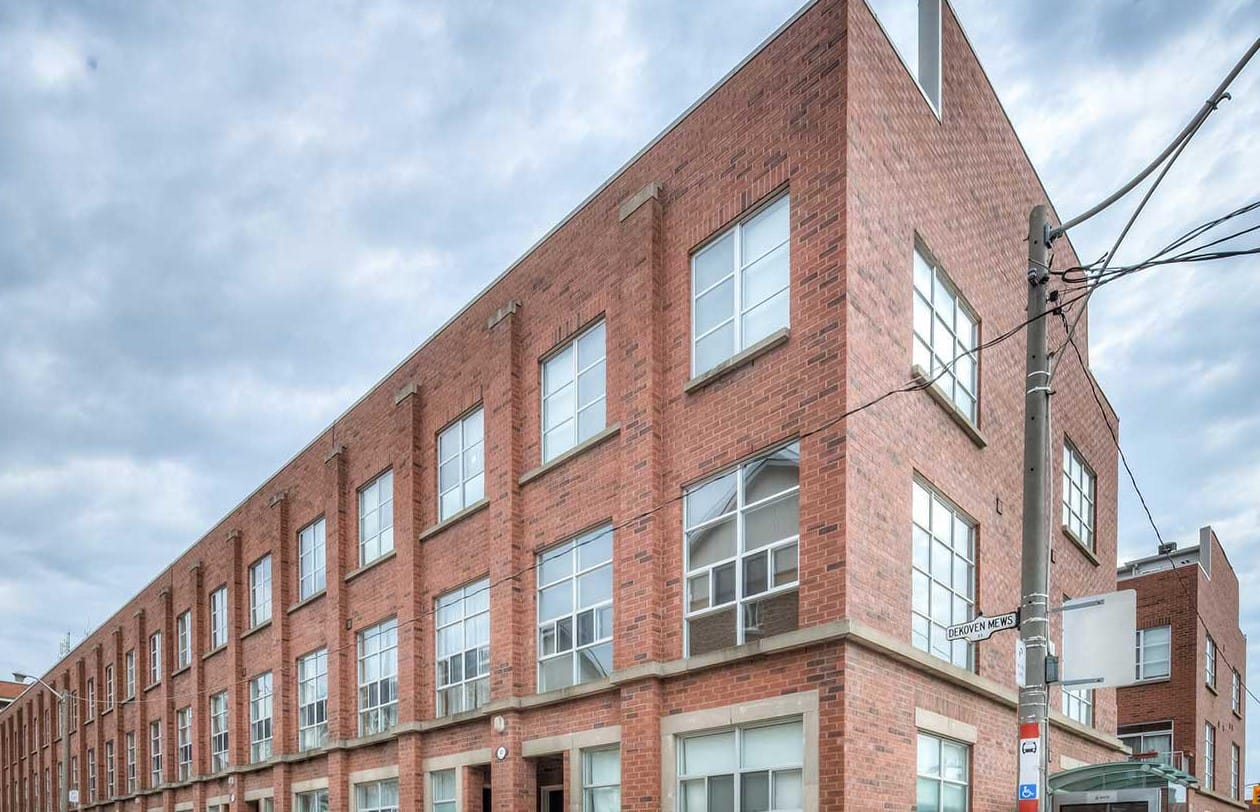 3 Images
About
Bloor West Lofts is a resale listing that has been constructed by Garden Park Homes at 1396 – 1400 Bloor Street West and 39-43 Dekoven Mews, Toronto, ON.
This project is bringing a luxurious low-rise building of 3 storeys and a total of 62 units.
The completion date for occupancy for this loft was 2012.
With an amazing brick texture, Bloor West at 1396-1400 Bloor St W – 39-43 Dekoven Mews offer contemporary exterior and interior designs.
Together, the building of Bloor West Lofts brings the most classic lifestyle to its residents which every person wants.
With the exceptional architecture and features, Bloor West Lofts also provides the most convenient location to live in.
1396-1400 Bloor Street West in Dovercourt-Wallace Emerson-Junction is also near large green spaces, parks, restaurants, and many more.
So, to know more about the sale, available facilities, Bloor West Lofts amenities & other sale-related information, contact us today!
You can also create an account/log in to enjoy all the services!
Features and Amenities
Bloor West Lofts at 1396 – 1400 Bloor St W and 39-43 Dekoven Mews has a 3-storey building with a total of 62 units in Toronto.
The unit size range of this condo development ranges from 799 to 1499 sqft.
The suites have high ceilings, laminate flooring, spacious bedrooms, and gleaming bathrooms.
The building also has many luxurious amenities such as visitor parking & others for residents.
Consequently, Bloor West Lofts's amenities include a visitor parking, underground parking, and a common rooftop deck.
So, stop asking price & contact us to explore Toronto building details, storeys, rent price, building insurance, common element maintenance fees & other sale-related details!
Location and Neighbourhood
Bloor West Lofts at 1396-1400 bloor st w & 39-43 dekoven mews is located in the most convenient location.
The Bloor West Lofts location of 1396 – 1400 Bloor St W is close to many parks, market places, grocery stores, restaurants, schools.
Erwin Krickhahn Park, High Park, and Perth Avenue Parkette are the nearest parks to 1396 – 1400 Bloor St W, Toronto.
The biggest marketplace of Bloor St W, Toronto is the G P Mart, which is within walking distance.
Bloor St West in Toronto is also close to Noble Coffee. The nearby searches of this area include Propeller Coffee located at the West End Junction.
Also, you have Bond Pub, Revue Cinema, Enigma Coffee, Jessy's Pizza Toronto, and many more. You can also find Margis Pharmacy and Symington Ave at a distance of a few minutes.
The Museum of Contemporary Art is also available nearby in Toronto.
Accessibility and Highlights
The Dovercourt Wallace Emerson Junction area has a perfect walk and transit scores of 9/10 and 10/10 respectively in Toronto.
Moreover, transit riders have Dundas West Station and other public transit options.
Being located near Gardiner Expressway, it will also be easy to reach nearby cities from 1396 – 1400 Bloor St W, Toronto.
About the Developer
The developer of Bloor West Lofts is Garden Park Homes. Contact us to get more details of your home realty on Bloor St W 39-43 Dekoven Mews. Find the current listings, nearby listings, search condos or home realty projects in the area.
Follow Precondo to explore trends, compare stats, past twelve months sales volume, lofts for sale in Toronto & demographics details!