102 Bloor St W Condos
| | |
| --- | --- |
| Address | 102 Bloor St W, Toronto, ON |
| Maintenance Fees | |
| Developer | |
| Year Built | |
| Price Range | |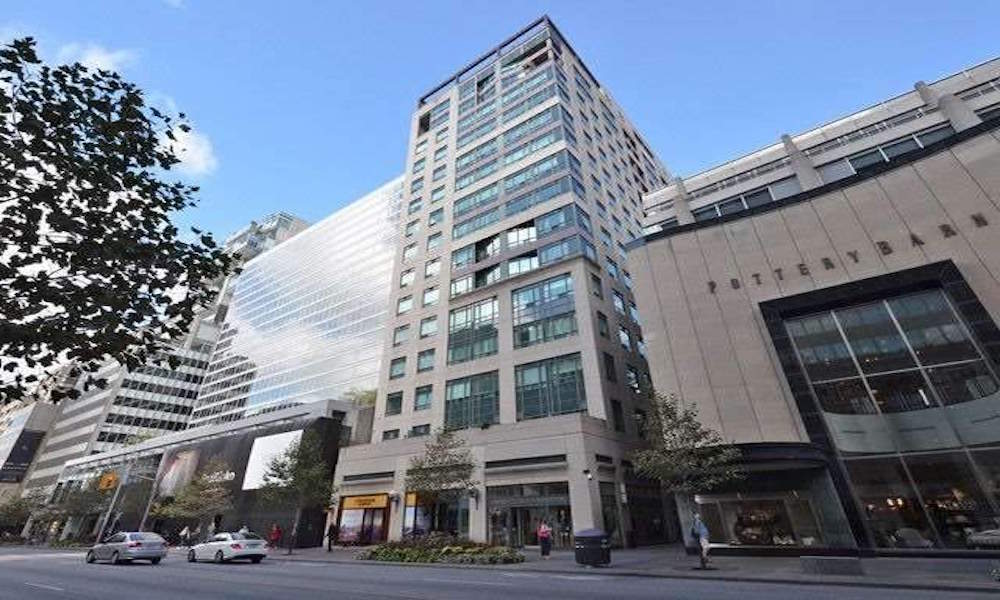 102 Bloor St W Condos Condominiums For Sale
About
102 Bloor St West is a resale development by L & A Development (Canada) Ltd, located at 102 Bloor St W, Toronto. This project is bringing a luxurious high-rise building of 14 storeys with a total of 120 units. The completion date of this condo was 1997.
Features and Amenities
Built as an office building originally, let's start with the two-storey penthouses of 102 Bloor Street West before discussing what to expect in a typical two-bedroom suites. There are seven penthouses at 102 Bloor, ranging in size from 2200 to 2500 square feet. Condos with three bedrooms can go up to 2426 square feet. These rooms of 102 Bloor St West on sale are spacious, and include opulent finishes like glass exterior, fireplaces and rooftop deck. The majority of apartments of 102 Bloor Street West include nine-foot ceilings, roof-top terraces, marble floors, modern appliances, light-filled windows with multiple panes and private balconies. Moreover, 102 Bloor Street West condo units offer two level deck from where you can view the entire Yorkville neighbourhood. In addition, the 102 Bloor St West condo on sale or rent will have private locker and parking spot on the same floor.
Some of the best amenities that residents would enjoy while living at 102 Bloor St W Toronto include fully equipped gym, two rooftop terraces, an exercise room with change rooms. In addition, you also have a strong security system.
Location and Neighbourhood
Learn about the Toronto Reference Library, the Eaton Centre, the Royal Ontario Museum, as well as a selection of movie theaters, art galleries, and theaters while you stay at 102 Bloor Street West Toronto building. For those who enjoy noodle meals, check out Noodlery and Zyng Asian Market on Yonge Street. Enjoy the neighboring Rosedale Ravine walking trails 102 Bloor Street West. Shops like Louis Vuitton and Prada may fancy you on the Bloor street, around 102 Bloor. Moreover, just behind the building is the Village of Yorkville park, where you can locate a tall tree to sit under even if it isn't High Park. Visit Valu-Mart at Bay Street and Bloor Street, Longo's at the Hudson's Bay Centre on Bloor Street, and Saks Market for No Frills at Bloor Street, lying to the west of Sherbourne Street, for nearby groceries and other essentials.
So, get in touch with our team to gather more details about 102 bloor st west Toronto condos. Find similar listings or condos in any building in Toronto on sale or rent. Know the sale price and rent price of each property on market listings in Toronto today.
Accessibility and Highlights
The primary TTC hub in Toronto is located at Bloor and Yonge, offering you quick access to the whole city. With access to the Don Valley Parkway via Danforth Avenue, the Lower Jarvis onramp and the Gardiner Expressway via Yonge Street, the region is simple for drivers to navigate. Although you may prefer to forego using public transportation, you can always hop on a streetcar or bus for a short trip.
About the Developer
A global company that develops extraordinary multi-residential and commercial developments, L & A is known for its architectural quality. Some of their projects include Park Station and ZhongZhou Centre.
Contact our team to know more about 102 Bloor St West condos. Find out more details about the sale price and rent price of the property. Also, our team can assist you with the sale price and rent price of similar units in new listings around.