The Brock Lofts
| | |
| --- | --- |
| Address | 27 Brock Ave & 31 Brock Ave, Toronto, ON |
| Maintenance Fees | |
| Developer | |
| Year Built | |
| Price Range | |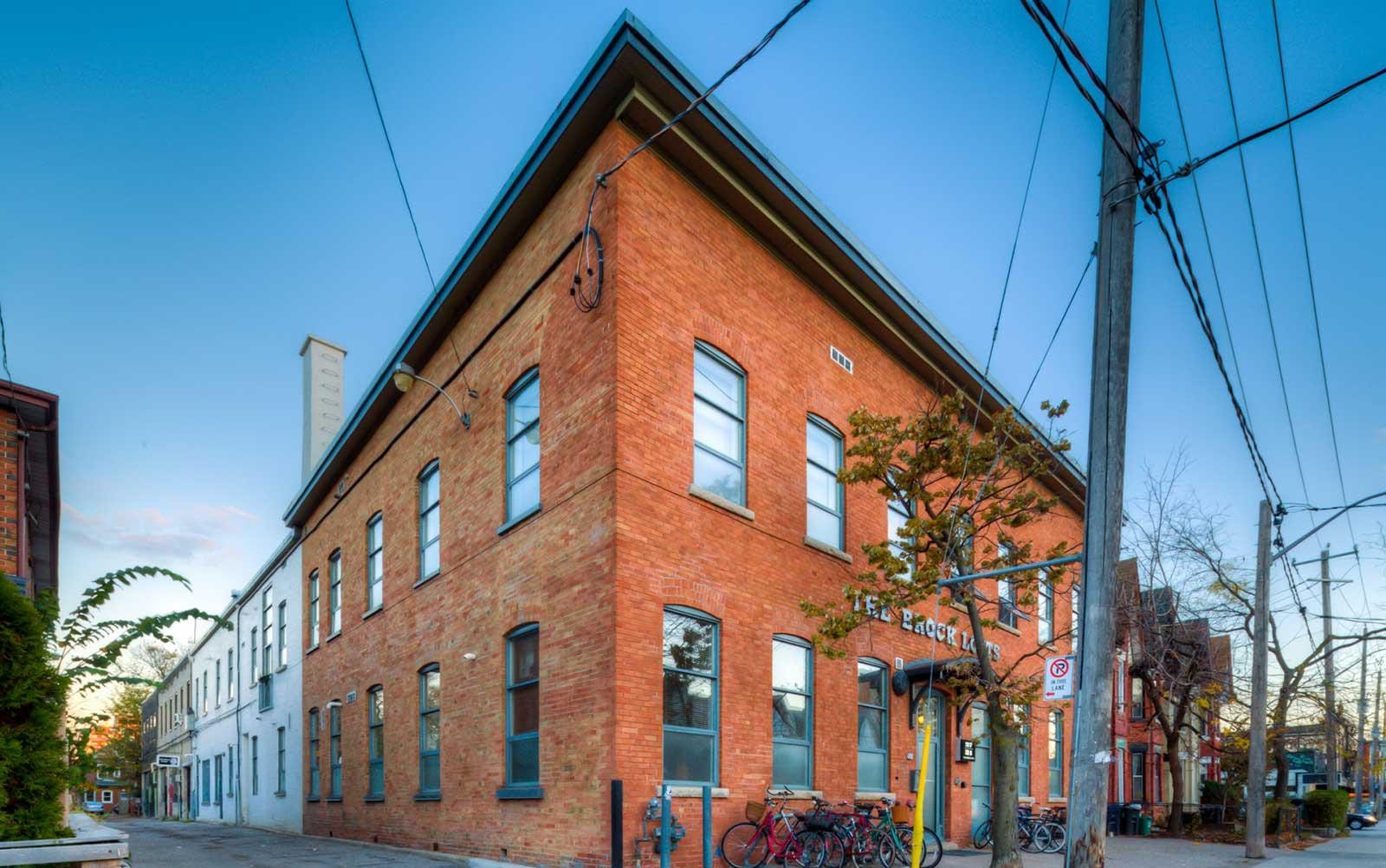 2 Images
The Brock Lofts Condominiums For Sale
About
The Brock Lofts is a condo development by 27-31 Brock Investments Inc., located at 27 Brock Ave & 31 Brock Ave, Toronto, ON. This project features a low-rise loft building of 2 storeys with a total of 24 loft units. This property for occupancy was completed in 2003.
The Brock Lofts offers an intimate hard loft building with an urban red brick façade that attracts young professionals & creative people. The much-acclaimed Core Architects is behind the urban modern designs of the Brock Lofts. Originally home to the Eureka Refrigeration Company, these hard lofts sit amid Toronto's West End & Roncesvalles Village.
This great neighbourhood has boutique shops, small businesses, an art gallery and other luxuries close to 27-31 Brock Avenue. As a result, with a great Brock Lofts location & urban architecture, this community is a perfect investment opportunity in Toronto.
So, contact us to get the rent price, lofts for sale, Brock Lofts amenities and other sale & demographics details!
Features and Amenities
The Brock Lofts brings modern loft living spaces to the bustling 27 Brock Ave & 31 Brock Ave, Toronto, ON. This development houses a low-rise loft building of 2 storeys with 24 authentic lofts.
Investors will find open-concept floor plans varying from 360 to 1,400 square feet in size. With character-rich spaces, each loft will also have premium features & finishes. All lofts have high ceilings, massive wood beams, exposed brick walls, hardwood floors, natural light provided by large windows and much more. Residents of second-floor units will also enjoy skylights & summer sunshine.
The building of these lofts also has luxurious amenities such as a common rooftop deck with sunlight streaming, pool & BBQ. These lofts also have ample parking space for both residents and visitors.
Contact us to explore Brock Lofts values, lofts for sale, available facilities and much more on this project in Toronto!
Location and Neighbourhood
The Brock Lofts conveniently span across 27 Brock Ave & 31 Brock Ave, Toronto, ON. This vibrant residential neighbourhood has plenty of amenities, professional services & facilities close to 27 Brock Ave & 31 Brock Ave.
These lofts are only a short walk away from residential streets connected to Queen Street, Roncesvalles Avenue, Bloor Street and other corners of West End. The West End neighbourhood of these lofts also has thrills such as Gladstone, The Tempered Room, The Drake Hotel and much more.
If you look for a relaxing place near these lofts, High Park and Sorauren Park are also available nearby.
Accessibility and Highlights
Spanning across 27-31 Brock Avenue, this location has excellent transit & walk scores of 85 and 90 respectively. As a result, residents of these lofts will find major TTC stops along Queen Street West & Dundas Street. For regular drivers, Gardiner Expressway via Parkside Drive is just a short drive away from the Brock Lofts.
About the Developer
27-31 Brock Investments Inc. is a renowned real estate developer behind these lofts in Toronto. They have developed several buildings with modern architecture throughout Toronto, Ontario. At present, the Brock Lofts is the only project available for sale in the Toronto market.
To explore the rent price and other condo listings for sale around Toronto city, contact us soon!