One King West Hotel & Residence
| | |
| --- | --- |
| Address | 1 King St W, Toronto, ON |
| Maintenance Fees | |
| Developer | |
| Year Built | |
| Price Range | |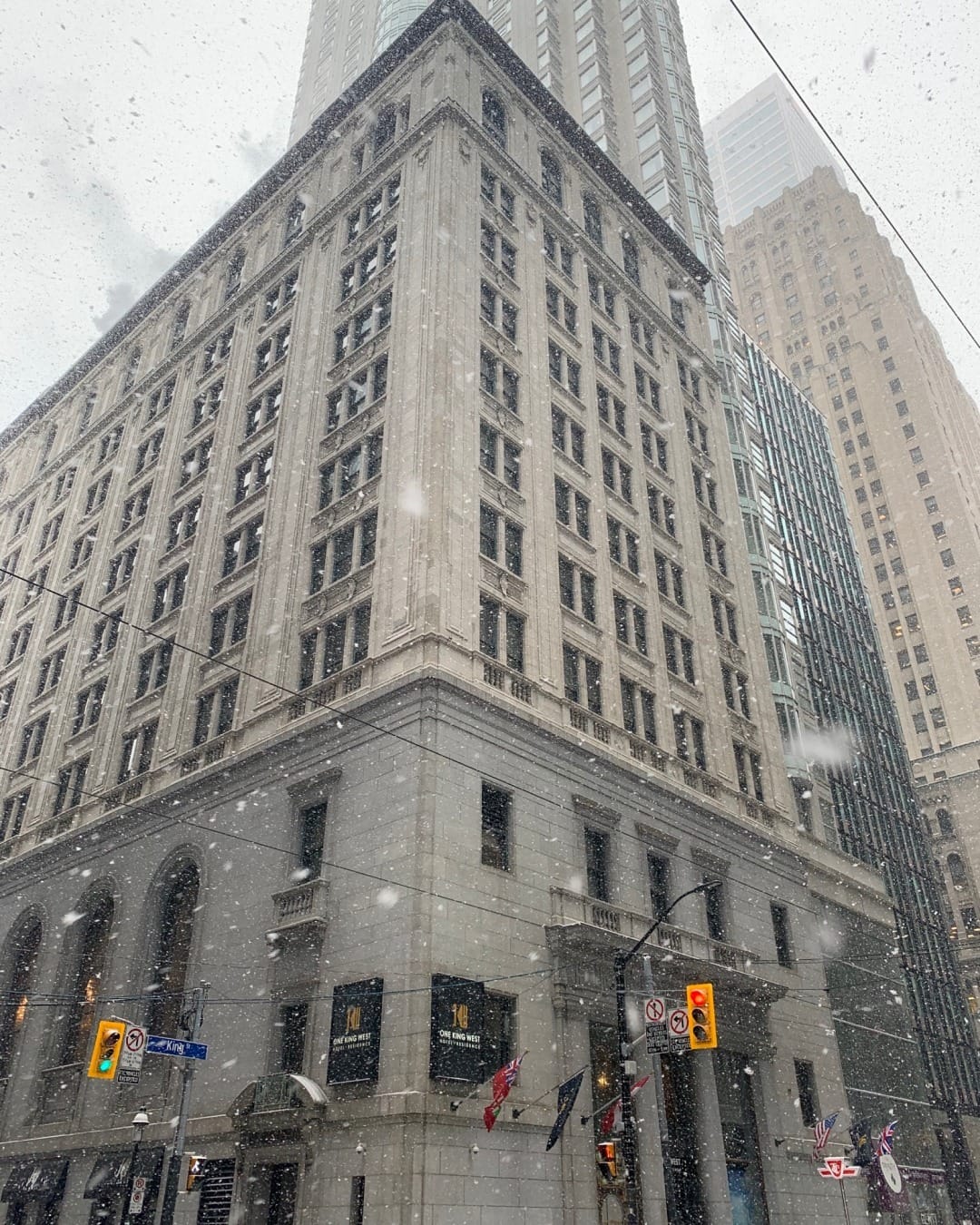 One King West Hotel & Residence Condominiums For Sale
About
One King West Hotel & Residence is a condo hotel development by Stinson Properties, located at 1 King St W, Toronto, ON. This project houses a luxurious high-rise building of 51 storeys with a total of 575 condo units. This property for occupancy was completed in 2006.
Once the heritage Dominion Bank Building, this condo hotel development had Stanford Downey Architect Inc. The team of designers has transformed this tower & suite to offer ultimate comfort.
Inspired by 20th-century classicism, this tall tower features incredible architectural renderings with ornate detailing. Besides this, buyers will also find sophisticated interiors and a wide range of upgraded features & sleek finishing. The tower also has several in and out privileges for both residents and hotel guests.
Standing tall amid the bustling King and Yonge streets, One King West Hotel & Residence is a Downtown Toronto project. Transforming the means & standards of living, this location offers urban conveniences & luxury in one place.
This neighbourhood also has an excellent transit system just mere steps away from One King West Hotel and Residence Hotel. Consequently, from a historic superior suite to unparalleled designs, One King West Hotel and Residence is ideal for all kinds of people.
So, for further information on One King West Hotel & Residence, get in touch with us soon. For example, maintenance fees, price range, available market price, sale and other related data!
Features and Amenities
One King West Hotel & Residence at 1 King St W is a beautiful condo hotel community. Formerly known for the magnificent Grand Banking Hall, this development has a 51-storey tall building.
According to the plans, this building is home to a total of 575 condo suites. These suites also include spacious two 3-storey penthouses. The developer & the architect has designed each condo to offer everything a resident desires. Simply put, residents will find hotel-style flooring, living & dining rooms, air conditioning, spacious bathrooms, gourmet kitchens and expansive bedrooms.
As for the features & finishes, the kitchens have sleek countertops, modern appliances, high ceilings and much more. Besides this, the bathrooms have got a hot tub, gleaming faucets and much more. Also, inspired by the historic studio suite, there are multiple large bedrooms and an enormous living room with plenty of space for dining.
The tower of One King West Hotel & Residence Hotel also has sophisticated indoor and outdoor amenities. As a result, residents will find many in and out privileges such as a lobby bar known as Teller's bar, free wifi, valet parking, restaurant, 24-hour front desk and much more.
Along with valet parking, One King West Hotel & Residence also has a parking garage and private parking available for the residents. With a  refined home-inspired style and first-class quality, One King West Hotel & Residence offers the ultimate luxurious life in West Toronto.
So, to get VIP access to the important details, contact our agents today!
Location
One King West Hotel & Residence is ideally located at 1 King St W, Toronto, ON. This region of Downtown Toronto has got an impressive walk score of 98. As a result, from local shops to an incredible nightlife, this area has got everything for you within walking distance. Residents living at 1 King St W will find grocery stores, coffee shops, restaurants, pharmacies, bars, entertainment & much more nearby.
No mood to cook? Don't worry as this area offers a wide range of dining options including restaurants, bars & cafes. Consequently, Croissant Tree, Over Easy Restaurant and Michel's Baguette are a few restaurants close to One King West Hotel & Residence.
One King West Hotel & Residence is also near Second Cup, Teavana, Maman, David's Tea and other coffee shops. Major bars such as Irish Embassy Pub & Grill, O Resto Lounge and Consort Bar are also a short walk away.
For essential shopping needs, 1 King St W is just moments away from many grocery stores, pharmacies & malls. King Grocery, Longo's, Metro, JC Food Market and others are the closest grocery stores to One King West Hotel & Residence.
Located near Bay Street, Brava Boutique, ReitmansCommerce Court & Running Room are a few nearby shopping centres. Even the Eaton Centre, the Rogers Centre and major big box stores are close to One King West Hotel & Residence.
Neighbourhood
Downtown Toronto is also an ideal place to live if you have kids or you are a student. This neighbourhood has major schools and colleges just moments away from this  One King West Hotel & Residence.
Some nearby public and private schools include Downtown Alternative School, Dublin Heights E & MS and St. Michael's Choir School. For higher education, students will also find OCAD University, The Michener Institute and George Brown College – Waterfront Campus nearby.
Also, if you love enjoying nature and parklands, One King West Hotel & Residence is surrounded by major green spaces. The nearest public parks to this development are Berczy Park, Cloud Gardens and Sculpture Gardens.
In addition, this area also has many landmark attractions and entertainment options. Some close landmark attractions include Rainbow Cinema Market Square, Market Gallery, Mackenzie House, Massey Hall and others.
Venture out a little, residents will also find Four Seasons Centre, Osgoode Hall and Roy Thomson Hall close to this community.  Also, some other entertainment options are Design Exchange, Hockey Hall of Fame and Toronto Dominion Gallery of Inuit Art.
To experience urban conveniences to luxurious nightlife, get a condo in One King West Hotel & Residence today. Also, for more details on the neighbourhood, get in touch with us soon!
Accessibility and Highlights
Rising high in one of the most coveted neighbourhoods of Toronto, this location has a perfect transit score of 100. From major bus routes to subway stations, the Bay Street Corridor has got all kinds of transit services. Commuters will find major bus lines such as 97 Yonge, 6 Bay and others close to One King West Hotel & Residence.
One King West Hotel & Residence is also close to 320 Yonge Night Bus, 121 Fort York – Esplanade and 72 Pape. Besides this, the area also has multiple rail lines & subway stations close to 1 King Street West in Toronto.
1 King St W is just moments away 503 Kingston Rd, 504 King, 304 King, 509 Harbourfront & other rail lines. Transit riders will also have easy access to King Station- 1 Line 1 (Yonge-University).
If you are someone who is a frequent international traveller then major airports are also close to this development. As a result, both Toronto Pearson International Airport and Billy Bishop Toronto City Airport are just a short drive away.
Additionally, drivers will also enjoy convenient access to major highways as well as thoroughfares. In short, commuting locally as well as internationally would be simple and hassle-free.
So, for further details on the neighbourhood and transit services, contact our agents soon!
About the Developer
Harry Stinson is the real estate developer of Stinson Properties for One King West Hotel and Residence in Toronto. Stinson is a privately-owned real estate investment and development company.
Once known as the 'Condo King', Stinson specializes in restoring landmark buildings across Toronto. With a hard-earned reputation for passion, they have set the standards for livability across Canada and the United States.
Since 1982, they have built a premium portfolio across Toronto. As a result, the portfolio includes residential living, hotels, and commercial developments. They have also built many rental apartments and educational institutions in Toronto.
Besides One King West Hotel & Residence, they are also responsible for many famous projects in the city. Some other projects by them include Beasley Park Lofts, Gibson Loft Rentals, Buffalo Grand Hotel and many more.
To get further details on nearby Toronto buildings, condos for sale/rent, free cancellation policies and much more, contact us soon!