Macpherson Church Lofts
| | |
| --- | --- |
| Address | 12 Macpherson Ave, Toronto, ON |
| Maintenance Fees | |
| Developer | |
| Year Built | |
| Price Range | |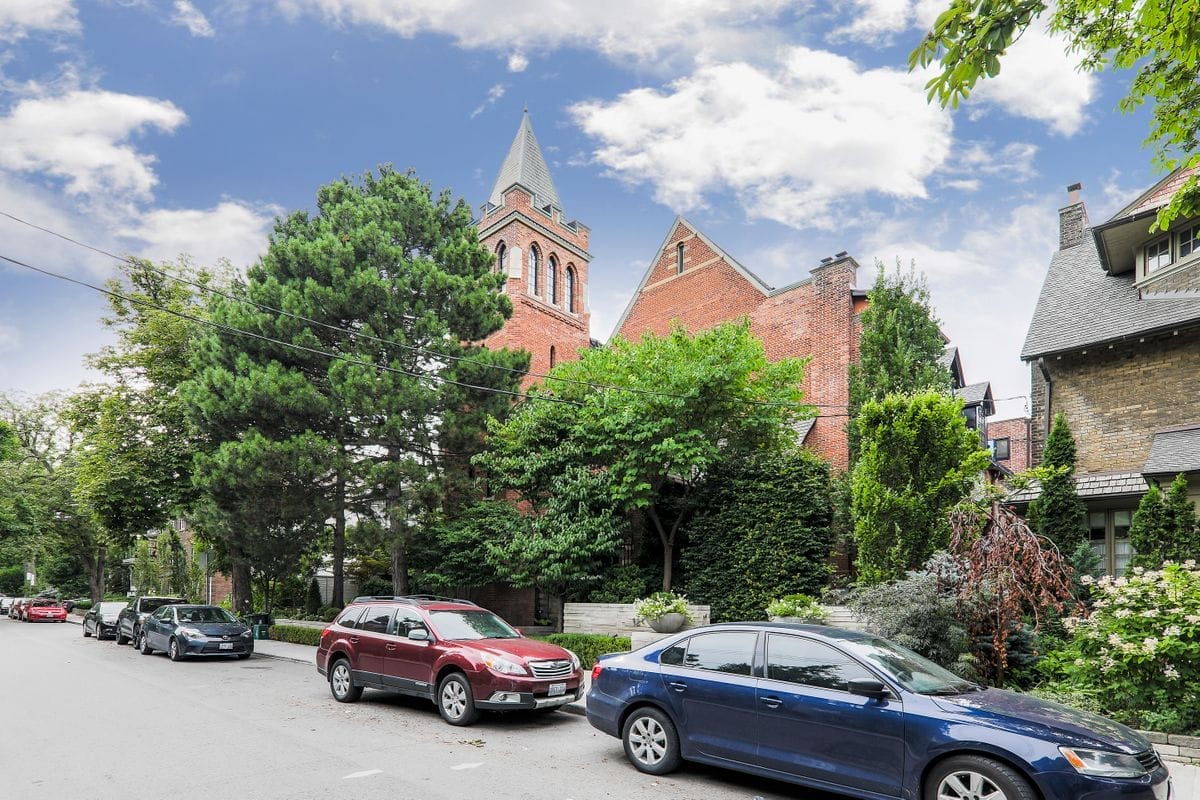 5 Images
About
Macpherson church lofts is a resale listing that has been constructed on 12 Macpherson Ave Toronto at Yonge St. The project is bringing a luxurious low-rise building of 1 storey with a total of 5 units. The completion date for occupancy for this loft was 1990. The developer of these lofts is unknown.
Features and Amenities
Originally a Methodist church, Gothic-style arched windows, ornate wooden staircases, wooden trusses, and Cathedral ceilings, are just a few of the spectacular original heritage features that will appeal to affluent buyers in this authentic church conversion multi-level luxury lofts at 12 Macpherson Ave Toronto.
Additionally, the most notable features of these Macpherson Church lofts at 12 Macpherson ave include private terraces, multiple living spaces or patios, and fireplaces.
In addition to the coffered ceilings and exposed brick, loft lovers can have a walk-out, large west-facing patio for a sense of the outdoors and feel the fresh air at these exclusive Summerhill lofts.
Furthermore, the luxurious features include marble hearth with gas fireplaces in these Church conversions.
So, get in touch with our team to know more about each intimate loft at Macpherson Church lofts. Find the Macpherson church lofts amenities, Macpherson church lofts values at 12 Macpherson Avenue and more.
Location and Neighbourhood
In addition to an expansive family/breakfast room and gourmet kitchens with stainless steel counters, handcrafted custom walnut cabinetry, and slate backsplash, this Toronto condo features a dining area and an open concept living.
Certainly, not to mention the 5-piece, spa style ensuite bathroom with Jacuzzi tub. Even a Juliette balcony exists where you may relax while drinking coffee and reading the newspaper in the morning.
It takes just a short stroll from this truly unique property situated at 12 Macpherson Ave Toronto to get to Aroma Espresso Bar.
Moreover, if you don't feel like cooking, nearby restaurants Capocaccia Cafe and John & Sons Oyster House are excellent options. Harvest Wagon, Sobeys, and Bruno's Fine Foods are where you can buy your weekly groceries.
You can go to Cineplex Entertainment for a fun evening on a winter night. McKinsey International College-The Language School and The York School are two nearby schools.
Further, you can head to Poplar Plains Park and Glenn Gould Park near 12 Macpherson Avenue. One Balmoral is close to public transportation. There are spacious public parks, hiking and bicycling paths, and a vast array of stores and eateries.
Accessibility and Highlights
The TTC St. Clair Station is close by, which is convenient for those who take public transportation. Drivers from 12 Macpherson Avenue can use Bayview Avenue to access the Don Valley Pkwy.
Also, you can contact our Canadian Real Estate Association team members to know the Toronto building details, storeys details of Macpherson church lofts.
About the Developer
The developer of these lofts is unknown.
Contact our real estate professionals to get more information about the demographics, details of similar buildings, know the trends, compare stats of the lofts sold in the past twelve months at 12 Macpherson Avenue.
Also, find the nearby listings, search Toronto condos around this century old historic building of Macpherson Church lofts or nearby cities.