Courtyards at Cathedraltown Condominiums For Sale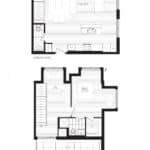 1 Bed
1 Bath
1193 sqft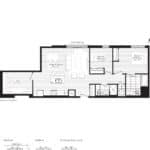 2 Bed
2 Bath
1133 sqft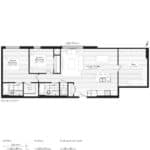 2 Bed
2 Bath
1253 sqft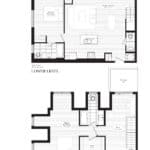 2 Bed
2 Bath
1559 sqft
3 Bed
2 Bath
1387 sqft
3 Bed
3 Bath
1530 sqft
3 Bed
3 Bath
1607 sqft
About Courtyards at Cathedraltown Development
Courtyards at Cathedraltown is a new condo project by King David, located at 10340 Woodbine Avenue, Markham, ON. The development has two mixed-use buildings (5 storeys) with an expected total of 103 residential units and 12 retail units.
Courtyards at Cathedraltown Condos aim to help address one of the biggest concerns of our time, climate change. It promises to utilize its roof for greener features. Both of the buildings will also have a green roof and a shared landscaped courtyard, which will contain a bevy of planted birch trees, next to the cathedral. Birch trees of the same kind will greet you at the entrance, which will leave an impression of calmness and serenity before entering these amazing towers.
Courtyards at Cathedraltown Condominiums boast of high-end finishes used in every suite and fantastic sweeping views residents will appreciate from their suites. Uniquely designed by Donald Buttress and Geoffrey Alsop, these structures feature suites that combine functionality with spacious layouts.
Features
Amenities at the Courtyards at Cathedraltown Condo will include a fully equipped fitness room, loggia, concierge, and party room. The loggia and the reception room will consist of the lounge, dining area, and bar for the use of its residents.
Courtyards at Cathedraltown Condo also aims to promote the value of family. The Courtyards Condominium is to be a place where families can spend time at and where they can enjoy activities out in a well-curated outdoor space. And because of its family-friendly design, the developer provided spacious floor plans that include two-level suites for a more for small families.
Accessibility
With the condos located in Brampton, it contains several nearby parks such as Vine Cliff Park, Hazelton Park, Mossy Stone Park, and Cathedral (King David) Park. Schools are as accessible too. These are Sir Wilfrid Laurier Public School and Sir John A. Macdonald Public School.
Offered floor plans include one-bedroom, one-bedroom + den, two-bedroom, two-bedroom + den, and three-bedroom suites. There are also two-level units for the modern house in the sky feel. Suite sizes vary from 947 to 1607 sq. ft.
Estimated completion and occupancy of Courtyards at Cathedraltown Condominium is 2021. Groundbreaking will start in September 2017, and construction is by King David Inc.
Sales Info
Parking Cost: TBA
Storage Cost: TBA
Deposit Structure:
$5,000 on signing
5% to balance in 30 days
5% in 120 days
5% on occupancy