N1 & N2 Condos
| | |
| --- | --- |
| Address | 15 Fort York Blvd & 15 Brunel Crt, Toronto, ON |
| Maintenance Fees | |
| Developer | |
| Year Built | |
| Price Range | |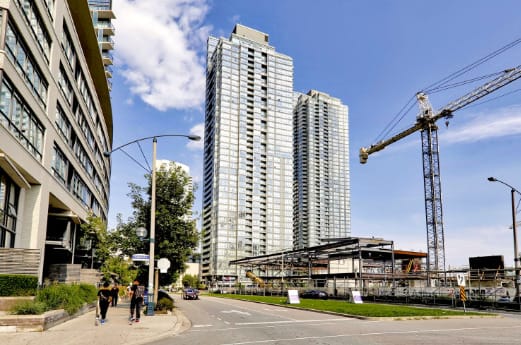 N1 & N2 Condos Condominiums For Sale
About
Searching for the perfect condo in Toronto? Look no further than the n1 n2 condos at CityPlace. With a prime location at 15 Fort York Blvd, modern architecture, and a plethora of amenities, it's the ultimate destination for city living. What else makes this vibrant community stand out? Read on to find out.
From suite sizes and layouts to fitness facilities and social spaces, n1 n2 condos at CityPlace have it all. Not to mention, the bustling CityPlace neighbourhood offers endless dining, nightlife, and recreational opportunities. Get ready to experience the best of urban living in Toronto.
Key Takeaways
Discover N1 N2 CityPlace Condos for modern living amenities with breathtaking views and easy commuting.
Enjoy unique architectural design elements, flat sizes & layouts, fitness/wellness facilities, and social/entertainment spaces.
Experience the vibrant neighbourhood of CityPlace offering dining, nightlife activities, green spaces & recreational activities as well as public transit access to attractions & landmarks in Toronto.
Enjoy the extraordinary living in spacious suites.
Discovering N1 N2 CityPlace Condos
N1 N2 CityPlace condos, strategically located at 15 Fort York Blvd near Fort York Boulevard, sit within two buildings interlinked by a podium, providing high-rise and low-rise living options. These modern residences boast:
Hardwood floors
Granite countertops
Stainless steel appliances
Updated bathrooms
Open concept layouts
Spacious bedrooms, including expansive two-bedroom suites.
Upon entering the N1 N2 CityPlace condos, you'll be welcomed by breathtaking vistas of the CN Tower and the lake. Plus, with Union Station nearby, you'll have easy access to public transportation, making commuting a breeze. It's no wonder more and more prospective homeowners are turning to CityPlace condos as their ideal urban living destination.
Architectural Highlights
The architectural design of N1 N2 CityPlace condominium is indeed striking. Designed by Page + Steele / IBI Group Architects, these buildings feature multi-level units, window walls, and tall ceilings. These unique design elements not only create a stylish living space but also contribute to space efficiency, ensuring you make the most out of your home.
Constructed with steel columns, fortified concrete beams, and a solid concrete core, the N1 N2 CityPlace condominium epitomizes contemporary design and robustness. The buildings are conveniently located near Spadina Avenue and Northern Linear Park, allowing occupants to enjoy both the nearby green spaces and the bustling city life in downtown Toronto.
Suite Sizes and Layouts
Accommodating diverse lifestyles and preferences, N1 N2 CityPlace presents an extensive array of flat sizes and layouts. Suites range from 479 square feet for a one-bedroom unit to over 2,000 square feet for a luxurious penthouse.
The suites' diverse layout options include urban lofts, skylofts, and an array of sizes from 479 to 2,468 square feet. With so many choices, you're sure to find the perfect home that suits your needs and desires at N1 N2 CityPlace.
Amenities for Active Living and Relaxing Downtime
Residing in N1 N2 CityPlace guarantees access to a multitude of amenities, crafted to facilitate both an active lifestyle and leisurely relaxation. They have access to:
Gym
Pool
Sauna
Party room
Meeting room
Games room
Concierge
On-site security
Parking garage
Whether you're looking to break a sweat in the fitness center or unwind in the sauna, N1 N2 CityPlace have the amenities to cater to your every need. Some of the amenities include:
Fitness center
Sauna
Socializing areas
Relaxation areas
No need to venture far from home to stay active, socialize, or relax – it's all within walking distance right at your doorstep.
Fitness and Wellness Facilities
Maintaining an active lifestyle and robust health is effortless at N1 N2 CityPlace. The gym offers an extensive selection of cardio and gym equipment, ensuring there's something for everyone to enjoy. Plus, the property provides yoga and meditation spaces, allowing you to find your zen and focus on your well-being.
They can also take advantage of wellness facilities such as:
a spa
a steam room
a fitness/weight room
an indoor lap pool
a hot tub
With so many options at your disposal, maintaining a balanced lifestyle has never been easier.
Social and Entertainment Spaces
N1 N2 CityPlace condos simplify socializing with friends and neighbours, a fundamental part of urban life, by providing an assortment of social and entertainment areas. The party room, games room, and meeting rooms provide the perfect setting for hosting events, gatherings, and community functions. With excellent property management, occupants can enjoy a hassle-free experience in these shared spaces.
There are no requirements or restrictions for utilizing these spaces, so whether you're planning a birthday party or a casual game night, you can rest assured that N1 N2 CityPlace have the facilities to accommodate your needs and create unforgettable memories.
The Vibrant CityPlace Neighbourhood
Situated at the core of Toronto, the vibrant CityPlace neighbourhood provides a plethora of amenities, including:
Dining options
Nightspots
Green areas
Recreational activities
This bustling City Place area is perfect for those who want to be in the center of it all while still enjoying the comforts and amenities of N1 N2 CityPlace.
With a Walk Score of 94, a Transit Score of 100, and a Bike Score of 62, the CityPlace neighbourhood is well-connected and easily accessible. Experience the best of urban living in this vibrant community, where everything you need is just steps away.
Dining and Nightlife
CityPlace, Toronto, prides itself on a wide variety of culinary offerings, from American and Steakhouse to Peruvian and Comfort Food. Enjoy unique dining experiences at establishments such as Mira, Hunters Landing, The Morning After, Bar Chica, and Pai Northern Thai Kitchen.
When it comes to nightlife, CityPlace doesn't disappoint. Popular bars and nightclubs include:
Fox & Fiddle
Hunters Landing
Bovine Sex Club
Bar Hop
Ruby Soho
With so many options available, there's always something new to explore and enjoy in the CityPlace neighbourhood.
Green Spaces and Recreation
Alongside its vibrant urban life in Toronto, the CityPlace zone also provides a generous amount of greenery and recreational activities for residents' enjoyment. Some of the notable green spaces and recreational areas in the area include:
Southern Linear Park
Canoe Landing Park
Toronto Music Garden
Various community gardens and nature reserves
These spaces provide a refreshing fusion of urban and natural environments for residents to enjoy.
Stay active with rowing, baseball, tennis, yachting, and swimming activities available in the nearby parks. Additionally, you can take advantage of running and cycling trails, as well as dog parks, in the vicinity of N1 N2 CityPlace condos.
Public Transit and Accessibility
N1 N2 CityPlace condos extend outstanding public transit and accessibility facilities to its residents. The transportation options include:
Streetcars on Spadina, Queens Quay W, and Bathurst
Buses on Fort York Blvd
The main station is nearby, providing easy access to subway lines and regional trains.
These transportation options make getting around the city in Toronto a breeze for residents of N1 N2 CityPlace condos.
For car owners, the CityPlace neighbourhood offers prime access to the Gardiner Expressway via southbound Spadina. Whether you prefer public transit or driving, N1 N2 CityPlace condos provide convenient and efficient transportation solutions.
Surrounding Attractions and Landmarks
In addition to the attractions of the CityPlace in the Toronto neighbourhood, N1 N2 CityPlace condos are positioned close to a host of landmarks and attractions. Nestled between the Waterfront and the Entertainment District, you'll find:
Sports venues
Theaters
Comedy clubs
Restaurants
Bars
Cultural attractions such as the Hot Docs Canadian International Documentary Festival and TIFF Bell Lightbox.
Immerse yourself in the rich cultural experiences offered by nearby sites in Toronto, such as:
CN Tower
Air Canada Centre
Rogers Centre
John Street Roundhouse/Roundhouse Park
Steam Whistle Brewery
With so much to see and do, you'll never run out of ways to enjoy the best of Toronto.
Sports Venues and Entertainment
The proximity of N1 N2 CityPlace condos to a range of sports venues and entertainment facilities will be greatly appreciated by sports lovers. The shared sports and entertainment complex offers amenities such as a rock climbing wall, yoga and dance studio, and more. Additionally, the nearby Superclub is renowned for its high-quality athletic facilities.
For a more laid-back experience, the surrounding area offers a variety of venues, including:
Theaters
Comedy clubs
Restaurants
Bars, such as the popular Louis Bar
No matter your interests, there is something for everyone in the Entertainment District and the surrounding area.
Cultural and Historical Sites
Immerse yourself in the wealth of cultural and historical sites in the vicinity of N1 N2 CityPlace condos. Discover the beauty of Southern Linear Park, Canoe Landing Park, and the Toronto Music Garden, all of which offer a glimpse into the area's history and heritage.
In addition, the Entertainment District is home to numerous cultural experiences and events, such as Black History Month, Canada Day, Chinese New Year, and more. With so much history and culture to explore, living at N1 N2 CityPlace condos connects you to the vibrant tapestry of Toronto's past and present.
Summary
N1 N2 CityPlace condos offer the ultimate urban living experience in Toronto. With modern architecture, a variety of rooms sizes and layouts, and an extensive array of amenities, these condos cater to every lifestyle and preference. The vibrant CityPlace neighbourhood boasts endless dining, nightlife, and recreational opportunities, ensuring there's always something exciting to explore.
Whether you're seeking an active lifestyle or a relaxing retreat, N1 N2 CityPlace condos provide the perfect balance. Don't miss out on the opportunity to call this dynamic community home – discover the best of city living in Toronto at N1 N2 CityPlace condos.
Frequently Asked Questions
How many floors are in the 15 Fort York?
The 15 Fort York building boasts 42 storeys and 568 condos, offering prospective homeowners a great mix of floorplans, suite sizes and design with the added benefit of stunning C.N. tower and lake views.
Are pets allowed in N1 N2 CityPlace condos?
It is not clear if pets are allowed in the N1 N2 CityPlace condos. We recommend contacting the condo management to learn more about pet restrictions and guidelines.
How far is Union Station from N1 N2 CityPlace condos?
Union Station is located just a short walk away from N1 N2 CityPlace condos, providing easy access for residents.
For more listings like these, click here.
Request More Information Resale/Lofts
Instant Price List & Sales Info Package