1166 Bay Street Condos
| | |
| --- | --- |
| Address | 1166 Bay Street, Toronto, ON |
| Maintenance Fees | |
| Developer | |
| Year Built | |
| Price Range | |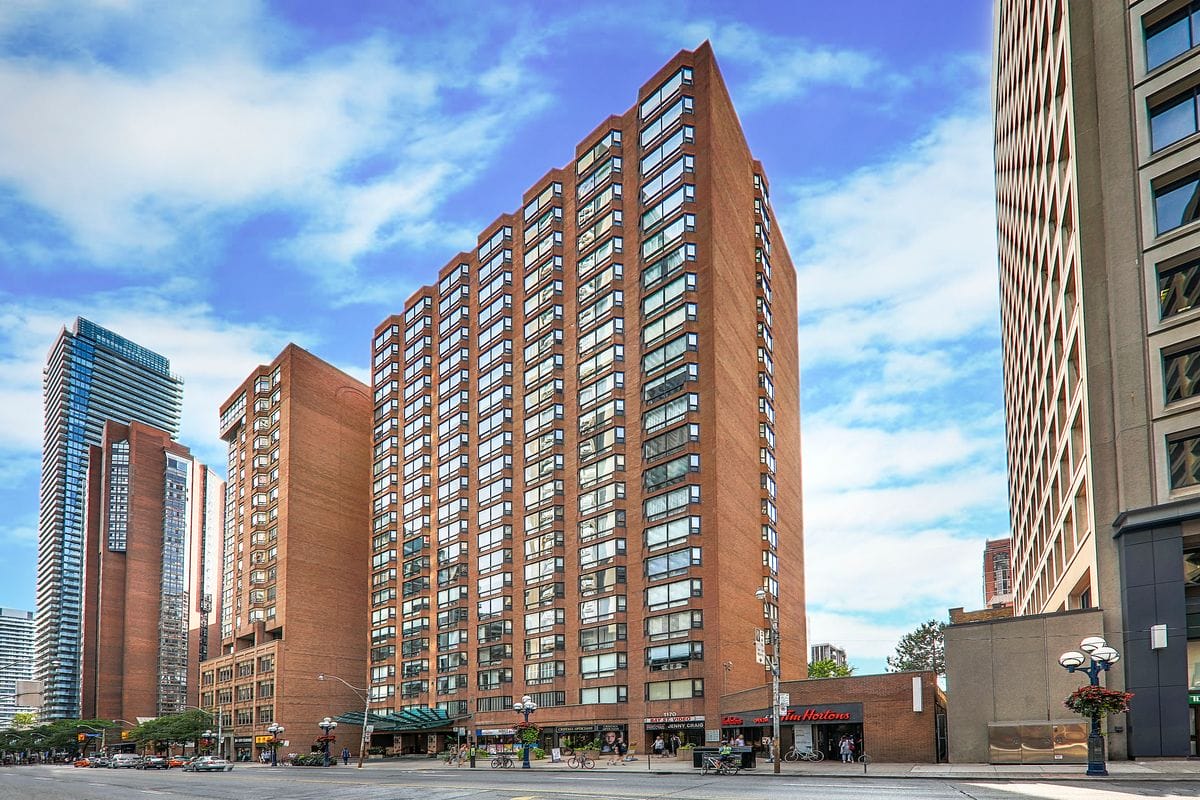 4 Images
1166 Bay Street Condos Condominiums For Sale
About
1166 Bay Street Condos is a condo development in Toronto. It is developed by Cadillac Fairview. Also, it is located at the intersection of Bloor Street and Charles Street at 1166 Bay Street, Toronto. This condo development features a high-rise building of 22 stories and a total of 103 units. However, the estimated date of occupancy for this condo project was completed in the year 2002.
1166 Bay Street Condos was developed in the year 2002 and has the most amazing architecture. Also, the interior and exterior have great textures. The brown colour texture on the exterior looks very classic. While the interior offers beige colour with many new modern appliances.
The area of 1166 Bay Street, Toronto is a very amazing area for humans to stay. It offers all the facilities and requirements available nearby. Moreover, it provides easy access to all the shopping centres, retail shops, market places, cafes, and more.
To get more details about similar buildings, register today! Get access to all our services! Send us a request soon to know the listings from the past twelve months! Get new listings and condos for commercial purpose!
Features and Amenities
1166 Bay Street Condos is a condo development that was developed in the year 2002. Also, this development features a 22 story high-rise building with a total of 103 units. Moreover, the unit size range of 1166 Bay St condos is 2053-2742 sqft.
The building amenities of 1166 Bay St Condos include an indoor pool, valet parking, and more. Also, you can enjoy a GYM, a party room, and spacious and large bedrooms. The valet parking, GYM, and main hub of 1166 Bay St condos are amazing. Also, there is a security guard for security purpose. The guest suites include a master bedroom, walk-in closets, a front door, and more.
To know more about 1166 Bay Street Condos, register today! Buy more condos with an indoor pool! Get more details from our brokerage unit and home realty inc.! Know about the sale and rent listings in Toronto! Also, know about condos in the sale and sold!
Location and Neighbourhood
The location of 1166 Bay St, Toronto city offers a great community to stay in. This community organizes many cultural events for the entertainment of residents. Also, many amazing art galleries are available nearby.
Moreover, various restaurants, market places, and more are towards the west. While the Don Valley Parkway is towards the east. Also, the famous Royal Ontario Museum is towards the south of the Bay Street Corridor. The shopping district of Mink Mile is at the intersection of Yonge Street and Bloor Street.
To verify the information provided, register today! Get details about bona fide interest purchase details of condo property! Get price details, suites, and more about other condos!
Accessibility and Highlights
1166 Bay St offers a Semi Circle Driveway at the Bay Street Corridor. Moreover, the public transit options available nearby are amazing. The nearest Gardiner Expressway connects the major cities of Toronto.
Buy and sell condos for other purpose, register today to know!
About the Developer
Cadillac Fairview is the developer of 1166 Bay St condos. They have a great experience in this field. Also, they have built numerous projects with amazing services.
Follow Precondo for more details!
Request More Information Resale/Lofts
Instant Price List & Sales Info Package