The Penrose
| | |
| --- | --- |
| Address | 750 Bay St., Toronto, ON |
| Maintenance Fees | |
| Developer | |
| Year Built | |
| Price Range | |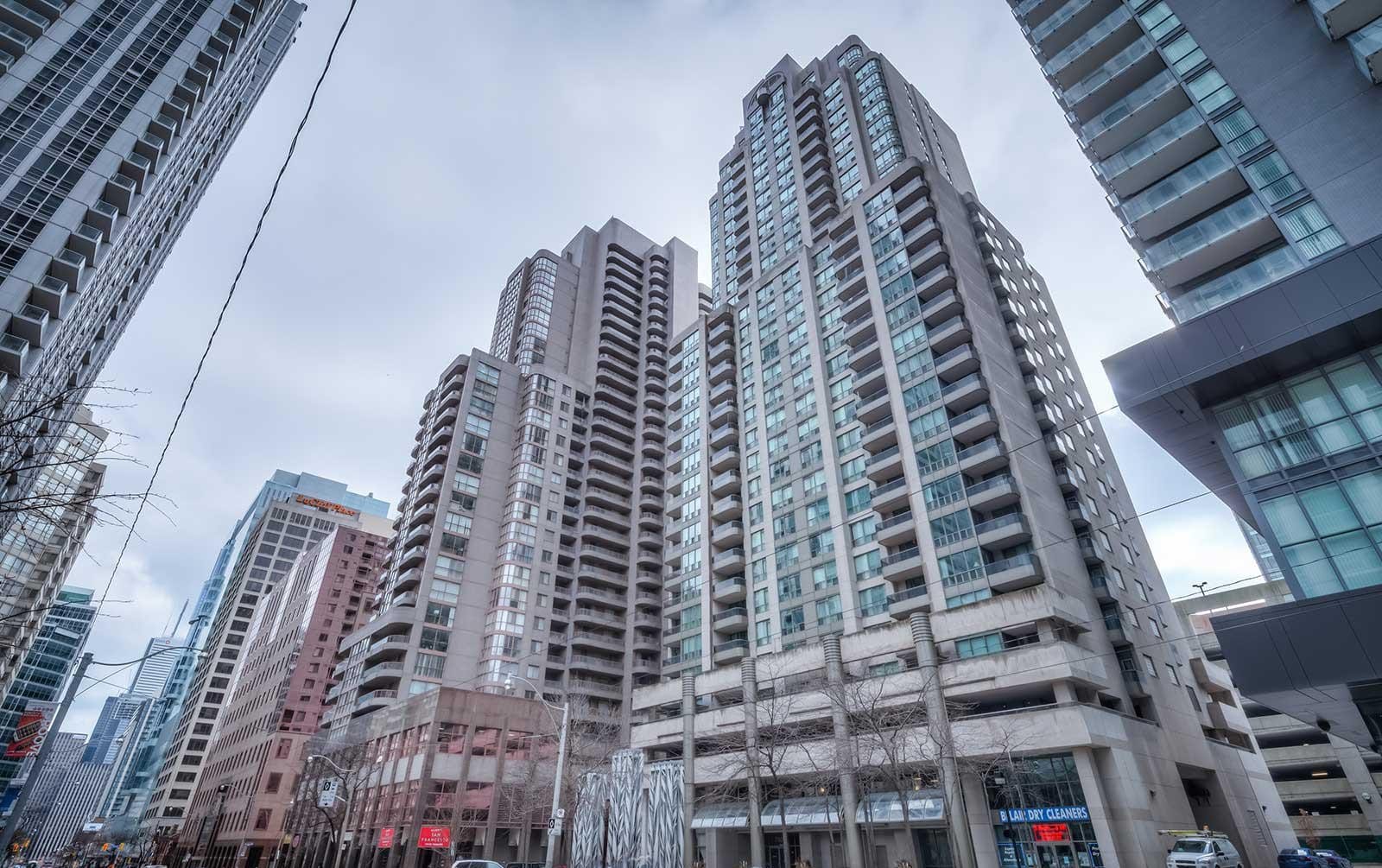 About
The Penrose by‌ ‌H&R Developments ‌is‌ ‌an ‌established development ‌at 750 Bay Street Corridor. This property's construction was completed in 1999. This is a mid-rise development consisting of 30 storeys and offers 220 units.
The Penrose strikes a stunning figure, standing 30-stories tall and with a multi-tiered design that appears to reach into the sky. So, there's a lot to admire about this property, with artistic details like a distinctive sculpture exhibit out front and fully thought-out building amenities.
Send us a virtual appointment request to get comprehensive details on the Penrose condos at 750 Bay St.
Features and Amenities
Brightness and spaciousness, large breakfast counters, private balconies in nearly every unit, and a long list of building features distinguish the Penrose suites.
Without superb rooms, fantastic facilities, and a wonderful location would be pointless. Thus, 750 Bay St. offers some world-class amenities for its residents. In addition, this 750 Bay St Toronto building houses 220 condominiums in downtown Toronto, all of these are light and large, with open concept designs, ensuite laundry, and huge bedrooms.
Further, suites vary greatly in size from 500 square feet to over 1100 square feet for a two-bedroom plus den. Moreover, a few other amenities of these 750 Bay St corridor Toronto condos include party room, exercise room, indoor running track, fitness centre, meeting room, parking garage, etc.
Send us a request today to know about floor plans, maintenance fees, and similar features of 750 Bay St., .
Location and Neighbourhood
The Bay Street Corridor is as prominent as it gets. For instance, it has Bloor Street and upmarket boutique shops to the north, the Entertainment District and large attractions to the south, the Eaton Centre to the east, and Kensington Market, Toronto's vintage capital, to the west.
Also, the Penrose is located on Bay Street North of Gerrard St. West, south of College Street. Besides, the College Park Shopping Mall, which houses several famous gourmet restaurants, is right next door. The east exposure of the 750 Bay Street building overlooks a small park with an ice skating rink. The college subway station is right across the street. The building is located in the Bay St. Corridor, close to Yonge Street, the Eaton Centre, University Avenue's Discovery District, and Toronto's Financial District.
With just a short walk from 750 Bay St Toronto, you can find Princess Margaret Hospital, City Hall, Mt. Sinai Hospital, Hospital for Sick Children, Toronto General Hospital, Ontario Art Gallery, Ryerson University, China Town, Winter Garden Theatres, Massey Hall, Future Dundas Metropolis, Government buildings, and Queen's Park.
Accessibility and Highlights
Residents of The Penrose 750 Bay St Toronto have convenient access to both the east-west College streetcar lines and the Yonge-University subway line's College Station. Both will undoubtedly make everyday downtown transit more convenient, particularly in the winter.
On Bay Street and College Street, there are TTC routes. The Yonge-University subway line is only a short walk away. If you're driving, York Street leads to the Gardiner Expressway, while Danforth Avenue leads to the Don Valley Parkway.
About The Developer
Sandor Hofstedter founded H&R Developments in the 1950s. Some of its current projects include Shoreline Gateway, Hercules Project, The Pearl, and the Industrial Lands.
Get in touch with our team to know more about a variety of condos in Toronto or nearby cities.
Request More Information Resale/Lofts
Instant Price List & Sales Info Package