Ten York Condos Condominiums For Sale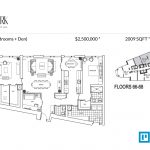 2.50 3
2009 sqft
About Ten York Condos Development
Ten York Condos is a magnificent work of art in the form of 725 suites in 65 stories. Located in the heart of Downtown Toronto overlooking Lake Ontario, this condo development will change Toronto's skyline for a lifetime.
Ten York Condos makes it not only one of the most desired places to live at but also one of the most desired locations. There can be no argument about this building being an architectural wonder, both from its exterior right to its interior. This glass vision is the definition of modern architecture used in the most mystical ways.
State Of The Art Technology
The innovative technology deployed in Ten York Condos is top-notch. One of the advanced technological features is the key-fob activated elevators which lead you directly to your desired suite. These condos developed by Tridel have also in-cooperated something called home connectivity.
You could use your provided in-suite wall pad to set your suite alarms, adjust the temperature of individual rooms all done so remotely through a smartphone.
Say goodbye to your keys, and all the suites are equipped with digital door locks. You are provided to set a personalized code for entry. Walkthrough doors with a personalized app that allows you to unlock all the common access doors.
One of the most interesting technological in Ten York Condos is the automated delivery feature wherein an automated smart locker system is installed. As soon as you receive your parcel, you also receive a message on your smartphone and post that you could collect your parcel at your convenience.
Everything Right On Your Fingertips
Your Top-Notch Amenities If the suites didn't take your breath away enough, you aren't ready for the available amenities at Ten York Condominiums. The project does not only have an automated smart locker system but also has a mail-lounge.
Instead of taking your mail in a hurry, make a more relaxing task. If you are in the mood to sweat it out, they have a fitness center, but that's not all they also have a Spin studio. Post working out there is a huge stretching area where you can cool down.
And in case you feel like you want to watch a movie in the theatre but don't want to make an effort to go all the way to visit one, you have a fully equipped Theatre room available. Apart from that, they have a private lounge, party room which doubles as a private dining room as well, a media and games room, a spa and a Juice bar.
Just in case you get thirsty going from room to room. In case you feel like spending some time under the sun, you have two pools to choose from. The regular pool and the Reflective pool.
Neighborhood
If you feel like you want to stroll around a bit or grab a bite outside the Ten York Condo, you have the perfect neighborhood around you. Numerous Bistros, restaurants cafes, and clubs that surround you. You could visit The Roy Thomson Hall, Royal Alex Theatre, TIFF Bell Lightbox, and the Scotiabank Theatre all within your arms reach.
For grocery shopping you have great supermarkets around as well, commute to all of these places is extremely easy. Ten York Condominiums is in the center of every mood and every place that you could explore. It's also nearby other condo projects and apartments in Toronto.
Ten York Condos are like heaven on earth in every way. They are technically equipped and sustainable as well. You will have the opportunity to indulge in stippled ceiling finishes, Plank laminate flooring, and granite or quartz kitchen countertops.
Sales Info
Parking Cost: $55,000
Storage Cost: TBA
Deposit Structure:
5% on Signing
5% 120 Days
5% 270 Days
5% 480 Days