Milan Condominiums Condominiums For Sale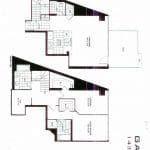 2.50 Bed
2 Bath
1435 sqft
About Milan Condominiums Development
Built at the elegant and beautiful 825 Church St, the Milan Condominiums are the perfect delight for anyone who is planning to shift in Yorkville. These amazing new condos were completed in the year 2014. However, you can still buy them in a brand new condition as the developer planned to roll the executive suites in the podium and tower.
Architecture of Italy
As the name of the condos suggests, the developer Conservatory Group planned to bring the essence and beauty of Italy to the beautiful place of Toronto. The condos offer a beautiful flare and a complete European style to the city. When you think about Italy, luxury and a calm and relaxed lifestyle come to mind. That is exactly what Milan Condos bring to you.
Luxurious Interiors
With a well-planned building, there are a total of 37 stories and 322 suites in total. Milan Condominiums surely boasts luxury and space. Get the combination of modernity and class at a single place. These condos have a unit size range from 676 to 1435 square feet.
Get the feeling of luxury and class in Toronto that you wanted for so long. Get yourself a place in these beautiful well-maintained condos. E.I. Richmond Architects have ensured that the place has all the necessary amenities that are required in a place.
Relax In The Best Way Possible
Right from all types of workout facilities to facilities for relaxing your body, you can find all at one place. To ensure your security, the place boasts a 24-hour security service. There are Jacuzzis and Saunas for both men and women. To get yourself a relaxing massage after a busy day at the office, there are massage rooms available as well at Milan Condominiums.

Amenities For Enjoyment
Enjoy with your friends and family at the lounge with cabanas and movie theatre that the place boasts. To cater to all your party requirements, there are party rooms available with kitchens as well. You can enjoy the summers at the beautiful two storey valley view swimming pool that is built indoors.
A Picturesque Neighborhood
Milan Condominium is located at a picturesque valley of Rosedale. There are views that one can never be tired of. The beautiful views of Bloor and Yorkville, this new Toronto condo development has something that will edge its memories in everyone's heart.
Around the place, there are some amazing restaurants where one can spend a relaxing time with family and friends. Yorkville has some amazing executive restaurants to offer. If you plan to go shopping with your girl, Bloor Street is the place to go. There are some world-class designer shops available which will bring the latest and trendiest styles to you.
The charming area of Rosedale and the beautiful Yonge nearby will give you a neighborhood to love.
Choose Milan Condos
Now that the brand new executive suites have been made available do not miss the opportunity to live in an international style. Opt for luxury with all the amenities with ample space all at a single location. Milan Condos, bringing Italy to Toronto.
Sales Info
Parking Cost: $60,000
Storage Cost: $5,000
Deposit Structure:
$10,000 with offer
balance varies per suite