Whether it's the kitchen, bedroom, gallery, or the whole shebang, one thing is certain – home renovation brings along a lot of challenges. But that doesn't mean it can't be fun.
Indeed, renovating a condominium and efficient implementation of your interior design ideas requires good organizational skills. After all, it is essential that you take into consideration every driving factor if you plan on making the most of the limited space available with a functional layout.
With a detailed plan and quality materials, you can essentially remodel your condo unit without any unexpected hassles. So before you roll up your sleeves and get cracking, let's go over some really important things to consider and a few useful condo renovation tips too.
---
1. Have a Clear Idea of the Rules
There are varied policies of the condo board for each developmental project. You have to make sure that you are not interfering with any of those relevant policies. The board may have some regulations that could possibly affect your design decisions, such as material selection. Mostly, the rules and regulations serve to highlight which particular days and hours you can spend renovating a condo.
It is better to stay on top of these things, so you don't have to deal with the scheduling or delivery hassles later on. Furthermore, you would definitely require a permit or some kind of legal approval before initiating any work.
Perhaps it will be best if you discuss your detailed plans with a knowledgeable board member before going ahead with anything. This will help you better gauge your expectations, and make sure you stay realistic about your home design plans.
---
2. Know For Whom Renovations Are For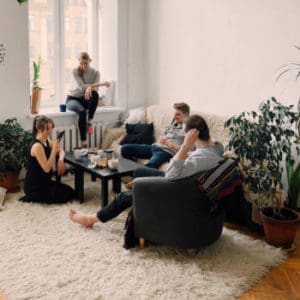 After going over the detailed plans with the condo board and deciding what you are (and aren't) allowed to renovate, you will also need to take into consideration for whom that condo unit is being renovated for.
A lot of things also depend on whether you are refurbishing the entire space or if you plan on putting the real estate up for a resale or rent.
If you are sprucing up a condo for yourself, you would still need to see how long it will take to finish the job. You can prioritize your work likewise with an estimated timeline that describes every design detail.
If you are, on the other hand, refurbishing a condo in order to sell or rent it, then you have to consider the best investment opportunities. You need to focus on some key areas while skimping through the unwanted details.
Bottom line, it is possible to achieve all of the given conditions, as long as you figure out what's your top priority. These are not every-day decisions so make sure to give yourself time.
---
3. Figure out Your Limits
In real estate, it is important that you know what your project limitations are. Essentially, you have to be realistic about the design plans – not all of them will be able to come to fruition. There may be some distinct design and architectural structure plans which are too hard to make into a reality. You can hire an outside consultant to ensure that you are not expecting something that is impossible to achieve.
---
4. Don't Move Around Your Fixtures
You don't want to spend a massive amount on setting up different locations for your fixtures. It will most likely drain you of your time, effort, and money. Best to leave the bathroom toilet where it currently resides.
What you can possibly do is to make some design changes to the already available home space. Whether you are privy to stunning minimalist designs or antique woodwork, try to find complementary elements that you can easily blend with the existing environment. Besides the fixtures in the bathroom, the same renovation tips can be applied to the kitchen, cabinets, flooring, etc.
---
5. Lower the Amount of Lighting
Most of the condos come with a cement ceiling, so there are fewer chances of drilling into them for additional lighting fixtures. There are mostly overhead installations of the light switches and other ceiling related changes. This also includes the rerouting of the ventilation or even for using a new hood fan.
Depending on the type of fixture that you want, you will need a six to twelve-inch drop. There will be a noticeable change of the ceiling height at that particular spot, but you can definitely manage it by implementing some unique design features.
---
6. Focus on Building up Instead of Tearing Things Down
Some condos include richly detailed moldings that give off a sense of elegance and traditional richness. Some are very modern and built to be simple, efficient, and budget-friendly.
Whatever the case, in order to get that kind of a look, you don't have to really focus on breaking things down. The best way to enhance open space is usually by focusing on the process of building things up.
For example, if you want to change your metal door, you don't have to tear it down. Instead, you can think of a backband that could readily go with it.
Adding a frame layer on top of the door may be a minor change, but it will definitely create a feeling of luxury, nonetheless.
---
7. Try to Stay Flexible
This is one of the most useful renovation tips you'll receive. It is more beneficial to be flexible in terms of what your designer concepts are. Every condo renovation project is somewhat limited and can potentially go awry. If you are smart enough to reconsider certain design changes, it will be easier to come to terms with the things you can't actually achieve during the construction phase. You can essentially make a trade-off and realize some priorities quicker.
It is important to know what is essential for your condo unit and what isn't. For example, if you live solo, why not dedicate a small space for your fridge so that you could indulge in some better and creative ideas for the leftover kitchen area? Or just make that extra space for those kitchen cabinets. Things like this will usually help you get a clearer idea of what your priorities are and what you might be willing to compromise in order for them to be realized.
---
8. Don't Shy Away from Painting
If you're willing to rent out or sell the condo that you own, a paint job might be enough to completely revamp the place. A dramatically dark paint job might sound terrifying, but if that's what the rentee wants, that's what he or she should get.
Perhaps an unusual color that is totally overrated is just what you need to stand out or maybe you just need a decent hue that will get you the most bang for your buck.
Whatever the case, a beautiful paint job as well as a few smart condominium renovation choices will most likely be enough to help you to resell or rent the place. You should always keep in mind for whom the renovation is meant for. If it's for you – great, have at it! The sky's the limit.
Also, choosing certain colors will give you a chance to lower the design costs and circumvent some of the other challenges as well.
Or you can simply choose some of the interior designers' favorite or most popular hues, such as dusty blue, muted green, and apple red. [1]
Avoid constantly going in and out of the room where you're painting to keep the paint from staining the areas you are not painting. Put all your materials in the same room so when you need any of the tools, you can just grab and go. Prepare two sets of materials for prepping and painting.

– Danny, Home Decorator at CondoLiving
---
9. Choose a Third Party to Work With
If you are a part of a condo association, then it may be better to hire some outside help. It will help the renovation project run smoothly. Furthermore, you will have a tradesperson who will deal with everything so you won't have to worry about the hassles.[2]
They will deal with all the contractor duties and help to make the plan details functional. Moreover, contractors can secure a timely arrival of the materials. You can be assured that the whole process will be timed perfectly without any worries.
There won't be any extra materials stacked up in unnecessary mannerisms. You won't have to face any inconveniences and instead, you can just focus on the more exciting aspects of spicing up a condo. After all, it is better to choose a design firm to do all the tedious paperwork as well as dealing with the individual store and supplier.
You can watch this timelapse video of a condo renovation. As you'll see in the clip, there's an entire team working together which clearly made the whole process efficient and enjoyable to watch.
---
10. Choose to Stay Somewhere Else During the Condo Renovations
Another important issue is to make sure you have somewhere to stay during the whole condo renovation process. Of course, if you prefer to stay at home, nonetheless – you do that. However, finding that temporary living space often ensures that you stay rested and better prepped for work – both physically and mentally.
You can choose to stay at a friend's or family's place while the project is undergoing renovation. Essentially, you don't have to deal with the extra hassles of moving stuff around unnecessarily.
---
Final Thoughts on Renovating a Condo
With a detailed plan, you can smooth out the entire renovation project easily. Keep yourself informed about all the rules and regulations of the condo board before going ahead with anything. If you want the project to run effortlessly, it is important to have everything thoroughly planned and laid out bare before your eyes.
Make sure you have all the aspects clearly thought out and planned for before you begin with any renovation activity. Remember, condo renovation is no mere task. But it can be made simpler by keeping in mind the above-mentioned criteria and suggestions.
Or, you could just skip the whole condo renovation process and get a pre-construction condo that's fully furnished and renovated. Visit Precondo for more renovation tips and exclusive access to all the new and upcoming condos in Canada.
---
References:
1 https://www.thespruce.com/best-interior-paint-colors-small-house-4082895
2 https://www.cmhc-schl.gc.ca/en/developing-and-renovating/accessible-adaptable-housing/aging-in-place/hiring-a-contractor